RTÉ hurling analyst Shane McGrath says if the Wexford players are eager for Davy Fitzgerald to remain in charge, then that should be enough for everybody else.
But he argues that Wexford probably need to reach an All-Ireland final in 2021 if the year is to be considered a success.
Wexford, buoyant after the 2019 campaign, in which they claimed a first Leinster title in 15 years, exited the 2020 championship in relatively limp fashion on Saturday afternoon, suffering a seven-point loss to Clare in O'Moore Park.
This result came on the wake of their abject surrender of their Leinster crown against Galway on Halloween weekend, when Shane O'Neill's side had 13 points to spare in the end and Fitzgerald sharply criticised his players' attitude and fight afterwards.
Notwithstanding the travails of 2020, Fitzgerald swiftly committed himself to another term in charge of Wexford in 2021 and McGrath said that the players' loyalty to the manager is key.
However, he stressed that the county will not to see a major progression next year - and probably nothing short of an All-Ireland final appearance will suffice.
"I think the players want him back," McGrath said on Game On on RTÉ 2fm. "They really wanted him to come back this year, after last year.
"Even a couple of years ago, a couple of them got into a car and drove to Sixmilebridge - at a time when you were allowed to leave your county.
"Obviously, the players have massive respect for him. I think both sets of players that were playing on Saturday have massive respect for Davy and that was evident from the massive group of Clare players that went over to commiserate with him. Some of them would have won an All-Ireland under him.
"If the Wexford players want him, that's the main thing. I don't think it really matters outside that. If a group of players in any sport really, really wants this person. If they believe in him, he believes in them and they feel that this is the guy to get them to the holy grail of an All-Ireland final and try to win one.
"It's his fifth year going back. The success will really have to be getting to an All-Ireland final. And then seeing the way that goes."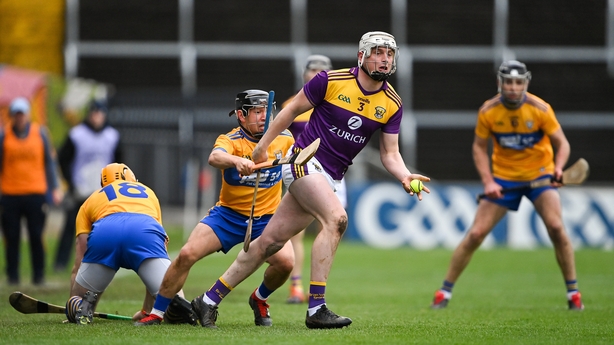 For the second game in a row, Wexford registered just 0-17 on the scoreboard, a paltry haul by modern standards. The 0-34 they amassed in their two games in the 2020 championship was less than Limerick managed in a single game against Clare on the championship's opening weekend.
McGrath, however, feels the Clare defence, whose efforts were somewhat over-shadowed by the performance of Tony Kelly in attack, deserve credit for restricting Wexford.
"The Wexford backs scored more from play than the Wexford forwards did. Sean Murphy, Paudie Foley and Kevin Foley, they scored six from play and the forwards only score five. Okay, there was frees
"I'd put it down to one of the best defensive displays that Clare have given in a long time. Pat O'Connor wasn't named to start, came back in with a point to prove to himself, made a massive block from Lee Chin in the second half. Séadna Morey was exceptional.
"We know what Tony did, he's untouchable this year and he's frontrunner for Hurler of the Year. He's scored 62% of all that Clare have got this year, 1-45.
"But I think Clare at the back were excellent the other day, as a group, it was one the best defensive displays they've given."