Clare manager Brian Lohan praised the attitude within his squad after their seven-point victory over Wexford in this afternoon's knockout qualifier in O'Moore Park. 
In another managerial match-up between the two Clare playing legends, whose fallout has been well documented, Brian Lohan got the better of Davy Fitzgerald in a game which had been billed as an even contest beforehand. 
Even allowing for the strong wind at their backs in the first half, Clare built an intimidating interval lead, Tony Kelly delivering yet another performances for the ages as the Munster outfit established a 13-3 advantage at the break. 
Though Wexford did ultimately avail of the conditions to rack up a semi-respectable scoring tally, they failed to eat substantially into Clare's lead and were always kept at arm's length. 
While the wind was a factor throughout the game, Lohan said that at half-time, he was confident his own players had the tools to perform better into the gale than their opponents. 
"Conditions were really tough but our lads worked all over the field," Lohan told RTÉ's Saturday Sport after the game. 
"We got great performances from our lads from the word go. 
"We felt that there was a bit of pace in our team and we could cause them trouble. We felt we were going to do better than just three points, they scored three in the first half.
"We felt we were going to do better than that, which we did. 
"Now, the big question mark was whether we were going to hold them down the other end and keep them from scoring goals. But again, we did that as well."
Both teams were perceived to be low on confidence heading into the game, Wexford after their Leinster semi-final flop against Galway and Clare following the provincial exit against Limerick and their narrow one-point win over Laois.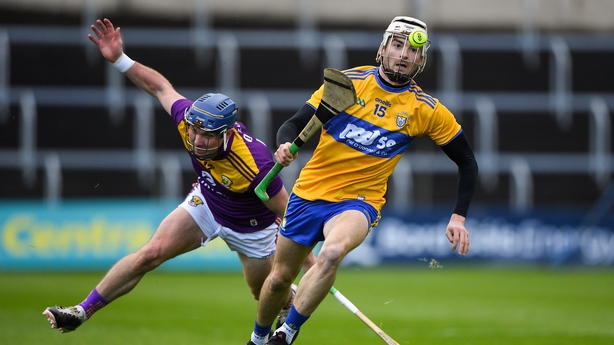 Lohan, however, is quick to defend the display against Laois, stressing that Clare had performed well in Nowlan Park with 14 men against tricky opposition. 
"That result down in Kilkenny was a good result. We played well. I know that we were criticised, even though we won the game, but we did play well in the game. 
"Laois are a good team. They knew what they were doing. They were able to work that ball fairly well and when we were down to 14 men, it was a big struggle for us and we showed good character.
"That was a good performance from us. Not everyone said we played well. The consensus was that we were lucky. But we played well that day."
After another bravura display from Tony Kelly, in which he landed a whopping 1-16, the Ballyea player is attracting 'Hurler of the Year' discussion. 
Kelly's form has been especially critical given the absence of both John Conlon and Peter Duggan. 
Clare also coped without David McInerney, whose appeal against his red card failed during the week. 
Lohan made light of the high-profile absences, praising the attitude and workrate of the 2020 panel. 
"We've got a good panel. Fellas are working really hard to get on the team. There's a lot of honesty in the group and a lot of motivation in the group. We've a good bunch there and there's a good spirit there amongst them. 
"We'll have a cut at it now and see how we go."