With uncertainty surrounding Mickey Harte's future as Tyrone manager, Éamonn Fitzmaurice envisages much deliberation involving all parties, but adds that a decision will have to be made soon with next season now just around the corner. 
Reports emerged on Wednesday evening that Harte's request for a one-year extension will not be forthcoming.
It is also understood that if no continuity is granted the county board will accept nominations from clubs for the position of Tyrone manager ahead of next month's annual convention.
Tyrone players and clubs are also awaiting some communication from the county board outlining their plans.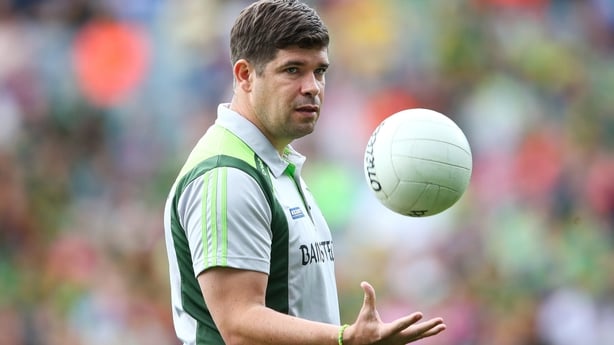 Speaking on the RTÉ GAA Podcast, Fitzmaurice stressed that Tyrone "don't need another ex-Kerry player advising them on what they should or shouldn't be doing", but made the obvious point that a conversation is now needed. 
"I think part of the problem is that Mickey is measured by such high standards and in particular the achievements he has had early in his reign," said the former Kingdom manager.
"Looking at Tyrone, there is a feeling that they are very close to having a very good team again, that they are not that far away from it.
"The whole conversation between Mickey and Tyrone board should be about what's best for Tyrone.
"As a manager you are always trying to think what's best for the team and whether that involves Mickey being involved for another year or two or to having a fresh voice or fresh approach, it's only them that can decide that. 
"It wouldn't be surprising if they were arguments as to what the best way forward is. They'll have to get their house in order pretty fast because the planning for next season for any team that's out of the championship will be starting pretty soon." 
We need your consent to load this YouTube contentWe use YouTube to manage extra content that can set cookies on your device and collect data about your activity. Please review their details and accept them to load the content.Manage Preferences
Fitzmaurice, who spent six years at the helm in Kerry and guided the county to All-Ireland glory in 2014, also spoke about keeping things fresh in a management set-up. This point brought up against the backdrop of Mickey Harte being at the helm for 18 years.
"The biggest challenge is to keep things fresh. For yourself, you have to have the energy and appetite for it. It's a job that involves a lot of energy. If you don't have it, you are being disingenuous to the group. You shouldn't be there; it's as simple as that.
"Every couple of years there has to be changes in your backroom team to keep challenging the players in different ways. Those changes in the background can have an effect for so long but ultimately the top person has to change after a while. 
"Players get to know you, get to know your ways, get to know what you are looking for. There is nothing like shaking it up and putting a new set of demands on players to raise the bar. I'm sure Dublin players are in that situation at the moment with Dessie Farrell."  
Listen to the RTÉ GAA Podcast at Apple Podcasts, Soundcloud, Spotify, or wherever you get your podcasts.