Terry Hyland says the feedback from his players cemented his decision to remain on for a third season in charge.
From an outside, perhaps even uneducated point of view, 2020 wasn't kind to Leitrim.
Relegation to Division 4, an NFL walkover handed to Down, and just three points reaped from seven games with a score deficit of -19.
Then came the championship and an immediate exit to Mayo in their Connacht SFC opener.
But there's more to it all than meets the eye.
They hammered Louth in Round 5 of the league, and only narrowly lost to Tipperary, who are now in the Munster final, in the last stage of the competition.
They put in a serious shift against Mayo last weekend in the championship before eventually losing by 11 points.
And privately, when he took stock of it all, Hyland was keen for another year.
So too were his players. All parties know the work that has been put into the set-up for the past two seasons but, more importantly, all are now on the same hymn sheet on what more needs to be invested.
"I could see a realisation in the players from communication I have had with them in recent days that there is a full appreciation of the commitment needed if we are to stay improving," Hyland tells RTE Sport.
"I think playing the other counties in Division 3 gave the lads a glimpse of what conditioning work – and preparation outside of training – is needed.
"But when they came up close against Mayo, I could see a total change in their outlook.
"There was a huge realisation after that game from what the players have reported back to me.
"They want to make more changes in what they want to do off the field, in their own time and where they want go. There is only so much preaching a manager can do. You can stand at the altar and preach to the congregation but are they going to go out the door and just come back the following Sunday?
"The lads are telling me now that they want to maximise everything and bring it to a different level. They probably felt they were in reasonable shape, but when they came up against Mayo, they felt that they were not weeks or months behind – but years. That is not a legacy of their work over the past season or two. That comes from the huge amount of work that has been done with the likes of the Mayo players in their underage set-ups since they were kids.
"That's the difference. We have a great S&C coach with us and a great backroom team who are driving the lads on, developing them all the time.
"But the difference with teams like Mayo – and even the young lads they have brought on this year – is that they are all introduced to strength and conditioning programmes from the age of 17. When they step up to senior at 21, they know exactly the level they're at."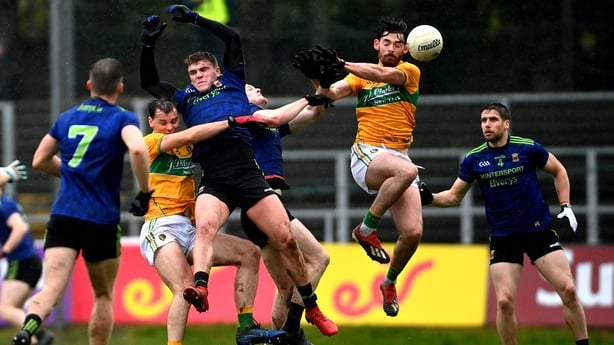 The fact that Hyland and his players have a solid relationship and appear to have regular interaction can only help them make progress.
This alignment was in evidence as early as his first year when he had to adapt to 26 of the squad being based in Dublin.
Hyland decided it was simpler to bring the mountain to Muhammad than the other way around and trained them in the capital midweek, rather than have them "waste time on the road home".
The Cavan-based auctioneer was involved in the recent GAA/GPA's ESRI report, detailing inter-county demands of at least 31 hours per week on players, and was keen for them to eliminate needless travel.
Early in his tenure Hyland then drafted in business and personal coach Robert Moorhouse to work on the players' mental conditioning and lifestyle balance.
Moorehouse made a big impact with the players encouraged to work better as a team through, among other methods, trial and error solutions.
Through this medium, they learned to complete challenges much quicker next time they arose.
On the field they knitted tightly and showed serious promise. Last year, Hyland's young bucks achieved five wins on the spin in Division 4 and made a League final appearance at Croke Park – their first at headquarters since losing to Louth in the Tommy Murphy Cup final in 2006.
The nucleus of the side features many of the talented group of players that rose through the ranks together, winning a Connacht minor league title in 2014.
With a population of just over 32,000 and 24 clubs, keeping that progress going was always going to be a challenge, not that Hyland buys into such a narrative.
"In any county, you don't need 100 players to develop and be successful," he maintains.
"What it takes is 10 years in a row of sustained hard work and underage development for you to compete in any way at the highest level.
"That involves looking at the underage structure, putting in systems and people, meeting the coaches and tweaking the system regularly.
"You need sustained backing in any county to do that. The human nature of things is that people want immediate dividends, but it needs a long-term approach. I would say myself that Dublin football people worked behind the scenes, in development, for 15 years to be where they are now.
"From the age of 6-13 a young player should only be concerned with the skills of the game.
"From 13-16 it's all about skills and game management.
"Go 16 upwards and the S&C must come into it, and the trick is to keep all three going as you progress from there.
"That means that if, like Mayo at the moment, a 20-year-old is put into an inter-county senior team that they have sufficient skill, they have game management and can understand defensive terms and patterns like 'double-droppers' and 'screens' and that, physically, they are up to it."
Judging by the calls from Leitrim, players such as Evan Sweeney, Shane Quinn and Keith Beirne in the Leitrim Observer recently, the players there are ready to take their development to a new level this winter as they prepare for 2021, safe in the knowledge that Hyland will be with them.
"I don't know when we will go again, but it may be March in the NFL," the manager says.
"If they split Division 4 of the League into two I'm grand with that, but if they regionalise it with eight counties in an area of the country playing together in two groups of four, well then we will lose a year of development. It won't be worth anything to us being in a group with the likes of Mayo, Galway and Donegal.
"I know it's about safety and cutting down on unnecessary travel but the regional thing, to me, would only be a tournament and not a League. It would be hard to learn anything from it."
Regarding future structures, Hyland, who previously led his native Cavan to successive provincial U-21 titles and two league promotions at senior level, would like to see the league and championship flipped, with the former being more helpful to improving consistency.
He likes the appeal of a knockout championship, saying that it gives the underdog a shot of glory on any given day.
And regarding the Tailteann Cup, Hyland feels that once it is presented with enthusiasm, structure and merit, it could work.
Hyland is not sure what way the 2021 season will yet shape up. But he and his players are already preparing to raise their own bar.