For all the think tanks out there, we don't have a lot of quantitative research to hand on ancient hatreds in the GAA. 
Perhaps some university academic or data journalist will take up the challenge, embarking on a project similar to the one which Emmet Malone conducted on Irish soccer fans earlier this year. 
Survey a reasonable sample of hurling and football fans from every county and ask them who, in their heart of hearts, do they hate most.
We don't have that yet.
We're at this stage reliant on what we might grandly call qualitative research, aka, random conversations and social media outbursts.
These wouldn't pass muster in an academic setting but nevertheless this article must be written.
Obviously, the general rule of thumb is that fans most hate the county nearest them, so long as said county isn't a complete minnow and thus easily ignored.
Gaelic games aficionados, and sports fans in general, are remarkably unlucky in that they invariably discover that the most hateful, arrogant shower on the planet just happen to be living in the neighbouring county or parish. This is a recurring tragedy. 
Some rivalries are historical in basis, built on fractious past meetings.
Others are a bit more obscure and personal in origin. Trying to establish a pattern here is next to impossible. Not least because GAA fans are given to kneejerk pronouncements and are capable of turning on a sixpence. 
Engage in a heated argument with an opposition supporter at a game and your average fan will quickly conclude that supporters of said gentleman's team are without exception the most horrible folk ever to stalk the earth. 
However, fall into a long, amiable, discursive conversation with an opposition supporter in a pub and many fans will be won over into accepting that these people "aren't the worst, all the same."
The rivalry between Galway and Mayo should fall into the classic border dispute category.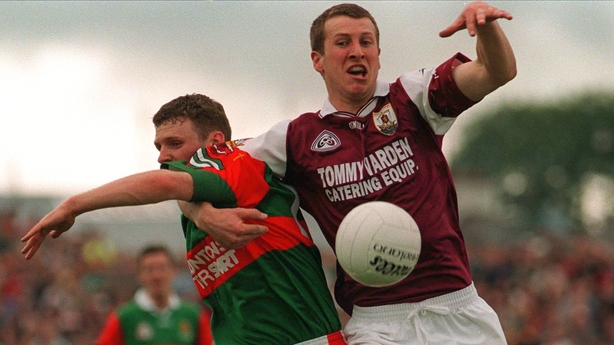 It is one of the three big, top-shelf provincial rivalries in Gaelic football, alongside Kerry-Cork and Dublin-Meath. 
(Ulster is a complicated picture with no traditional 'big two' standing out amid all the others. Cavan were so dominant in the pre-television era that they still sit miles ahead in the roll of honour despite winning one provincial title in the past half-century.)
The rivalry between Connacht's big two had been the only one which remained properly relevant in the decade just ended.
The Munster one has just come roaring back with a vengeance. The Cork footballers were everyone's favourite punching bag for a few years but that's already a distant memory now. 
Dublin and Meath has long felt like a period piece, unfortunately. In the '10s, decent Meath performances were only available to view on Laochra Gael, where assorted hard chaws from the 80s and 90s would chortle indulgently about all the slaps that were thrown and the many more digs that the ref missed. 
It's generally taken as read that the Leinster and Munster big boys wish each other nothing but ill when they escape the province.
Cork goalkeeper Ken O'Halloran once described the Kerry-Cork rivalry as the 'Celtic and Rangers of the GAA', presumably without the warmth. 
We recall an anecdote from the ten-year old RTÉ documentary 'Galvinized', in which Paul Galvin arrived up to a Kerry pub at the end of the 2010 All-Ireland final – he wasn't bothered watching the second half himself – to find a gang of lads slouched against the outer wall in a pose of sullen despair.
"What's wrong?" he asked. "F****n' Cork" one spat out in response, tilting his head towards the inside of the pub where Graham Canty could be seen lifting Sam on the TV in front of a row of empty stools.
This type of petty, inter-provincial rancour is accepted as standard down south and is replicated with Dublin and Meath.
And it probably now applies with Galway and Mayo too.
Except that - and personal perceptions aren't everything - it hasn't always seemed the case. 
"They were grand people. You never minded seeing Galway winning," Mayo's 1960s marksman Joe Corcoran told Keith Duggan in 'House of Pain', an impressive statement given he had to endure a lot of Galway wins.
One Irish Times columnist lamented that her Galway mother was cheering on Mayo during an All-Ireland final a while back, demanding to know "what is it with Galway people and their affection for neighbouring counties?"
I myself have sat in the stand at Croke Park double headers watching Galway and Mayo people loudly supporting one another. 
Even the Saw Doctors' (we're legally obliged to reference them in this article) anthem hinted at the underlying geniality of the relationship.
"Will Galway bate Mayo? Not if they've Willie Joe" isn't exactly from the "You're s**t and you know you are" school of fan songs.
As the leading lights of the Irish Mezzogiorno, the two counties seemed to be banded together by the traditional Connacht underdog complex.
In the 80s and 90s, the two of them may have stood as big, bad oppressors when taking on Sligo and Leitrim out west but upon arriving in Dublin, they were usually insurgents fighting against the odds.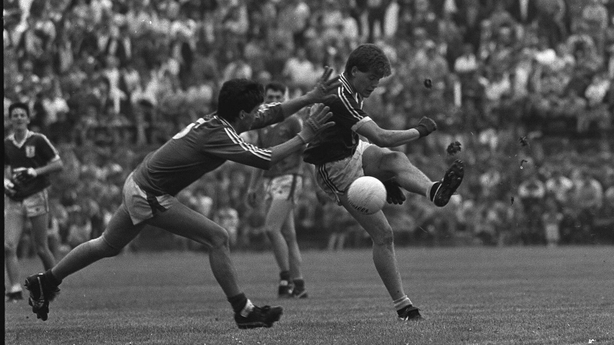 But that spirit of warmth seems to have evaporated.
Galway-Mayo games these days are consumed with niggle, while social media is alive with jibing and schadenfreude.
Naturally, people will tell us to be wary of attributing too much importance to Twitter but the old question still applies. Is social media simply revealing something that was there all along? Or has the medium itself propelled the rivalry into a new place?
Either way, I can't be the only person who has repeatedly heard the refrain, both offline and on, "I used to support Galway/Mayo when they got out of Connacht. Never again..." 
One Galway supporter tells us "it's gone completely toxic, it used to be a grand little rivalry" before embarking on a lengthy soliloquy on the shortcomings of Mayo supporters and their various offences against good neighbourliness down the years.
These, he tells me, include voting against Tony Keady in '89, running up the score against a bunch of Galway young lads in 2013, having too many talking heads in the media, and dressing every Z-list celebrity who passes through Swinford in a Mayo top. 
Some Mayo fans appear miffed by the change in attitude from the once genial Galway support but for others, the grievances stretch back further. A Mayo friend of the desk hasn't forgotten the aftermath of the 1998 All-Ireland final when a Galway supporter, in the first flush of triumph, chose to mark the moment by leading the entire pub in a touching rendition of 'Stand up if you hate Mayo' (sung with Joe McDonagh levels of emotion too by all accounts). There's also been much talk of provocative 'Sam Stops Here' grafitti around the border at that time.
Jim Carney, whose antennae is always cocked for any subtle changes in mood down there, told Keith Duggan a while back, "In the three in a row era, it was a very healthy and friendly rivalry... I do think a bit of badness has crept in." 
2013 may have been a watershed moment in the modern era. Galway football had been pottering around in nowhere-land for the previous half decade, usually departing the championship on some balmy Saturday evening in early July following a one-point qualifier loss to a middle ranked team. 
The inquests never seemed severe enough in the aftermath. The county tended to just shrug its shoulders at these repeated abject losses. 
"Surfer dudes, modern trad musicians, not taking their football terribly seriously," was Joe Brolly's verdict on that era of Galway football.
The 2013 Connacht championship loss was an altogether different kind of jolt. 
Mayo, with one of the most powerful and in-form teams they ever sent out, administered a frightful hammering. 4-16 to 0-11 was the final score. A 17-point margin - in Galway. The whole thing was terribly public. At least all those one-point qualifier losses in the preceding years had been disposed of in two-minute reports at the back-end of The Sunday Game. This match, though, was live on television.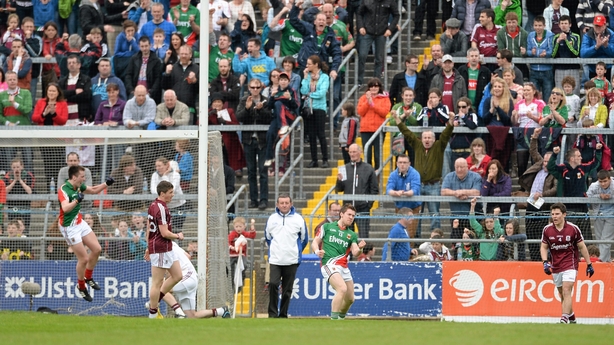 The sorrowful mood in Galway was best captured by Second Captains Ciaran Murphy when he tweeted "Today was tough, but we are a county still capable of greatness," accompanied by a moving close-up of a Supermac's snack box.
This was Galway's lowest point, as low as the early 90s when beating Leitrim often proved a step too far.
But in the darkness came a defiant roar. It came in the form of a text into Des Cahill on The Sunday Game – and where better to issue forth a rallying cry?
"Today was a bad day for Galway but mark my words, Galway will win an All-Ireland before Mayo will."
At the time, this seemed like fanciful pub-talk analysis. Now? Who the hell knows?
The maroon folk resolved they were never going to be shamed by Mayo like that again (well, for a while anyway) and within a few years they were beating them regularly.  
The games between 2015 and 2019 were narky affairs and the spite levels ratcheted up both on and off the field. Cillian O'Connor and Damien Comer quickly became bete noires to opposing supporters.
It might be pointed out that the fact that the two counties seem to play each other at the rate of roughly once a fortnight can't be helping the situation.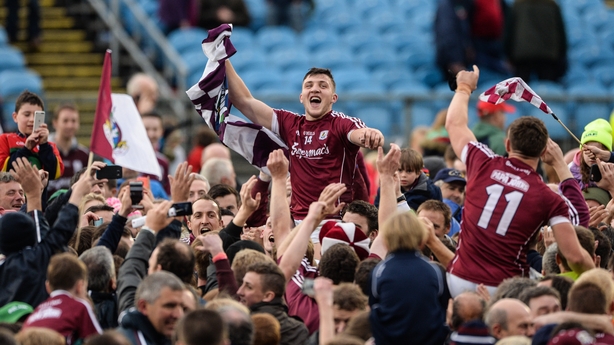 On the Mayo News GAA podcast a couple of years back, the consensus was that Galway hated Mayo more than Mayo hated Galway and this gave Galway an important edge.
In the wake of yet another league defeat to the Tribesmen in 2018, the Mayo podcasters were wondering aloud what was up, plaintively posing the inverse of that question once put by the Black Eyed Peas – "Where is the Hate?"
Recent evidence suggests Mayo have caught up in the hatred stakes. They finally ended their drought in the fixture in last year's knockout clash in Limerick and put Galway away with relish in last month's league game. 
In the spring league games, the Galway forwards were back partying like it was 1998. Since the restart, they've allowed a video clip slip out of them fumbling through a hand-passing drill with Jim McGuinness, shipped a frightful beating to Mayo (of 2013 proportions) and suffered another loss against Dublin. 
As far as Mayo fans are concerned, Galway are dipping at the right time and they now see a clear path to the All-Ireland final. The number of Galway fans who wish them godspeed in their quest for the holy grail has been steadily dwindling. They'd love nothing better than to scupper the dream.
There'll be no crowd but the first 'traditional' Connacht final in six years shouldn't be short of rancour. 
Follow Galway v Mayo (Sunday, 1.30pm) via our live blogs on RTÉ.ie and watch live on RTÉ 2 and RTÉ Player (coverage commences at 12.30pm)