"It is an art in itself to compose a starting team, finding the balance between creative players and those with destructive powers, and between defence, construction and attack – never forgetting the quality of the opposition and the specific pressures of each match." - Rinus Michels 
In every sport there are iconic "dynasty teams" that are often emblematic of the sport itself. The very name projects an expectation not only of serial winners but also of a style of play that the rest aspire to - Barcelona, the All Blacks, etc - and Kerry remain the Gaelic football equivalent. 
Those are the teams who are always circling the silverware but also achieve that in the image of their heritage. Sporting standard bearers mould their own historical values of how the game should be played around the pragmatic challenges of today. 
Core Values 
Dutch Soccer was transformed during the 60s and 70s by the godfather of "Total Football" Rinus Michels. By carefully building a style of play that fitted his environment Ajax, Barcelona and finally the Dutch national team embraced a philosophy that underpins how they play at every level to this day. 
Kerry have a legacy not only of great players but of teams that play with adventure and aggression. Today's players have been developed against a unique backdrop that includes stories of All-Ireland winning teams from every decade in the history of the championship.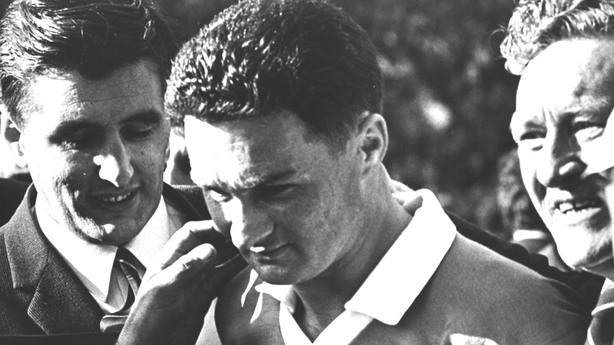 The Kingdom have always produced brilliant kickers of the ball. Of course, the best teams can do everything but the list of outstanding playmakers and finishers that have epitomised Kerry's play in just the modern era is mesmerising.  
In the pursuit of balance – as Michels describes it – Kerry seem to have lost track of the core values of their players and the culture that nurtured them. 
Search For Something Different 
Since the emphatically successful evolution towards counter attack football that Donegal under Jim McGuinness initiated, there has been a distinct lack of imagination among coaches as to how to play the game differently.
The constant tinkering with playing rules by administrators certainly hasn't helped but well matched teams virtually all now set up without the ball with a cover player at the back and layers of tacklers in front. 
Drilling those roles as a priority means that we end up with stalemates like Páirc Uí Chaoimh at the weekend and Ballybofey the week before.
The theory is that numbers back offers protection to weakness and creates space ahead but the latter is obsolete if it's not leveraged. 
Those games are decided by conditioning and concentration. Although not markedly different, only Dublin have deviated from this template to add a kicking game in attack that gives them enough variety to unbalance zonal defences.
In Rinus Michels' world it is the equivalent of all comers playing like Giovanni Trapattoni's AC Milan. No Pep's Barcelona or Klopp's Liverpool. Not even a Dave Bassett's Wimbledon. 
Lack of Faith 
Peter Keane and his coaches have been rebuilding how their team defends since their return to action in mid-September. Chastened by their 2019 experiences, they have gone with the default "comfort in numbers".
The theory is that numbers back offers protection to weakness and creates space ahead but the latter is obsolete if it's not leveraged. 
All three competitive fixtures over the last month have been used as dress rehearsals for Dublin. Retreating the forward division into their own half when possession was lost was a belt and braces that beating none of their opponents required. 
Fundamentally, this Kerry team have been undone by their own lack of faith in their ability to defend effectively in the key moments against quality forwards. Last year the tinkering with defensive shape from a man for man approach to floating Paul Murphy into a cover role edged them towards a better balance.
Incremental improvement and the return of Peter Crowley might have tipped the scale sufficiently without the extreme measures taken.
"I thought they got it totally and utterly wrong"

Tomás Ó Sé gives his view on Kerry's championship exit #RTEGAA pic.twitter.com/8qQr3yp33z

— The Sunday Game (@TheSundayGame) November 8, 2020
Fundamental Changes 
There have always been key characteristics in the make-up of the Kerry teams who have been challenging for All-Irelands. First, they could play any way you want it: Football, brutality or chess games. Whatever approach you took, The Kingdom had the tools to trade. Secondly, they backed themselves and went after their opponent and the game relentlessly. 
Some fundamental things change when you opt to drop attackers deep to reinforce your defence. The primary impact is on how quickly attacks can be built once possession is won back. 
Transition is slowed and changed largely to ball carrying through the middle third. Of course Kerry have pace and strong ball carriers but higher quality scoring opportunities come from early, accurate kicking. 
For this Kerry team the loss of any outlet in the traditional half forward area has had the biggest impact on their ability to play to their strengths. Kicking from defence becomes almost impossible and the creativity and vision of playmakers like Sean O'Shea is replaced by hard running and ball retention. 
The biggest impact this has on how a team plays is that the attackers you want getting scoring chances have less opportunity to do so. If your opponent is diligent in their organisation and awareness then scoring forwards will get little or no space early in attacks. 
The late runner onto patient retention of possession more frequently finds the best scoring chances. Invariably that will be middle third players or defenders who are supporting as they must.  
Post Mortem  
From the moment Killian Spillane landed his fourth point there were ten minutes of playing time to unfold in the second half of extra time but Kerry wouldn't score again. What they did do was adopt the defensive shape they have been practicing, which housed every player in a structure inside their own half. 
The most important part of game management in these situations is to be ruthless. With an opponent streaming numbers forward chasing scores to save their championship, Dublin would have picked them off mercilessly on the counter.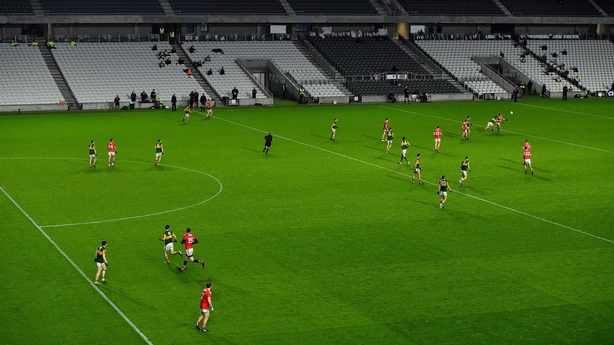 Kerry seemed frozen in their defensive shape and played with no initiative when they took the ball back off Cork in that period. If the video review ever comes, above all other questions, the Kerry players will wonder what they were waiting for in that last ten minutes when one more point would probably have taken the feet from under Cork. 
Of course, the element of luck that ultimately removed the second favourites from this year's race for Sam has to acknowledged but if the Kerry players are honest in their post mortem they will know that luck would never have been a factor in those dying minutes if they had played to their instincts. 
A Challenge of Culture  
Designing a gameplan isn't simply the organising of parts or the definition of roles to ensure everyone has the same process goals. A crucial step before is to understand the nature and culture of the group and build methodology that empowers players to play accordingly.  
When McGuinness reimagined his native Donegal, he added a defensive organisation and edge that had been lacking. However, he reinforced the natural ball carrying that is so prevalent in Donegal club football as an irresistible attacking weapon. 
In Kerry more than anywhere else on the island, heritage is part of what drives players. Minimising their natural kicking game in attack as opposed to copper-fastening that strength is in conflict with the innate fabric of the football landscape they are nurtured in.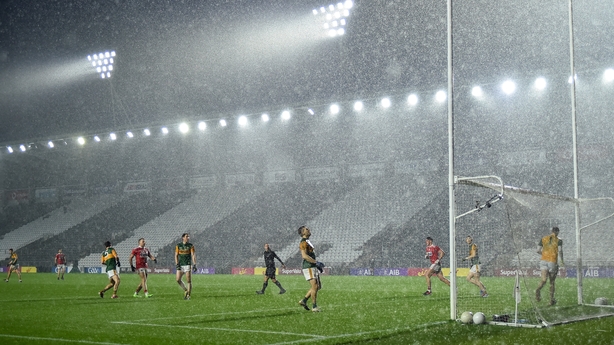 Conditions played a significant part in evening the playing field on Sunday and much has been made about the chances Kerry left behind. That overlooks the inherent frustration that Cork's approach was designed to illicit from Kerry men on and off the pitch and the mistakes that followed.  
The Cork coaching team understood that their opponents were better nine days out of ten so their approach was to stifle their creativity and hope to capitalise. Kerry were complicit in their own downfall on and off the pitch and so a perfect storm left the door just ajar for a sucker punch. 
Examining Rinus Michels' challenge to coaches of all types, it is difficult to conclude that Peter Keane got the balance between defence, construction and attack right. The bigger question for Kerry is whether they can forge an identity going forward that reflects the values of their culture.