Pádraic Joyce has confirmed that forward Damien Comer will miss Sunday's Connacht final clash with Mayo but suggested he would be back in time for an All-Ireland semi-final, if Galway get there.
The Annaghdown man was an All-Star nominee in 2016 and 2018 but missed last year's provincial championship due to injury and will suffer the same fate this year.
"He nicked his hamstring against Mayo three weeks ago," first-year manager Joyce told RTÉ Sport. "Hamstring injuries take four to six weeks so unless a miracle happens between now and Sunday, we probably won't see him."
That recovery time-frame would put Comer in the frame for a clash with the Munster champions on 5 December however – assuming they can beat their old rivals this weekend.
Joyce added that Eamonn Brannigan, Damien Varley and Ronan Steed are all also injury concerns ahead of Galway's first provincial final meeting with Mayo since 2014 (Live on RTÉ2, 1.30pm).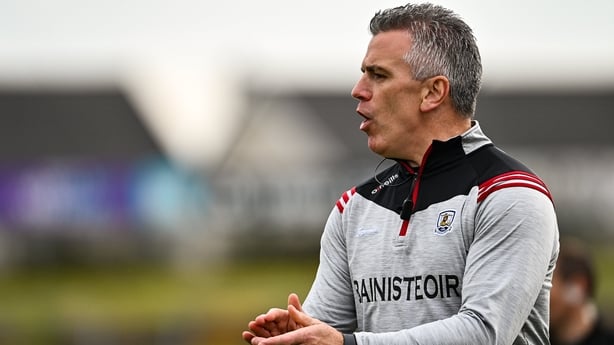 Joyce won six Connacht medals as a player but has reached his first final as a manager without his team having to kick a ball. Sligo withdrew from last week's semi-final due to a Covid-19 outbreak in their panel.
He admits that the circumstances are unusual, but hopes his side will be fresh rather than undercooked against a Mayo team playing their fifth weekend on the trot.
"This is a bit different, there's no doubt about it," he says. "I think the biggest thing both sets of players are missing is the fans.
"Normally, there's a massive atmosphere at Galway-Mayo matches, whether they are in Castlebar, Tuam or Galway.
"The November weather will have a bearing on the match – in Salthill you're guaranteed to get a decent breeze. That will be a factor.
"It will be Mayo's fifth week in a row playing so they could be tired and we could be fresh. We could be without the games, they have the games. You don't know.
"But you always play ever two or three weeks in championship anyway and we had a very competitive game against Dublin two weeks ago.
"We have worked on an awful lot since that and got a good bulk of training in."