Cork's 1983 hero Tadhg Murphy is happy to allow Mark Keane to take over the mantle of dramatic Kerry-beating goals after yesterday's memorable Munster final.
Murphy ended Kerry's bid for record ninth Munster title in a row 37 years ago, while Keane's moment has given the Rebels a chance for a first crown since 2012.
Murphy, speaking on RTÉ's Today with Claire Byrne, admitted it brought back all the memories of his greatest day.
"There were a lot of similarities. The weather was atrocious in 1983 and it was yesterday and Cork went into the game as 'no hopers' in both games as well.
"Yesterday was a knockout situation just like 1983 as well. There was no place to hide, the Cork lads came out fighting and were value for the win
"I got a great 37 years out of that goal and I got a lot of mileage out of it. If Mark can get a fraction of that he will be doing very, very well. Sunday was his day and I'm delighted for him."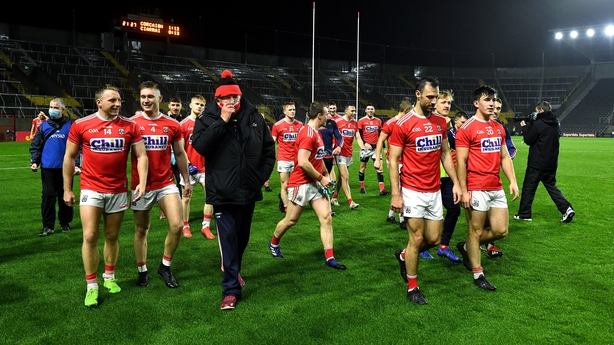 If it didn't immediately remind Murphy of that famous day, many friends and former colleagues certainly helped him along the way in the aftermath of yesterday's match.
He felt the county experienced a unique lift during the current restrictions on society.
"It was unreal. I had texts flying it yesterday evening and this morning. It was like reliving the past. It was a huge boost for Cork in Level 5 lockdown. I'd say if you checked the Richter scale in Cork when Mark got that goal, it would be well up there. Every household in Cork erupted when that goal went in.
"I really believe Kerry weren't prepared for the intensity and attitude that Cork brought to that game. I thought Cork were full value for the win even though it was a late winner. Overall they had that hunger, and very often hunger is the greatest sauce of all."
'It's 1983 all over again!!' - Kerry are out of the championship. Here's that extraordinary late goal from Mark Keane which won the game for @OfficialCorkGAA - watch the highlights on @TheSundayGame #rtegaa pic.twitter.com/IoRBaWfxDD

— The Sunday Game (@TheSundayGame) November 8, 2020
Murphy anticipated Cork would put it up to Kerry from the noises coming from the camp in recent weeks, and that there was little focus on the home side going into the game.  
"If you looked at the game logically, Kerry were coming in as Division 1 champions with Cork in Division 3. Looking at that you'd say Kerry all the way. I just made the point that Cork and Kerry in Munster Championship games very often take a life of their own. That's exactly what happened.
"Ronan McCarthy has done a super job. He had a tough baptism but he got the group together. I was very taken by a Mark Collins article during the week. Mark was outstanding yesterday. He just made the point that for Cork to progress they need to get a big result against one of the bigger teams.
"I just said to myself that the players are focused and know what they are about. This could be another 1983. That is precisely how it turned out. Cork came in under the radar, total underdogs, and that is the best way to do it. They got their reward."