As we creep into November, the opening weekend of championship football may have enhanced the understanding that we are embarked on a unique campaign that could be shaped in no small part by the winter climate games will be played in.
A theme of last weekend was the reminder that game management – both from the line and on the field – is a crucial aspect of winning tight contests.
Restart strategy, attacking patterns, defensive shape, aggression in the tackle, overall directness can all evolve with the flow of the game and it is becoming increasingly important to be able to adjust the team's approach to all of that as an 'audible'.
Thorough preparation at the very top level now doesn't just plan for possible scenarios. It is now essential that teams can adjust quickly and that players are empowered to make decisions on the pitch that can affect the flow of the game. Otherwise, the time lag from sideline to the on-pitch leadership could be fatal.
This year has introduced another layer of factors to prepare for that may become very important before we find champions. Weather is always a factor but we may potentially have extremes through November and December that will influence performances and in particular what are the most effective styles of play.
Control what you can
After a slow start on Saturday, Monaghan shook themselves into life to capitalise on wind advantage and build a seven-point half-time lead.
From a distance that looked about right as a platform to play into the elements of in the second half but rather than play, they focused on holding Cavan at arm's length.
The period immediately after half-time demonstrated the plan: control possession, make Cavan spend energy hunting it and wait for gaps that can will yield definite scoring opportunities.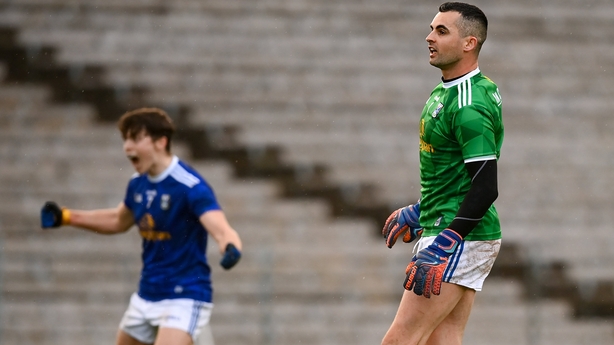 All was going well in the third quarter. Having kept the ball for most of the four minutes leading into the final water break – moving it from their own goal to within 20 metres of Cavan's variously and back without shooting – Monaghan led by six points. The gap from half-time had only closed by a point. All seemed under control.
Monaghan were not pressing Cavan in any way until they approached scoring range – including no resistance on short kick-outs – and the passive nature of the Breffni men's play allowed the home side to control every aspect of the game.
The water break changed both the tactics and psychology of the game. It swung momentum entirely in Cavan's favour as they threw caution to the wind to go after Monaghan's keep ball and with no time out to regroup, the pacesetters couldn't react with enough cohesion on the pitch to get a foothold in the game.
When the flow of momentum swells against you it influences energy and confidence on both sides and stemming the flow is very difficult. Passing up the opportunity to influence the game positively cedes control and leaves room for opponents to take the initiative.
Adapting when you must
The scene as the teams lined up before throw-in in Ballybofey painted a picture of what was to come. As the gale howled, rain came down sideways and players on both sides must have known how much would be asked of them physically.
The contest that ensued was a testimony first and foremost to the conditioning, bravery and desire of both teams. With the pitch and conditions deteriorating, the importance of accurate passing and clean handling became paramount to the outcome of the game.
Those are two skills that are expected as a matter of fact at this level and both are casually highlighted as essential when wind, rain or both become factors in any game. But the execution of both skills in conditions like Sunday are exceptionally difficult and require full concentration.
Pat Spillane believes that Mickey Harte has been one of Gaelic football's great managers but that it is time for Tyrone to move on after their early championship exit today. #GAA #DONvTYR pic.twitter.com/efs2q8WTlZ

— The Sunday Game (@TheSundayGame) November 1, 2020
In that environment, the distinction between a eight-yard handpass finding the hands of a moving team-mate or the receiver having to break stride or reach back is stark. For a start, moving support runners probably cannot adjust angles or pace instantly without losing their footing.
Short kick-outs become fraught with danger, building from defence is a tightrope walk and the movement of both men and ball to create scoring opportunities has to be exact.
Skill execution
Tyrone's goal can be held up as a clear example of the danger with skill execution under this additional layer of pressure and the possibility of forcing mistakes is greatly increased.
At face value, fault can easily be laid at Eoghan Bán Gallagher's door and he will no doubt have some uncomfortable quiet time ahead reliving his approach to the ball, first touch and recovery time. However, there are other factors.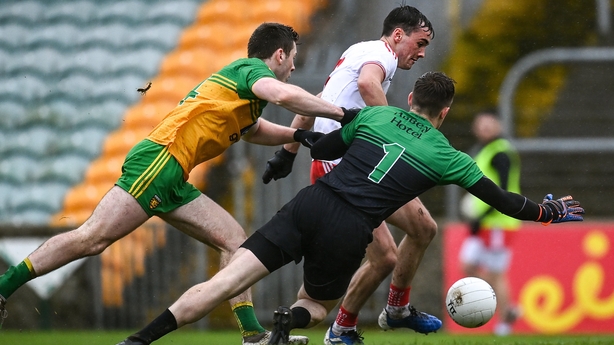 It was one of the few times that Tyrone got a decent press on the home side's short kick-outs and when they reflect on the game they will wonder why they didn't work harder to firstly close it off quicker and more importantly, why they didn't immediately pressurise the receivers.
After taking possession back from the fouled Andrew McClean left of his own goals, Shaun Patton did what he would normally do and switched play away from the Tyrone traffic. Gallagher was waiting for the switch but sensed Darragh Canavan closing on him.
Patton's handpass was short and slightly offline. As Gallagher moves towards the ball to give himself valuable extra tenths of time to collect and turn, the pass skids off what is now a soaked surface and he has to try to adjust. The rest is a mess from a Donegal perspective and a red carpet for any quality finisher.
All of that nuance is to reinforce the original point – the worse conditions are the more accurate and exact both passing and handling must be. Coaches spend very little time talking about or demonstrating specifically what that means for players in practical terms.
Chunking
Take first touch, for example. Inter-county footballers have a muscle memory bank of movement built to a level of mastery through practice and repetition that means they don't actually keep their eye on the ball as they collect it.
In the same way that baseball hitters can't actually see a fastball at the speed it moves, the athlete's brain is honed to read flight and movement to anticipate or read how the ball is approaching. From that point co-ordination and handling skills kick in and they're making decisions before they have it.
In his 2014 book 'The Sports Gene' David Epstein articulates this phenomenon very well and explains the learned the skill of 'chunking' in elite athletes that presents within their performance as 'anticipation'. When wind and rain is added to their normal environment, players can no longer rely on the same anticipation skills as the prevailing conditions are changed.
The solution is enhanced focus on the execution of skills – something players at this level may not have been asked to do in many years. From a handling perspective, watch the ball coming into your hands, watch your fingers wrap around it and watch the ball pulled to your chest. It seems obviously simple – and it is – but it's a level of concentration that is rarely required after Go Games.
Playing to your strengths
If you step back and assess the impact of conditions and skill execution on Sunday's Ulster quarter-final, it was significant. 'Turnover' was responsible for 50% of the match's scores.
After Peter Harte skimmed the crossbar to bring the sides level for the final time in the 59th minute, Donegal controlled possession for the majority of the remaining 15 minutes of playing time.
In that period, Tyrone were forced to kick all of their kick-outs long – playing into Donegal's strengths – and they produced ten relatively elementary handling or distribution errors.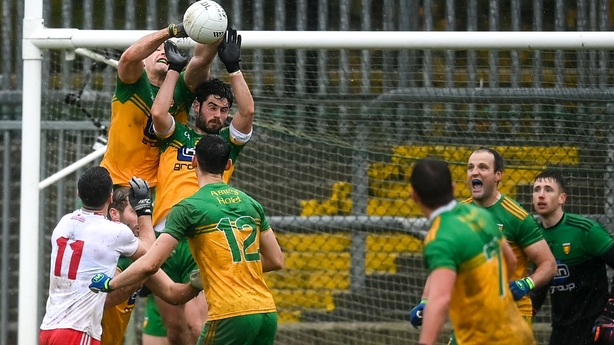 Perhaps the most impactful adaption to conditions was both teams' election to go long more often off kick-outs in the second half given the danger of building off shorts. This ultimately pivoted the game in Donegal's direction as they dominated break ball around the middle.
Donegal produced a phenomenal productivity rate (scores generated from every ten possessions) of 8.3 off their own long restarts while restricting Tyrone to a paltry return of 1.7.
A strong case can be made that Donegal adapted to the winter conditions more efficiently and made less mistakes when it really counted in the game.
We could have a series of mild weekends ahead that will give us more 'normal' championship fare but the likelihood is that wind and rain will continue to be a factor.
In an already challenging environment for players, developing the capacity to adapt to the conditions could become one of this championship's defining elements.
Match stats from RTE GAA analyst @johnnyBrad1ey