Tipperary football manager David Power believes his side's convincing win over Clare in the Munster Football Quarter-Final will help silence critics of his players.
Power's side led Clare from start to finish in Thurles – goals from Conor Sweeney and Brian Fox helping the Premier County establish an eight-point lead, before a late Clare flurry left three between the sides at the finish.
However, the win represents just Tipperary's third win in eleven championship games since their historic victory over Galway in the 2016 All-Ireland Quarter-Final, with 9 survivors from four years ago starting today's encounter. Power's men domiciled in the bottom half of Division 3 this year; leading to suggestions the county hasn't built on its 2016 run.
Former Tipperary Manager Peter Creedon told Tipp FM on Friday night how "we haven't seen anything of that standards since" from Tipperary's big players from 2016's march to the All-Ireland semi-final.
"Absolutely', replied Power when asked whether today's win will quell doubters of this side, "the critics have started within our own county as well but I'm delighted for the likes of Conor Sweeney Brian Fox and Phillip Austin – all these lads have given unbelievable service to Tipperary Football."
Power hailed the influence of Sydney Swans AFL star Colin O'Riordan- the JK Brackens clubman officially listed as a "team mentor" for his native county - as he provided encouragement in Semple Stadium from the sideline.
"Every Sunday – he's been there. He is itching to play, but it's very hard for him to be watching from the stands. He's an incredible young man and we are very proud to have him in Tipperary."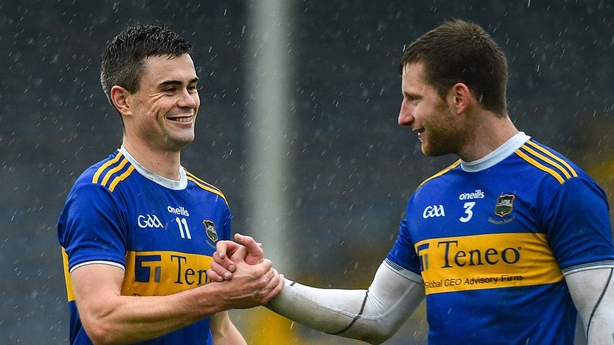 With Cork and Kerry on the one side of the Munster Draw, Tipperary are now presented with a major opportunity to reach just their third Munster Final this millennium- a potentially significant achievement in close proximity to the 1920 Bloody Sunday commemorations.
"Absolutely – there's no point in saying otherwise', replied Power when pressed whether Tipperary had a much kinder draw than usual, "that's what I said during the week: Limerick Clare Tipperary Waterford all had a huge opportunity.
"Now it's down to Tipperary and Limerick. But Limerick are having an incredible year, Limerick beat Tipperary last year and we can't underestimate them."
Limerick shocked Tipperary in last year's Munster Championship – a defeat which precipitated the departure of Power's predecessor Liam Kearns.
"It not about us making up for last year; it's about us getting a performance and getting a performance that can ultimately get us to a Munster Final. It's about us making sure we are ready to perform," said the 2011 All-Ireland winning minor manager.
However – Tipperary's preparations for next Saturday's encounter in the Gaelic Grounds will be hampered by injury scares for influential wing-back Bill Maher and midfielder Steven O'Brien, who Tipperary struggled without last weekend against Leitrim.
Power confirmed O'Brien may have aggravated a hamstring injury: "he came off – he felt it. Bill Maher also came off with a hamstring injury. But this is our third Sunday in a row – the schedule is tough on players, but we're going to be ready down in Limerick in 6 days time."
Overall, it represented a good day's work for Tipperary.
"Some areas we very good in – the lads played very good football at times. The only disappointing thing was we left Clare in the game for too long – even near the end. I thought we were the better team, but when you leave teams in the game, like against Offaly and against Leitrim [over the last two weekends], you'll always have at the back of the head that Clare could get another goal.
"But overall, we are very very pleased."