Cavan manager Mickey Graham said his team had prioritised the 2020 championship after they upended the Allianz Football League form-book to stun Monaghan in Clones.
Optimism was thin on the ground for Cavan in the lead-up to today's encounter following their recent relegation to Division 3 but Graham's team overturned a seven-point half-time deficit to triumph over their neighbours after extra-time in a dramatic championship opener in Ulster.
"After the last two league performances, not many people saw it coming. But this is the game we targeted from the word go. I'm not going to lie, it's been in the back of our minds all along."
Graham, who previously led Mullinalaghta to a remarkable Leinster club title in 2018 and then guided Cavan to the Ulster decider in the first year in charge, indicated that the league defeats to Kildare and Roscommon did not offer a true reflection of their form.
"And because of that, we probably sacrificed the league and got relegated," Graham told RTE Sport after the game.
"But this is the one we wanted to get up for. If we were going to bring a big performance in the three games we were to play after Covid, this is the one we wanted.
"The two league games were probably finding out where we were at, what we needed to do. We probably paid the price because we put all our focus on this game.
"A lot of criticism went the lads' way these last two games. People wrote them off but it was a collective effort today. I couldn't be more proud of them. It's a victory for them."
The first half appeared to vindicate the league placings, Cavan trailing 1-11 to 1-04, but with the wind at their back, they rallied superbly in the final quarter, notching six points in a row to force extra-time.
Influential Thomas Galligan forsook a point to lay on Martin Reilly for a critical goal in the extra-time period but it was the two goalkeepers who'd have the final say.
Rory Beggan seemed to have sent us to a penalty shootout but Galligan claimed the re-start and his cousin Raymond did the rest.
"Six or seven points down at half-time, the lads could have tapped out," says Graham. "But they stuck at it. They rode their luck at times as well but you have to do that in championship football. The boys were brave in the second half and went for it, could have got caught but you have to admire them.
"If you want someone with a bit of steel coming into the last kick of the game, Raymond (Galligan), he showed no nerves. They did everything to try and distract him but he kept his nerve. And what a kick and what a way to win a game."
The result ends Monaghan's interest in the 2020 campaign and manager Seamus McEnaney, back in charge after a decade, acknowledged that the loss would hurt over the winter.
"It's a gut-wrenching defeat for us. It was a game in normal time, we should have been able to win it. There's not a doubt about it. We've only ourselves to blame. We were seven points up at half-time.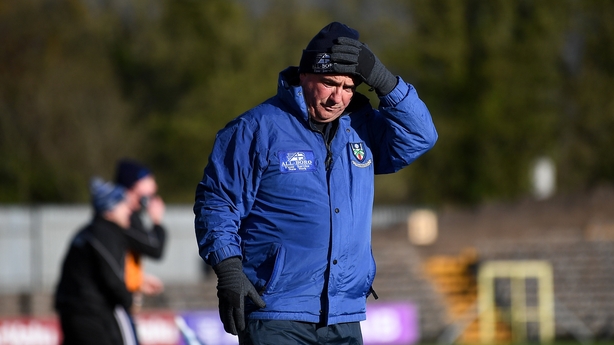 "And we got turned over time after time when we went into the web - we talked about not going into the web at half-time and keep the ball. It's a very, very disappointing day for us."
McEnaney disputed the notion that Monaghan had engaged in keep-ball tactics too early in the second half, stressing that their downfall lay in their unwillingness to maintain possession in their own half.
"We should have held onto the ball a lot longer in our defence. It was in the Cavan defence that we lost the ball when we went in there. They got us turned over and hit us on the counter-attack.
"We should have been calm enough to hold it on our own half of the field and draw Cavan out.
"It's a setback for us. If we take the positives out of (this year) we're still in Division 1 next year but we're out of the championship and it's a defeat that will linger long into the winter.
"We took no heed whatsoever of the league table. We know that championship football is a different scenario. Listen, we could have and should have won it in normal time but you have to give Cavan credit. They were full value for the win in the end.
"But there's a lot of worse things that have happened in life, there is a lot of worse things happening in life. It is only a game of football at the end of the day. And we're going to have to get back on the horse next year and go at it again."