Mayo's Cillian O'Connor believes that squad depth and adapting to the unusual championship conditions will be key considerations as sides face into the 2020 All-Ireland football championship. 
The westerners were relegated from Division 1 of the Allianz Football League for the first time in over two decades at the weekend, though this outcome, primarily a result of their sluggish form in spring, hasn't entirely killed the optimism engendered by their swaggering demolition of bitter rivals Galway nine days ago. 
James Horan's side begin their quest for an All-Ireland title against Leitrim in Carrick-on-Shannon this Sunday. 
Mayo haven't lost to Leitrim since the oft-revisited Connacht decider of 1994 and they are heavy favourites to progress against a side which has just dropped back down to the fourth tier. 
But there may be added jitters in this year's provincial campaign given that the back door has been bolted shut for this truncated season. 
For the first time since 2000, the championship is once more a pure, uncomplicated old-style knockout. Within a fortnight, a vast chunk of the country, including potentially some big hitters, will be gone. For O'Connor, the simple old format evokes some nostalgic feelings. 
"I think we're relishing the knockout aspect," the Mayo attacker told RTÉ's Game On.
"That white heat of championship, it's what you train for, it's what you grew up watching, for me anyway in the 90s. That's what it was. There's something special about it. That edginess on championship day is what gets you going. I'm getting butterflies and adrenaline thinking about it. So, I'm excited about it."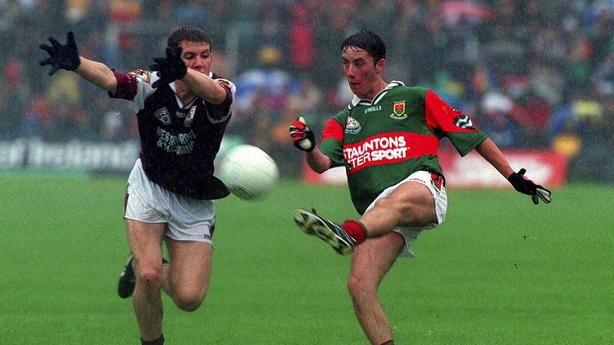 In addition to the removal of the safety net, the 2020 championship has thrown up other considerations. The conditions may not quite be as player-friendly or as pristine as teams are used to come championship time, while the threat of the coronavirus puts an even greater onus on squad depth.
"Whatever teams do well will be the ones that adapt to the new surroundings, the underfoot conditions, the weather, the level of risk that you take in possession, the restarts," says O'Connor. 
"You're going to have to be really smart on all those fronts to have any chance of success. Just looking forward to adapting to those things and seeing how we go.
"It's going to be hard on the bodies. That's probably why the management would have given games to newer players in the league. 
"There was five or six under-21s starting or coming on in those spring league games, so they got plenty of exposure. 
"The teams that do well will have to utilise their full squad. I don't think the same 15 will be starting for teams week on week.  Even the extended panel of 26 will be changing.  Squad depth is going to be really important."
And Mayo, for so long reliant on the same core cast of players who helped them reach All-Ireland final after All-Ireland final over the past decade, are now starting to usher in a new generation.
"There's been an influx of new players," says O'Connor. 
"Since we've restarted, it doesn't feel like they're being given game-time for the sake of experience. They're there on merit now. They're coming because they deserve to come on. And if they're starting, it's because they're deemed the best player in that position. 
"That brings with it great energy and that bit of innocence, but it also lights a fire under the older lads to say, 'hang on a second, I want to push back for my place.' That level of competition is important in high performance teams and hopefully it'll push us on."
While most observers foresee a straightforward Mayo victory at the weekend, O'Connor says that the pandemic has reinforced the notion that looking too far ahead is futile.
"It's about not planning too far ahead. Everybody always says that but Covid has forced our hand on that. You didn't know if there was going to be a championship for a long time, you didn't know if you were going to come home to the news that it was pulled. 
"So you had to just focus on, 'right, we're training tonight from 7-8, let's nail that.' And that's followed through with the group. We know we're playing Leitrim so it's just a case of attacking that game as best we can and executing the gameplan.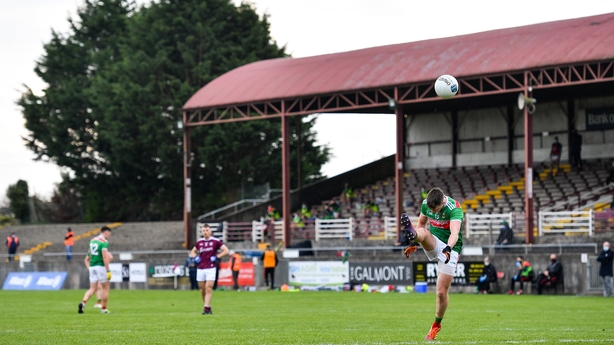 "If you start looking over the brow of the hill, that's when you get caught and you won't get the performance you need. 
"It's short-term planning, that's what we're trying to do, max out our own performance and whatever happens then will happen."
That reluctance to plan too far ahead is evident in O'Connor's insistence that Mayo footballers, whatever the popular perception, do not walk around in a state of fixated torment, single-mindedly obsessed with All-Ireland final day.
The championship's all-time leading scorer insisted on Game On that being of use to his team-mates and fulfilling his role within the group is his chief motivation and that one would suffer if one was to traipse around "daydreaming" about All-Ireland medals non-stop.
 "That's the reward at the end of the competition for whoever performs the best. Of course, that's up for all teams to chase. We don't - you're probably not going to believe me - we don't really spend a lot of time thinking about that. 
"You'd only get flattened in training tonight if you were daydreaming about the All-Ireland. We know our standards, we know what we're supposed to be doing, we know within the group what's demanded. 
"In the back of your head, you know if you do those small things for every single session, every minute of every session, then you'll be there or thereabouts, you'll give yourselves a chance at the big one."