Dublin signed off their league campaign with a win over Galway and now all their attention turns to their quest to make it six All-Ireland titles in a row.
The victory in Salthill saw the Dubs finish second in the table behind champions Kerry as Dessie Farrell's side won four of their seven games and drew twice with just the one defeat.
Dublin were beaten by Tyrone in the league campaign and were held to a draw by both Monaghan and Kerry, in the spring.
However, more importantly for their preparations for the All-Ireland, they have won their two games since the Covid return beating Meath last weekend coupled with the decent victory in Galway today.
Next up for this renowned Dublin side is a Leinster championship encounter with Westmeath on 7 November, and while manager Farrell said he was delighted to get another competitive game under the belt, he stressed the importance of building cohesion within the squad.
"It was important to get another game, it was only our second competitive game since we regrouped after the club championship," said Farrell, speaking to RTÉ Sport.
"It was great to get the game against quality opposition and it was a decent performance, still plenty to work on for sure, nonetheless some of the elements of the game were pleasing."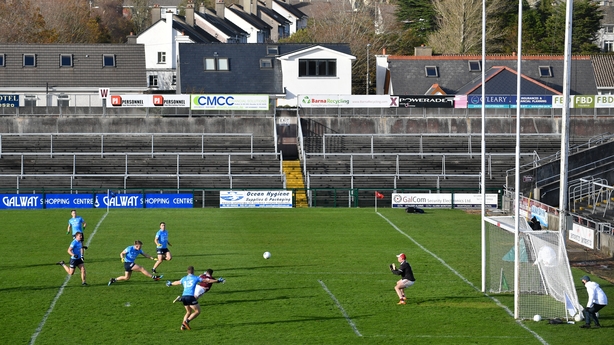 Dublin head into this year's championship with a new manager in charge following Jim Gavin's exit, and Farrell admitted that he is trying to blend the experienced players with new members in the squad as they look to carry on the success of the previous era.
He said: "There is a lot of experience in the squad and we are trying to introduce some new blood as well, so it is a case of getting that cohesive dynamic that I think is going to be important for us going forward.
"The endeavour is definitely there and I think generally we just need a sense of cohesiveness."
Farrell paid tribute to the many GAA players around the country who have been working on the front line throughout the Covid-19 pandemic and he is hoping that they will all be able to enjoy the championship without the threat of disruption.
"We all have to be very optimistic, it is a huge challenge," said Farrell.
"Some of the personnel involved with the various squads around the country are doing trojan work in terms of the doctors and the logistics people.
"So far so good, there has been a couple of episodes but at this stage, all fingers crossed, we'll have a very good championship."