Ahead of the start of the TG4 All-Ireland football championship next week, Dublin captain Sinéad Aherne has asked for outside help in order pay for the expenses of elite female athletes in Gaelic games.
While male players involved in the GAA have the cost of their trips to training covered, LGFA players are still reaching into their own pockets to foot the bill.
And while the four-time All-Ireland winner acknowledges that it's even more difficult for players outside of Dublin, she says that something has to be done for everyone.
"We are being asked to travel to training in a solo capacity, which is difficult," as the LGFA marked 20 years of TG4's sponsorship of the All-Ireland Championships.
"In Dublin that might be shorter distances, but we still have girls travelling over the toll bridge twice a day to go training. That adds up fairly quickly.
"You can look at it in one way and say, we are still not at the level men's sport is at in terms of bringing in gate revenue, but I think it is time to try and take a step forward and maybe look at it from a different approach and get maybe additional government support to help girls out.
"We are fortunate to still be playing, but equally, we need to put our hands up and ask the question, is there more that can be done?"
WGPA Return to Play Survey

Encouraging all players & squads to keep adhering to the Covid 19 protocols.

Full support to any player who wishes to opt out this year. Concerns? 📧 info@wgpa.ie

Wishing all a safe & successful return to play, a welcome resumption of action today! pic.twitter.com/IB5nNXT2hB

— WGPA (@WomensGPA) October 17, 2020
The issue of attendances has been the fore in recent years, as the LGFA repeatedly broke its own finals attendance record.
Fewer than 17,000 attended the finals day in 2012, when Cork beat Kerry in the senior decider. But last year's final saw over 56,000 come through the turnstiles on Jones' Road to see Dublin complete a three-in-a-row of senior titles.
Similarly, nearly 11,000 attended the senior semi-final double header in August of last year at Croke Park, up from a crowd up just over a thousand for the same fixtures at Dr Hyde Park in 2018.
Aherne acknowledges that despite the increase in interest in the games, county boards are unlikely to be able to provide all the funding that players want for expenses.
But the St Sylvester's forward says that some form of grant might be the solution, similar to that provided by the government towards the expenses of elite male players.
"It's a combination at grant level in terms of government who are well behind the men's funding that gets allocated.
"Their allocation does go to individual players, but obviously that's backed up by the GAA revenue that comes in and gets allocated to the GPA.
"But it's not just the government.
"We'd be hopeful to have conversations with the GAA, the LGFA, and the Camogie Association about what might be able to be done to pool resources around helping players out, but really raising the standards of the game.
"It isn't just monetary reward, it's compensation for players to try to put them in the best possible position to perform to the best of their ability."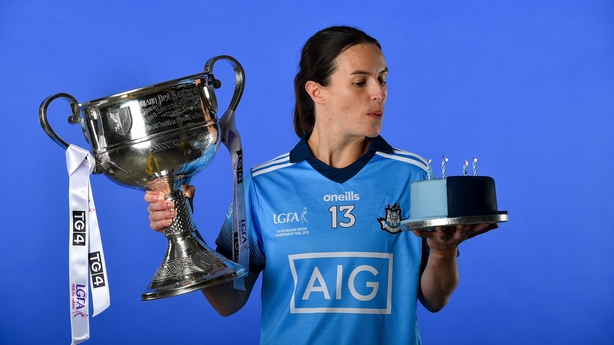 The Girls in Blue head into next weekend's opener against Donegal, before facing Waterford later in the competition.
The situation with Covid-19 is naturally at the back of everyone's minds, but Aherne is happy with how the the Dublin LGFA have been preparing.
"I'm satisfied with the precautions that we have been taking," she says.
"It's just been every time I have had a chance to go training, it has been like a bonus. It's not perfect in terms of how you would like to prepare for the championship, there probably will be cases where people will have to step out for periods of time. I think we just have to roll with it.
"There are no guarantees, there can't be. You could look at it that in terms of going into Level 5, there is probably less opportunity for players circulating.
"We're probably in a slightly safer position, but there are still a lot of players that are probably heading out to jobs where...it's not something I think you can be 100% comfortable with.
"From my own perspective, I'm reasonably happy just to see where we go. If things can improve on a national level, hopefully the championship can continue."
With just one of the three teams in each group set to progress straight into the All-Ireland semi-finals, Aherne is aware of just how an already stunted season could end in unusual circumstances for the defending champions.
"It could be a very short championship for us, and we are well aware of that," she acknowledges.
"I always would have thought that Donegal are well capable of challenging for All-Irelands. Maybe of all years, 2020 suits them. They probably have challenges every year with player availability and travel. Maybe with more home-based players, they have been together more consistently. 
"I'm sure they will fancy a crack at taking down the All-Ireland champions in the first game."