A freak injury has ruled Kilkenny's Katie Power out for the rest of the year and while she refuses to feel sorry for herself, being consigned to the role of onlooker is difficult.
After recovering from three finger operations, the Piltown player was reportedly in flying form upon returning to action this year, first for her club and then in preparation for Kilkenny's Liberty Insurance All-Ireland campaign.
And then her injury curse struck again. Speaking at an event to launch a partnership between the GAA and The Marketing Hub, Power recalls that exact moment her season was ended.
"It's still raw some 10 days on from when it happened.
"I was ahead of schedule and got two games with my club and then went back training with the county. And then on the Sunday before my first championship game against Waterford we were playing a training match and I broke my kneecap. Six or seven years ago I broke the other kneecap with the slap of a hurl.
"That ended my season. It's extremely disappointing and it will take me a while to get over the disappointment. There's really not a lot I can say to anybody. Time will help I suppose for me to get over it."
Expanding on the freakish nature of the break, Power added: "I was chasing down a girl I was right behind her, I could have hooked here. She obviously saw me and went to change direction.
"I wanted to go with her. It was a fast pace and then something happened. You hear when people do their cruciate about hearing a pop. It wasn't that but I heard something. I will never forget the pain. I went straight down.
"Most kneecaps are broken with the slap of a hurl or a collision. It couldn't be worse luck. So unlucky."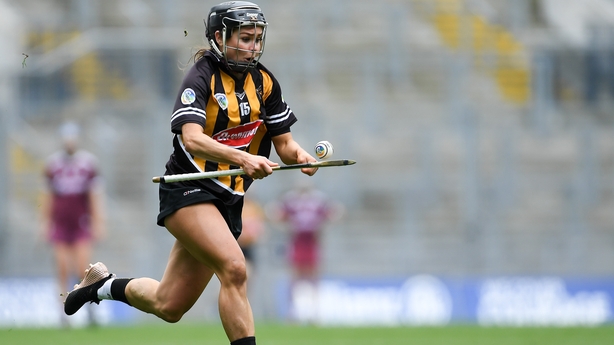 The 2016 All-Ireland winner is unsure when exactly she'll return, but is hopeful that she won't encounter the surgeon's knife again.
"I'm nearly afraid to ask what the comeback is. Will I have to go under the knife? I don't know. I got scanned 24 hours after it and there was a lot of swelling. The hope is I don't require surgery.
"I'll know more when I get the second scan. Not requiring surgery will be a small positive."
Power did watch on as Kilkenny began their All-Ireland winning campaign with a win over Waterford last weekend. She is glad the championship is continuing though she did admit to no little frustration as she watched her colleagues run out onto the pitch.
"It was great to be there even though I was in tears watching the girls warming up," she admitted.
"The physio and the doctor are there and they're obviously a great help to me. I only want to be around if I can be a positive influence in the group.
"I refused to feel sorry for myself for the two hours I was around the girls.
"It's about them. For me I have been couch-bound for the last ten days or so, so it's great to get out.
"The games are on. Soon, the Kilkenny men will be playing. We have the Munster championship this weekend. It's something to watch, something to talk about and that's very important now."
Katie Power, who today was on hand to launch a landmark partnership between the GAA and Dublin based company, The Marketing Hub. The partnership will see The Marketing Hub become the GAA's first licensed leisurewear supplier. The clothing collection will feature a wide range of items specifically created for GAA fans in 31 counties as well as New York and London. The various county ranges will be exclusively available online at www.ganzee.ie.