Dublin U20 2-22 Antrim U20 1-08
A second-half display of scintillating attacking play saw Dublin take their place in the Bord Gáis Energy Leinster U20 hurling championship quarter-finals at Antrim's expense.
When or whether or not that fixture will ever take place, is a matter for another day perhaps, but one thing is certain, on this display Dublin will be ready and willing to stake their claim for top honours if it does arise.
Antrim were disappointing after the interval, outscored by 17 points by Paul O'Brien's hungry side. The Saffrons simply couldn't live with Dublin's marksmanship, especially in the third quarter where substitute Kevin Desmond really shone with a blistering 1-02.
Overall Micheál Murphy's powerful running and the finishing prowess of corner-forwards Dara Purcell and top scorer Liam Murphy was a joy to watch and if it was to be their last game at the grade, they certainly didn't hold back.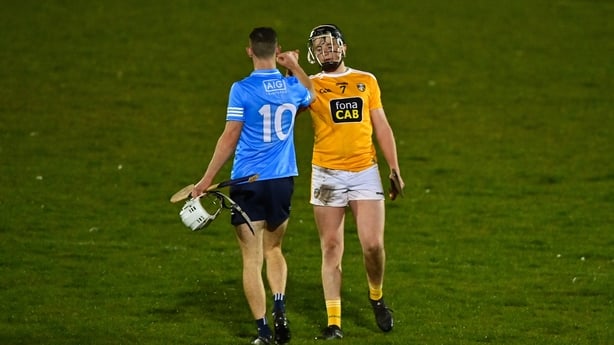 The Ulster side, with a win under their belts against Down at the weekend, were surprisingly sluggish in the opening quarter. They employed as sweeper and Dublin were able to play around that ploy, as Antrim struggled to supply decent ball into their forward line.
Dublin free-taker Liam Murphy had two scores in the opening five minutes and slowly but surely Antrim got up to the speed of the game through their own free-taker, Sean Elliott.
In truth, Elliot was keeping his side in touch and levelled the game with a marvellous 65'.
Dublin corner-back Patrick Dunleavy was forced to push up on the sweeper and he was revelling the half-back line, with a number of catches from opposing puck outs. Off this platform Dublin opened a 0-06 to 0-03 lead at the first water break.
Sensing the game was there for the taking, Dublin upped the ante quickly upon the restart. A powerful run by Micheál Murphy epitomised this, with the centre-forward fouled for a penalty.
Up stepped goalkeeper Eddie Gibbons who duly dispatched to the back of the net.
Antrim showed spirit as Elliot responded straightaway with a stylish point and then Daire Murphy offered them a huge lifeline with a well-taken goal.
Liam and Micheál Murphy would have the final say however, as Dublin led 1-08 to 1-04 at the break.
From that point onwards Dublin lifted it a couple of gears and Antrim could not find the answers, though Niall O'Connor was outstanding at full-back for the Saffrons.
Dublin: Eddie Gibbons 1-00 (1-00pen); Tommy Kinnane, Andrew Dunphy, Patrick Dunleavy; Enda O'Donnell, Kevin Burke, Donal Leavy; Mark Sweeney 0-01, Darragh Power 0-01; Darach McBride, Micheál Murphy 0-03, Luke McDwyer 0-02; Dara Purcell 0-04, Billy Ryan, Liam Murphy 0-9 (0-03f, 0-0165').
Subs Used: Kevin Desmond (1-02) for McDywer (30), Iain O'heither for Leavy (48), Alex O'Neill for McDwyer (52), Tom Aherne for Ryan (52).
Antrim: Tieran Smyth; Ruairi McCollam, Niall O'Connor, Ciaran McKay; Niall McCormack, Declan McCloskey, Caolan McKernan; Paul Boyle 0-01, Oisín Donnelly; Daire Murphy 1-00, Anton McGrath, Sean Elliott 0-6 (0-02f, 0-01 65'); Cormac McFadden, Dominic McEnhill, Aaron Bradley.
Subs Used: Ronan McEnteer 0-01 for Donnelly (29), Ryan Hill for Bradley(42), Liam Donnelly for McGrath (46), Cathal Hargan for McEnhill(51), Tom Scally for McCollam (56).
Referee: Kevin Brady (Louth)