After a month of feeling their way in the dark, the resumption of Allianz Football League hostilities at the weekend finally provided county teams across all four divisions with a progress report on the scrambled work done to date.
The striking message was that there will be no 'new order' in 2020. Money in the bank in terms of the journey teams had travelled pre-Covid-19 has doubled in value. There just isn't the time to reinvent gameplans or transform personnel within the small preparation window available and, as always, the evidence can be found in performances.
Division 1
This week's four Allianz Football League Division 1 fixtures were won by the four consistently best teams in the country over the last couple of years.
Given league positioning ahead of the games, you would have been justified in expecting two of those fixtures to go the other way but there is a significant difference between what the big guns are trying to achieve in March and in a competitive fixture two weeks out from the first round of a knockout championship.
Each has an understanding of playing personnel and embedded championship playing patterns that they have been quickly able to focus on honing in advance of the resumption of play.
The experimentation of the spring time was banished. Team selection largely reflected what could be trusted and understood strengths were played to.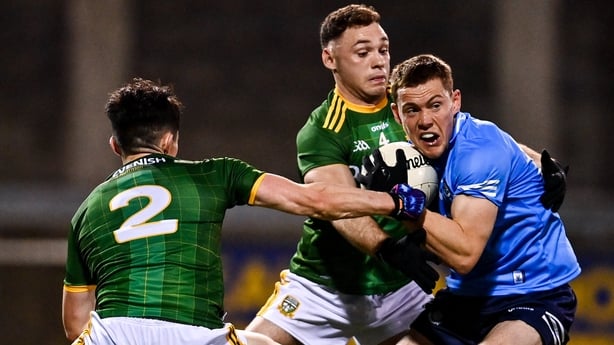 Four Pack Leaders
The 2020 All-Ireland champions will come from Dublin, Kerry, Mayo or Donegal. That is not a revelation but the reality is that there simply is not enough time for the second-tier teams to build all that is required in performances that could take out any two of that established group.
All four of these teams have established gameplans and a strongest 13/14 in recognised roles that supporters could agree on in the morning.
If they can keep their key players fit, these four will be provincial champions and staring each other down the first weekend in December for a place in the All-Ireland final. Of course a lot can happen in such a condensed programme and both Donegal and Mayo understood the cost of injuries better than most at key stages last year.
The Challengers
Each of the second-tier teams who might reasonably be given a chance of closing the gap to the top in an ordinary year have been experimenting with either personnel, gameplan or both over the last twelve months in a concerted attempt to consolidate.
Each management team are building off very solid platforms of ability but know they need to find up to ten percent more to be realistic title challengers.
Galway are the perfect example. Under Pádraic Joyce, the Tribesmen were developing an expansive style of play through the early stages of the league and building confidence in the players they hope can carry that philosophy forward. Unfortunately, the lessons from performances and results in that environment are not necessarily clear.
The top four must use the league to find the one or two small gains they need to be better than last year when it really matters from Super 8s onwards and will have used the first five league fixtures to road test their possible solutions.
Of course, that gives opponents coming up from behind opportunities against weaker line ups and experimental playing patterns and the table often lies as a result.
Monaghan have to re-establish themselves under 'Banty' and a new coaching philosophy. As has been the case for a couple of years, another consistent scoring threat alongside Conor McManus - who maybe now can be held to human endeavours given his injury profile - has to be found as well as more creativity to how they move the ball. That can't be achieved to the very highest level without time and experimentation. It's time they don't have.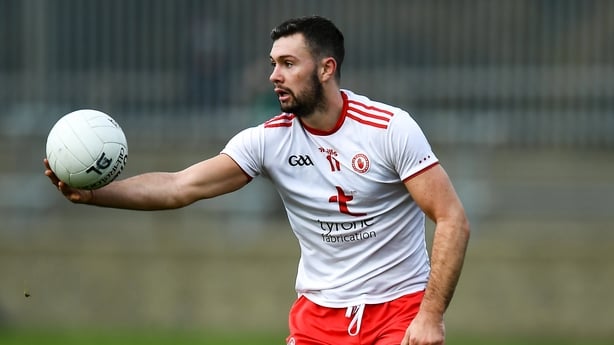 Tyrone have an interesting challenge on their hands. In the wake of falling short again in 2019, Mickey Harte began the league with a renewed kicking game in attack. Emboldened by the impact of Cathal McShane as an inside target and the permanent adoption of the offensive mark it must have seemed the obvious strength around which to build a new strategy.
When McShane suffered his worrying ankle injury in March, it must have forced a serious rethink among the bushes. Often the gameplan is sacrosanct and personnel should be interchangeable. However, sometimes players just cannot be replaced like for like and coaches must find another way to match alternative strengths.
Mickey Harte must have been well down the path of working out plan B - possibly looking into the archives of more emphasis on being difficult to break down - before Conor McKenna appeared on the horizon.
When he operated inside against Donegal on Sunday, McKenna showed glimpses of explosiveness and ball-winning that would bring a cutting edge to the Red Hand's attack. The problem again will be time.
There won't be enough of it to develop the type of movement McShane offered in the same role and - crucially - there won't be enough pitch time for the others to understand the service that best suits McKenna under championship intensity.
A New Kingdom?
Going against the grain of established patterns, the Kingdom quietly premiered variations in both their defensive and offensive systems during phases of the game in Iniskeen.
Without the ball, they revisited the idea of dropping forwards deeper to condense space in their own half. At times this was a more extreme version of anything previously seen under Peter Keane. With Peter Crowley or Tadgh Morley sitting spare in front of Monaghan's inside forwards, all of Kerry's front six withdrew behind the halfway line.
The primary objective of that approach is to exert the maximum pressure on the ball in the areas from which an opponent can create attacks. During the first half in particular, the Kerry forwards produced a high intensity tackling and forced a lot of errors outside their own 45.
Even this approach left room for defensive worries as Monaghan still created goal opportunities, even if they didn't take them. Invariably the trouble occurred for Kerry when the home team switched the focus of their attack quickly to find late runners in a 1on1 or 2on2 scenario where they could beat a tackle quite easily.
This compressed coil in defence lends itself perfectly to springing the fast counter-attack that Kerry were primarily working on.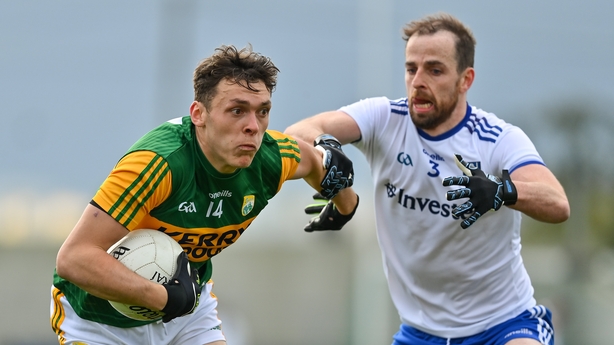 High Energy Attack
When the ball was turned over Kerry often have no one ahead of the play and so there was a particular onus on Clifford, O'Shea and Tony Brosnan to break upfield at pace behind the retreating opposition defenders.
That initial break at speed is from an unmarked starting position and makes it almost impossible for opponents to pick attackers up quickly.
Kerry used that initial movement and the space behind Monaghan really well to find outlet passes to the key forwards quickly and then support at pace. Gavin White in particular carried the second phase of those attacks superbly.
The Dr Crokes man was imperious in supporting his front men with smart running off the ball and his performance was the template for how Kerry may create scores against the very best defences in the weeks ahead.
As the game wore on, the Munster champions evolved to leaving one forward up as a fulcrum to kick to coming from defence. They rotated that role through Clifford, Brosnan and O'Shea depending on energy levels and it offered a better balance for building attacks – even if they were not as ruthless with their scoring chances as both teams tired.
This deeper defence and searing counter attack is straight from Dublin's playbook when under pressure. Inviting the opposition on to leave space behind is of course the central piece in the approach but if Kerry get ahead in games it may be an unplayable strategy given they pace they can support at and the quality of their kicking in the type of space they found on Sunday past.
We are in the early stages of rising to the task of championship intensity but the tweaks to their system that Kerry have introduced over the last month might be the missing ingredients when they meet Dublin closer to Christmas.