For an hour of today's Allianz League Division 3B final in Bekan it looked as if a hefty measure of inaccuracy, seasoned with a dollop of sensational goalkeeping, was going to cost Sligo a piece of silverware that they were widely tipped to win.
Despite enjoying the lion's share of possession throughout, a final tally of 19 wides and a series of missed goal chances meant that at the second half water break Leitrim – who were a model of efficiency by comparison – led by four points, and were ideally poised to snatch victory in this north-west derby and give themselves a huge shot in the arm in advance of next weekend's Nicky Rackard Cup clash in Armagh.
The script was turned on its head when wing back Mark Hanniffy, playing his first competitive game for Sligo since his intercounty transfer was completed, made a powerful run down the left flank of the attack and then set up Gerard O'Kelly Lynch for a game-tying goal with four minutes to play.
Suddenly, Sligo found their range and Leitrim's radar misfired. Hanniffy, Finian Cawley, Ronan Cox and Tony O'Kelly Lynch all picked off points, while Leitrim missed the target with three chances, one third of their total amount of wides over the full 80 minutes and more of action.
Sligo started well too, scoring the first two points of the game – though they got off to a dreadful start in terms of accuracy, posting five wides in the first seven minutes.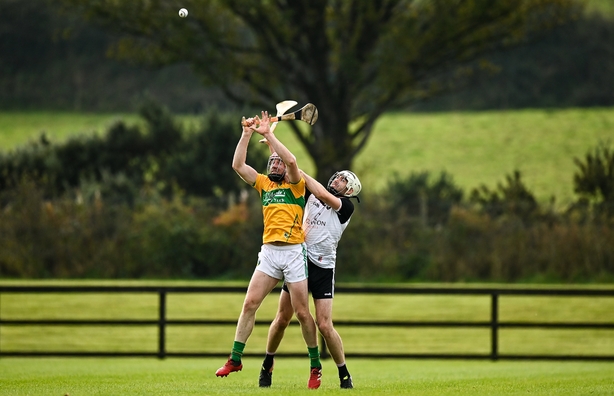 Leitrim responded with two points in 20 seconds from Ben Murray and Gavin O'Hagan, and started to pose a threat close to goal thanks to the physical power of ex county footballer Conor Beirne.
Beirne set up substitute Peter Poniard for the game's first goal immediately after the water break, making it 1-4 to 0-3, while at the other end a stunning double save from Michael O'Brien to deny first Gerard O'Kelly Lynch and then Andrew Kilcullen piled even more pressure on Sligo.
O'Kelly Lynch did find the net with a wonderful run and inch-perfect shot across the goal from a tight angle, but Beirne seemed to be more and more dominant as time went on and he batted in one high ball and then fired over a point to really put Leitrim on the front foot.
Add in a perfect flick from David McGovern to take the ball off Andrew Kilcullen's hurl when it looked like a goal was certain, and the day was starting to get the feel of one where the stars were aligning for Leitrim.
Perhaps inspired by Leitrim's example of how to use a big physical player close to goal, Sligo went the same route after half time and it immediately paid dividends. Conor Griffin, who started the Sligo footballers in yesterday's defeat to Carlow, set up his fellow footballer Gerard O'Kelly Lynch for one goal, had another two efforts magnificently saved by Michael O'Brien, and then chipped over a point to push the Yeats men in front.
What followed was Leitrim's best spell of the game, as Gavin O'Hagan, Conor Beirne, James McNabola and Enda Moreton put over a string of incredible points in an 0-7 to 0-1 run for the men in green in gold, while Sligo seemed utterly unable to hit the target, at one stage shooting five wides in succession.
It looked like the finish line was in sight for Leitrim, but in a year where nothing is expected and anything can happen, there was time for one late twist in the tale, and for Sligo to pull an unlikely victory out of the fire.
Sligo: Stephen Fleming; Kevin O'Kennedy, Niall Feehily, Niall Kilcullen; Mikey Gordon (0-01), Rory McHugh, Mark Hanniffy (0-01); Finian Cawley (0-02), Eoin Comerford (0-01); Gerard O'Kelly Lynch (3-04, 0-02 65's, 0-01 free), Conor Griffin (0-01), Kieran Prior; Andrew Kilcullen, Tony O'Kelly Lynch (0-03, frees), Conor Hanniffy (0-02).
Subs: Ronan Cox (0-01) for Comerford (22), Daniel Rolston for N Kilcullen (49), Ruairí Brennan for C Hanniffy (60), Michael Munnelly (0-01) for Prior (60),
Leitrim: Michael O'Brien; Stephen Goldrick, David McGovern, Paul Lenehan; Martin Feeney, Aaron McDermott, Ben Murray (0-01); Enda Moreton (0-01), Karl McDermott; Liam Moreton, Colm Moreton (0-02), James McNabola (0-02); Conal McGuire, Conor Beirne (1-02), Gavin O'Hagan (0-08, 0-05 frees).
Subs: Peter Poniard (1-00) for K McDermott (16), Zak Moradi for Poniard (52), Jamie Ward for McNabola (67).
Referee: Richie Fitzsimons (Offaly)