Minister for Justice Helen McEntee has insisted it is appropriate for the GAA inter-county season to resume this weekend, but has appealed for supporters to follow matches from their own home.
Helen McEntee's comments come amid mixed opinions within the GAA over the resumption of inter-county action this weekend, alongside rising levels of coronavirus and further restrictions.
However, Ms McEntee – a niece of the Meath football manager Andy McEntee – indicated that the Government would pull the plug on the delayed championships if public health guidelines are ignored.
Meanwhile, Tánaiste Leo Varadkar has said that the football and hurling championships will be cancelled if the country moves to Level 5 coronavirus restrictions.
Mr Varadkar's comments contradict an earlier assurance from chief medical officer Dr Tony Holohan that the GAA's premier competitions would continue even if the country moves to the most severe restrictions.
The Fine Gael leader told Today FM it was "feasible" for the inter-county game to return - something echoed by Ms McEntee.
"I think if it's done properly it can be appropriate, but if it's not being done properly, then I have no qualms in saying it should be stopped. I do think it can be done properly", said Ms McEntee when asked if staging the games was 'reckless' on RTÉ's Drivetime.
"I think it can go ahead. You have people coming from across the county to come together to play another team, in the same way we have students going to school every days travelling across the county.
"There are strict guidelines and rules that people have to adhere to. Sport is a really important part of people's lives, not just playing it, but watching it."
The Fine Gael TD appealed for supporters to follow public health rules after concerns around the number of Covid-19 cases linked to celebrations after club finals in several counties.
"What I wouldn't accept and I think we need to be very honest about what's happened over the past number of weeks, is what happens before or after the matches," she added.
"Unfortunately, what we've seen happen before and after matches has contributed to numbers increasing in the last while. I do support matches going ahead, but they must go ahead behind closed doors and I think the GAA needs to make sure that absolutely every guideline is adhered to and people are protected and kept safe.
'Most importantly, I would ask anyone if there are matches happening this weekend, to not gather in other people's homes, to not try to travel to the matches where they're happening. We've seen it happen and I understand it, but for people to please watch it from their home or listen to it on the radio."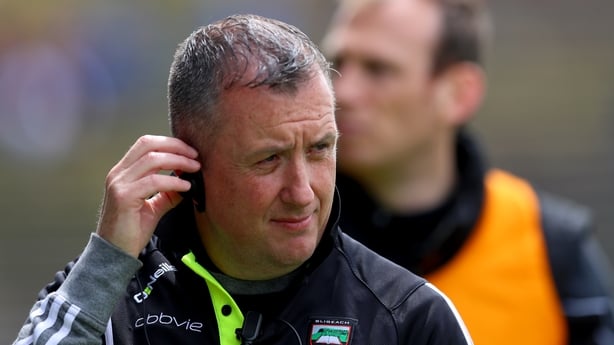 Meanwhile, Carlow football manager Niall Carew has echoed for calls for National League games to be played in neutral venues, amid concerns over county panels travelling long distances across the country when people are asked to restrict their movements, and in some instances, entering into Covid hotspots.
"If it cut out the long-distance travelling, then yes, its an excellent idea," said Carew when asked whether he agreed with Laois manager Mike Quirke's suggestions game should be staged in neutral settings.
Carew, who begins his Carlow career with a Division 4 encounter against his former side Sligo on Saturday, feels the championships should go ahead to give a boost to national morale.
"For everyone's mental health, it's something to look forward to, and it will make the winter shorter," he opined.
"In fairness to the GAA, everything is in place. There are risks with everything you do in life, and this is a big risk as we don't much about it, but its good for everyone to get back out and for the younger and older generation to have something to look forward to at the weekend," Carew told Drivetime.
Players have expressed differing views on the return to play, with the Gaelic Players Association collating the results of a nationwide survey of its members on the planned resumption.
The former Kerry All-Ireland winning captain Darran O'Sullivan told Drivetime that some players may be afraid to speak out if they have coronavirus-related concerns for fear of jeopardising their inter-county futures.
However, All-Ireland winning Dublin footballer Niamh Collins says players who don't wish to play should be given reassurances their actions in 2020 won't impact on their inter-county careers.
"It should be up to each individual to make the decision about whether or not they're comfortable to play – I don't think any ill will should be held to any players if they don't want to," she told RTÉ Radio.
The Foxrock-Cabinteely defender says she's looking forward to donning the Dublin jersey again, but acknowledged that some people may be anxious about bringing the virus to an elderly or vulnerable family member.
"There should be a provision made this year to make sure that nobody this year would be adversely affected if they decided to step away from the panel this year," she said.
"It should go above and beyond – no adversity to any player who decides this year wasn't for them, for their own safety, for the safety of people they love or just in general, if they're not comfortable playing.
"It should be made very clear – they should not feel any ill effects of that choice."