Blackrock 4-26 Glen Rovers 4-18 (AET)
Blackrock are Cork hurling champions for the first time since 2002 after an extra-time win against Glen Rovers in a hugely entertaining Co-op SuperStores Premier SHC final at Páirc Uí Chaoimh on Sunday.
While eight points separated the teams in the end, it was only in the closing stages that the Rockies could be sure that their drought was ended.
Having trailed by 3-24 to 3-16 at half-time in extra time, the Glen got right back into it as Patrick Horgan netted a penalty, awarded for a foul on himself, and two more frees from the Cork star left four in it.
However, Blackrock were not to be denied and sub Robbie Cotter made sure of victory when he forced a turnover and raced clear to score his second goal while Alan Connolly sent over two late frees to finish with a tally of 13 points.
Despite the Rockies having the considerable wind behind them in the first half, it was the Glen – playing in a black change strip – who had the game's first three points but Blackrock settled and fired over six in a row, Connolly with three while he hit the post with a goal effort.
While the Glen were back to within a point just after the water-break after points from Horgan and Dean Brosnan, Blackrock were on top, with Stephen Murphy and Niall Cashman impressive in the half-back line, and they led by 0-12 to 0-7 at half-time.
However, within five minutes of the restart, the sides were level thanks to two goals from the Glen's Simon Kennefick. First, he doubled on Stephen McDonnell's handpass after a good run by the defender; then, after Connolly's sixth point for Blackrock, a McDonnell delivery was won by Kennefick and, though Gavin Connolly saved his shot, he poked home the rebound.
The Glen, beaten by Imokilly in last year's final, were back in front thanks to a Horgan 65 but, while they might have been expected to push on, Blackrock were back in front thanks to a great individual goal from sub Tadhg Deasy. Points from Michael O'Halloran and Connolly followed that but the Glen were level by the water-break thanks to a Horgan free and a goal from Mark Dooley after Liam Coughlan's shot hit the crossbar.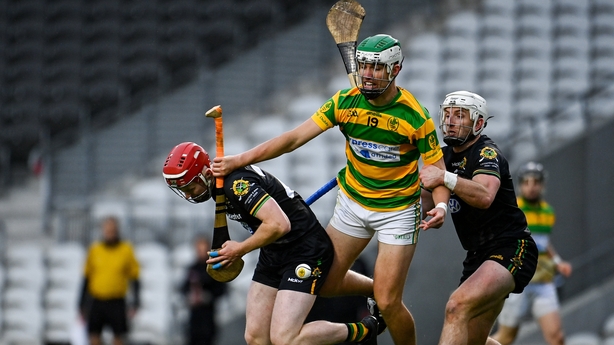 In the final quarter, it was blow for blow, with the Glen looking likelier winners. In the 63rd minute, Patrick Horgan scored his eighth point, a lovely effort set up by sub Luke Horgan, but Blackrock replied through Connolly to force extra time – the first drawn Cork final since 1996.
Blackrock had the wind again in the first period of extra time and made it count as points from Connolly and sub Alan O'Callaghan were followed by a goal from Shane O'Keeffe, who poked home a Connolly delivery.
Things got even better when O'Keeffe set up Cotter to make it 3-24 to 3-14, but two Horgan dead balls left eight in it at the turnaround. That deficit was halved again in the second period, but Blackrock held out.
Blackrock: Gavin Connolly; Richie Laide, Gary Norberg, Jamie Ryan; Stephen Murphy, Cathal Cormack, Niall Cashman (0-02); David O'Farrell, Daniel Meaney (0-02); Mark O'Keeffe, Ciarán Cormack, John O'Sullivan; Michael O'Halloran (0-03), Shane O'Keeffe (1-01), Alan Connolly (0-13, 0-11 frees).
Subs: Tadhg Deasy (1-01) for Mark O'Keeffe, John Cashman for Laide (both 37), Robbie Cotter (2-02) for Ciarán Cormack, Alan O'Callaghan (0-02) for Ryan (both 51), Kevin O'Keeffe for O'Sullivan (60), Eoin O'Farrell for David O'Farrell (68, injured), Mark O'Keeffe for O'Halloran (75, injured), Dave O'Shea for Gavin Connolly (80).
Glen Rovers: Cathal Hickey; David Dooling, Robert Downey, Stephen McDonnell; Adam Lynch, Brian Moylan, David Noonan; Donal Cronin, Adam O'Donovan (0-02); Mark Dooley (1-02), Patrick Horgan (1-12, 1-00 penalty, 0-06 frees, 0-02 65), Dean Brosnan (0-01); Conor Dorris, Simon Kennefick (2-00), Liam Coughlan (0-01).
Subs: David Cunningham for Dorris (41), Calvin Healy for Dooling, Dale Tynan for Brosnan (both 55), Luke Horgan for Cronin (58), Glen Kennefick for Coughlan, Brosnan for Tynan (half-time in extra time), Daniel Morris for O'Donovan (75, injured).
Referee: Cathal McAllister (Aghada).