Former Dublin manager Pat Gilroy has hailed Diarmuid Connolly as a player he was "blessed to be involved with" following news of the forward's retirement from inter-county football.
"Diarmuid was an outstanding player and absolutely critical to both St Vincent's and Dublin's success over the last number of years," Connolly's club-mate told RTÉ Sport.
"He was just one of those exceptional talents that you're blessed to ever be involved with. I had the joy of playing with him and managing him.
"He was a different standard of player from a talent perspective. He was a very intelligent contributor to any kind of tactical discussions. He could see things that maybe others couldn't see from a very young age.
"He was a pleasure to manage. He came with his challenges the odd time but generally speaking he was great."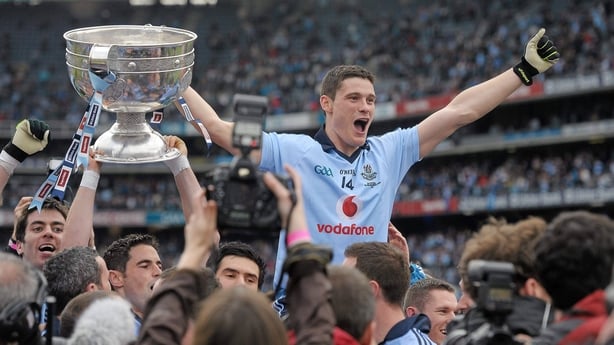 In 2011, Gilroy led Dublin to their first All-Ireland title in 16 years. The then 24-year-old Connolly scored 0-07 from play in the quarter-final victory over Tyrone, was subsequently shown a red card in the infamous semi-final stalemate with Donegal, and eventually cleared on appeal to return and orchestrate the attack in the dramatic final victory over Kerry.
"The performance he gave against Tyrone in 2011 was as good as anyone has given in Croke Park," said Gilroy.
"That was a real turning point for that team. He was certainly the stand out player that day, he was just unmarkable.
Tributes paid to Dublin star Diarmuid Connolly, who has retired from inter-county football #RTEGAA #RTESport pic.twitter.com/ITRfVyo8mP

— RTÉ GAA (@RTEgaa) October 1, 2020
"If you look at the last 15 minutes of the final in 2011, the amount of possession that went through his hands. He had a part in most of the scores that we got and a lot of turnovers as well.
"Stephen (Cluxton) obviously scored the (winning) point and Kevin (McManamon) got the goal but Diarmuid's contribution during that last 15 minutes minutes was phenomenal.
"The amount of work and ball that went through his hands. That was a part of his game that got better and better as he got older."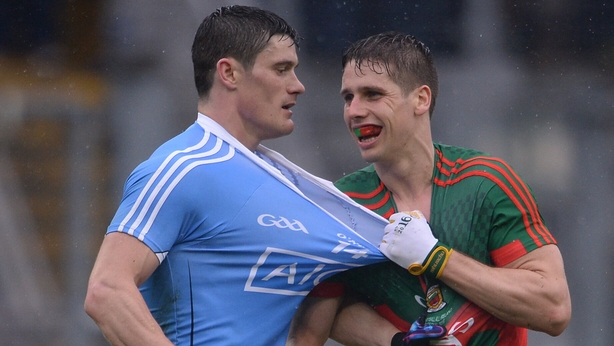 Connolly was sent off again in the 2015 drawn semi-final after a clash with Mayo defender Lee Keegan, a frequent thorn in his side.
By now, he had the reputation as a player who was supremely skilful but could be provoked into losing his cool.
"I think that was a compliment to him that sometimes there was just no way to stop him fairly," said Gilroy, who was succeeded by Jim Gavin as Dublin boss after the 2012 championship.
"People did everything that they thought they could get away with to try and put him off his game.
"He put up with an awful lot over the years. In club football I would have seen him getting pulled and dragged a lot and he held his temper a lot more than he didn't."
In case you missed the panel discussion on the Dairmuid Connolly incident from the weekend, you can watch it here. #RTEGAA pic.twitter.com/HROyQm8Bny

— The Sunday Game (@TheSundayGame) June 5, 2017
A 12-week suspension served in 2017 for poking a linesman in the chest in Dublin's Leinster SFC win over Carlow saw him restricted him to the role of substitute in that year's semi-final and final.
Connolly skipped the 2018 championship altogether to play in the US and seemed set to do the same last year before making a surprise late-summer return as Gavin's men sealed the five-in-a-row.
It's easy to surmise that constantly being in the headlines didn't sharpen the player's appetite for the inter-county stage.
"I think everybody was a bit disappointed by that," said Gilrory of the three-month ban three years ago. "That just didn't seem to be fair.
"The GAA disciplinary (system) is usually considered to be reasonable.
"He probably got the rub of it in 2011 when his suspension was lifted for the final.
"That one went against him. I don't how badly it affected him but it didn't sit right with anybody."
Many of the tributes paid to Connolly have described his skill and ability to kick off both feet as "natural talent" but Gilroy, who witnessed his development in Marino, said hard work was also a big factor.
"Diarmuid was out practising all the time. I know him from a kid and anytime I ever saw him he had a ball or a hurl in his hand.
"It didn't just happen by accident. He did hours and hours of practice."