East Kerry 2-15
Mid Kerry 0-09
We waited and waited and then, four minutes into the second half, it arrived. Dara Moynihan did the spade work for the champions and then managed to squeeze a pass out to David Clifford.
Receiving the ball some 25 metres out from the Mid Kerry goal, little looked on, but in the one movement Clifford took the ball and smashed a shot to the top corner of the Mid Kerry goal.
It was the score that both made and broke this Kerry Senior Football final, and it ensured East Kerry retained their county title with their easiest win of the championship.
The reigning champions were hot favourites to make it back to back titles against a Mid Kerry district looking for its first county title since 2008.
Clifford had missed the semi-final through suspension. The sense this evening was that he wanted to leave a different sort of mark on the final. He did that, leaving with a goal and three points from the play, the official man of the match award, a second county medal, and the expectation that he will carry Kerry to great things as the evenings shorten next month.
The first half in Tralee was a slow burner, never quite catching fire or igniting the 200 spectators allowed in, who remained passive throughout a pedestrian enough opening 35 minutes.
Ronan Buckley kicked the game's first score after just 30 seconds, and though the first period produced 16 points – and a plethora of missed opportunities by Mid Kerry – there was little by way of intensity or devilment on the pitch.
David Clifford kicked the first of three first-half points from play to double the champions' lead but scores from Ciaran Kennedy (free) and the very industrious Liam Carey kept Mid Kerry in touch.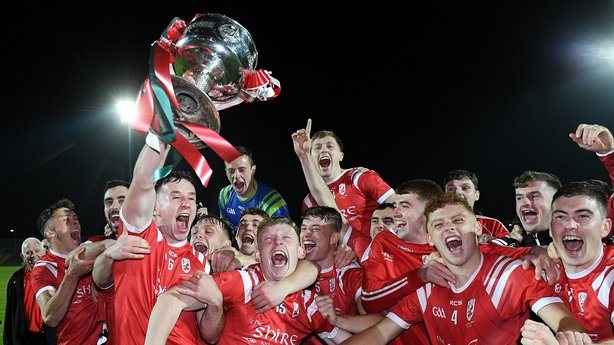 The Clifford brothers needed watching – as did Gavan O'Grady and Darran O'Sullivan at the other end for Mid Kerry – but no player was really hurting the opposition.
In the 10th minute Kennedy popped an incisive pass into midfielder Ronan Murphy but Shane Ryan was out quickly to cut down the angles and Murphy's weak shot dribbled wide. It said much that it was the half's best goal chance.
Points from Kerry team-mates David Clifford and Dara Moynihan helped East Kerry to a 0-06 to 0-03 lead at the water break.
By half time the champions led by just two, 0-09 to 0-07, but there was a sense they were just waiting to pounce.
Mid Kerry had created the majority of chances, but eight wides and a rattled post was a poor return for their endeavours, and at the interval there was a nagging sense they would rue those misses.
Four minutes in and Clifford struck for his wonder goal to add to his growing cannon of such scores, and Mid Kerry were still clearly stunned from that when they allowed Paudie Clifford tee up Darragh Roche for a second goal just two minutes later.
Eight points ahead now, 2-09 to 0-07, and the champions were easing out for the winning post.
Mid Kerry's first score of the half didn't come until the 56th minute, inevitably from Carey, but the red and white ribbons were already adorning the Bishop Moynihan Cup by then, with East Kerry looking a good bet to emulate the district team of 1997 – 99 and complete a three-in-a-row of their own next year.
East Kerry: Shane Ryan, Chris O'Donoghue, Jack Sherwood, Niall Donohue, Shane Cronin, Dan O'Donoghue, Paul Murphy, Mark Ryan, Ronan Buckley 0-02, Dara Moynihan 0-02, Paudie Clifford, Brendan O'Keeffe, David Clifford 1-04, Darragh Roche 1-03 (0-01f, 0-01m), Evan Cronin 0-03 (0-01f).
Subs: Mike Foley for B O'Keeffe (48), Dan O'Brien for M Ryan (48), Brian O'Donoghue 0-01 for S Cronin (56), Jeff O'Donoghue for E Cronin (56), Padraig Doyle for D Moynihan (58).
Mid Kerry: Stephen Cahillane, Pa Kilkenny, Pa Wrenn, David Mangan, Peter Crowley, Mike Breen, Jack Brosnan, Colin McGillicuddy, Ronan Murphy, David Roche 0-01, Fiachra Clifford, Ciaran Kennedy 0-01f, Gavan O'Grady 0-01, Liam Carey 0-06 (0-04f), Darran O'Sullivan.
Subs: Caolim Teahan for F Clifford (39), Jack O'Connor for C Kennedy (44), Cathal Moriarty for D O'Sullivan (49), Gavan Horan for J Brosnan (49), Sean O'Brien for D Roche (52)
Referee: Paul Hayes (Kerins O'Rahillys)