Colm Cavanagh walks off the stage with little to prove and little time to look back either.
He has recently set up a new company, 'Inspired Tax Incentives', his children are young, Chloe is three and Jamie is just one, and by his own admission his body wasn't where he felt it was.
"A lot of people may look at the timing of my retirement and ask, 'why is he going now at this stage of the season?'" 33-year-old Cavanagh says.
"But the truth is I will be away a lot with the new business, I will be in London pretty often, and I didn't want to be going up to Mickey (Harte) in a few weeks telling him that I was pulling out.
"Over the recent past I wasn't 100% on this decision to retire, a part of me felt that my time could be managed and another part of me feels there will definitely be a new All-Ireland winner this year, and I have no doubt that Tyrone will be right up there. So, I needed to reconcile that in my head – would I be comfortable watching the lads if we won the All-Ireland.
"But the truth is I would be delighted for them if they did win. And from my perspective a new business really needs total focus in the first 24 months, and I have a young family to look after as well.
"I played earlier in the league and the body was going ok, but since then my knee has become an issue as well and that will be a long-term issue.
"So, with all of that going on, I don't think I would have been able to give Tyrone 100% and that would have been no good for anyone."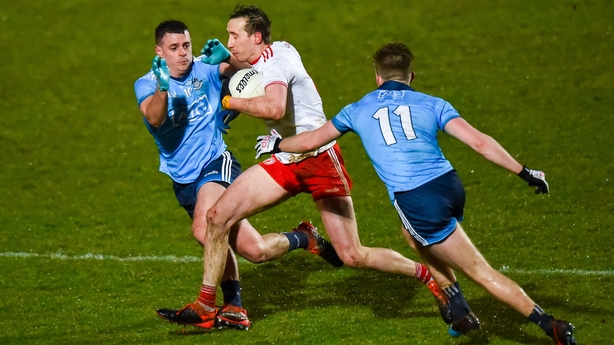 Had Covid not hit, Cavanagh would most likely have seen the season out. He toyed with the idea of retirement last year but made the call to have one last spin on the carousel and started the 2020 season in decent form.
When the pandemic disrupted life in March, he trained away in the background like every other GAA player, just to keep ticking over and he felt fine.
"The club season didn't go as planned for us with Moy and then a combination of things came to light at the same time. My body wasn't going on full power, the new business was established in July and it meant that I was soon travelling back and forward to London to grow the company.
"We are early in the stages of that, but that side of things doesn't marry up an inter-county career where you have to train three to four nights a week.
"I would say that 100% my priorities have shifted. From a business point of view, I couldn't be leaving the office at 4pm to go training and expect everything to look after itself."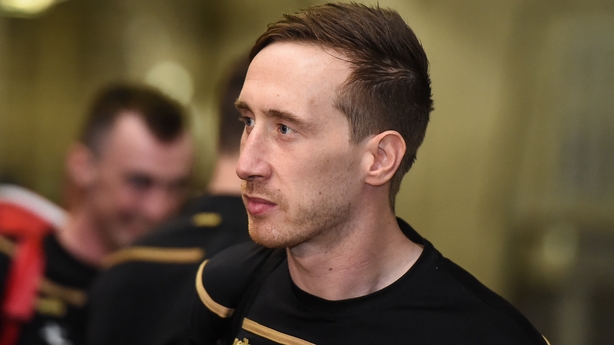 'Inspired' is a tax consultancy business that specialises in research and development tax claims and capital allowances for UK businesses. Cavanagh heads the company with his business partner, Eugene O'Neill.
"There are a lot of Irish guys working in London, from Laois, Kildare, Mayo, Donegal and we have targeted that sector," Cavanagh says.
"The Irish business community in London is a massive network and we have made good inroads there. The nature of the business is one that both Eugene and I have worked in all our lives and we came together over lockdown and decided to give it a go.
"We have plenty of business in the north but our biggest primary market in London and it has opened my eyes to see the amount of guys from Donegal, Mayo, Galway and Kildare, all big successful businesspeople, who are willing to hear you out and give you work.
Cavanagh is certain that his GAA background and profile helps create opportunity.
"It's huge in opening a door," he says.
"Because of the football side of things, they are at least willing to meet you, to listen to you and I am thankful for that. It's up to us then to take it from there.
"Some people would make contact through zoom or video calls, but I think I've really got to be over there in front of these guys to make progress. There is no doubt that the GAA has been a big help. Most of the businesspeople live in London but they do travel over, and back and Gaelic football or hurling is their link with home.
"It's up to us then to make the impression and add to our own business when we get to meet them."
He still won't get to see as much of his wife, Levina and their two young children as he would want over the next few months and says the lure of getting a picture with Jamie at Croke Park – Chloe has already appeared by his side in post-match pictures and videos –was a real tug for him to stay on with the Tyrone panel.
"We definitely wanted a picture with Jamie in Croke Park, we would be very sentimental like that and we love look back on pictures and videos," he says.
"But hopefully if Tyrone do the business, I will be able to bring Jamie down to the pitch later in the year to get a shot of the two of us. There is no better feeling than having your kids with you on the pitch and, thankfully, someone took a picture of Jamie and myself after the League game against Meath earlier in the year."
The time has come.... ?? pic.twitter.com/uuVNUtdalT

— Colm Cavanagh (@collykid2) September 22, 2020
With an All-Ireland medal from 2008, five Ulster SFC titles and two All Stars, the 33-year-old retires with no regrets.
"In the past few weeks, I have done a lot of questioning in my head, but I have no more to prove to anyone," he says.
His legacy will be of the ultimate team player, covering all areas of the field to safeguard the Tyrone defence, steal possession from the opposition and then to have the technical ability to break forward and help engineer scores at the other end.
His re-definition of the sweeper role, he feels himself, is overplayed.
Cavanagh's ability to be on the edge of the 'D' at the right time and place was uncanny but, he says that role came from natural evolution rather than any grand plan.
"Around 2010 and 2011 I was a working half-forward with a natural instinct to go back and help the defence," he states.
"Both Mickey and I spotted that tendency and the role evolved naturally – a lot of it came by natural instinct in that I guess I could read a game quite well and see where the danger was.
"Maybe it was my old school background, but we didn't tend to analyse it a lot, just worked on it in-house and it came from there.
"Tyrone got a lot of criticism and we were seen by some as a negative team but, in my time, we were never far away, always in touching distance even if Dublin did give us one or two beatings.
"We put up huge scores in games and we played in an inter-county landscape where tactics, structures and systems were the order of the day. We were not the only ones to play calculated football, but we seemed to get a lot of attention for doing it."