The final itself was won in a matter of just seconds. The journey to the top, however, was 25 years in the making.
With 81 minutes on the clock, John McGrath stood over a '65 and with that pure, effortless, McGrath-style of striking, floated the ball over the bar. Loughmore-Castleiney had one hand on the Dan Breen Cup.
But whilst the Loughmore spectators were on their feet, punching the air, Barry Hogan was already in restart mode.
He pucked the ball out into an area where Loughmore somehow had six defenders sucked into the middle of their rearguard.
Yet, it was Kiladangan's Joe Gallagher that won the puck-out. Gallagher looked to his left and saw open space, he hand-passed to the on-running Brian McLoughney, who had earlier been taken off only come back on and hit 0-2.
McLoughney darted in towards goal and unleashed a flash shot to the corner of David Kennedy's net. With his sharp strike, so ended decades of hurt and despair. Here was an Aguero moment to make up for the club's torture of losing two finals in the previous four years.
A score for the ages to finally put the club on the Tipperary SHC roll of honour.  
"It's emotional to see how far we have come," says Kiladangan sub-keeper and assistant Tipperary manager, Darragh Egan.
"Around 25 years ago I went to watch my brother play a junior hurling match.
"It was our first team and we were playing Roscrea's second team. They absolutely hammered us," he says.
"That was where we were at – being beaten by other clubs second teams. To be here now with two senior teams – 'A' and 'B' – and to have one of them as county champions is just hard to process. There has been a lot written about our journey but there is no secret sauce. It's just been pure hard work."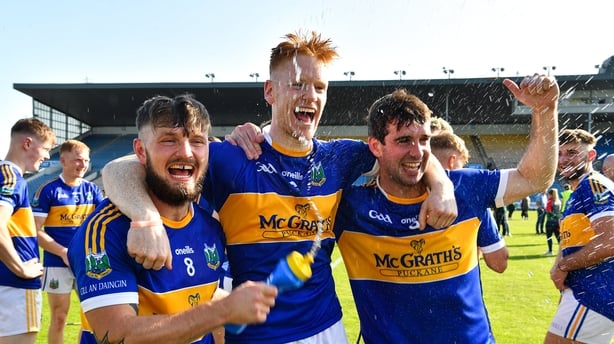 Since Billy Seymour, Tipperary's under-20 goalscoring hero of 2020 hit the road with his club, there has been a real path of progress available.
"Too many people to thank for that," Seymour says. "The work that has been put in by so many has allowed us to compete for these titles."
That wasn't always the case. As Egan alluded to, for decades the club was confined to 'B' competitions or the intermediate and junior grades. During that time they lost outrageous young talents like Sean Kelly who moved to USA and Brian Flannery who went to college at Waterford IT and switched to hurl for Mount Sion and Waterford, where he still lives.
The club didn't win county or north Tipperary titles from the 1970s to the 1990s and when Eamon Kelly took over their intermediate team in February 2000, they hadn't had a victory in a game at that level in three years.
Kelly, the former Offaly and Laois manager, made a massive impact. In 2001, they made their first north final ages with a team moulded from the successful 1998 minor 'B' county championship side, the likes of Hugh Flannery, Gerry Slattery, Tommy Connors and Dan Hackett all to the fore.
In 2002, they won the north title again, beating Newport and in 2004, Kiladangan won the Tipperary and Munster intermediate titles, before winning the All-Ireland club title the following spring.
Kelly stepped away after that win but returned in 2008 when Kiladangan won the north senior hurling title.
They had gone from a fruitless spell in the 70s, 80s and 90's to winning 11 titles in the 2010s.
The rising tide lifted all boats - between 1970 and 1989 they had only managed five north divisional under-age titles. In the last decade they have taken almost four times that number.
A journey, quarter of a century in the making, has centred on progressive chair-people, hardworking committees and strong juvenile hurling.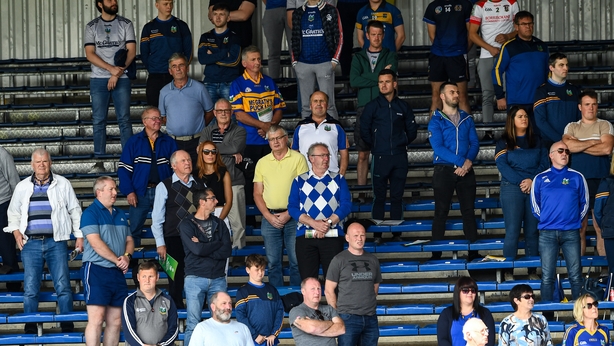 Various Kiladangan underage teams have been taken all over the country playing matches. It has broadened their minds, shown them all manner of hurling styles and helped them stay close to their club and teammates.
They've enjoyed working with some top-class managers and coaches, from current boss Brian Lawlor to Eamon Kelly, Limerick's Ger Hegarty and Ger Cunningham, and Portumna's Johnny Kelly and Sean Treacy – to name just a few.
Meanwhile, work in earnest ramped up off the field. The late Michael 'Spike' Nolan and Seamus Hayes, both played key roles in buying land adjoining their existing pitch. New dressing rooms and a meeting room were constructed, later followed by a second pitch, floodlights and a stand.
A hurling wall and sand-based pitch came along with an indoor training complex.
As the years went on players took real ownership of the club by helping with the fundraising drive. The complex in Puckane, which cost €700,000, is now debt free.
Their culture is strong. They formed an exchange programme with Antrim club Dunloy and in recent years 29 of the club's senior panel of 35 were back coaching at under-age level.
A parish that was always closely-knit has in the past number of years the club really stepped up in terms of driving coaching and participating in the community. Fifa tournaments were organised to help players bond. Irish and Maths grinds have been provided for Leaving Cert students and it's rare to see an underage Kiladangan game without 10 or 12 of the senior players there to support them and to also puck around with each other at half-time.
Incredibly, for an outfit that was once struggling at junior level, they have fielded a senior 'B' side – who compete in the Seamus O'Riain Cup – for the past two seasons. At times there have been in the region of 60 adult players training at their ground in Puckane– a far, far cry from the mid-1990s when they struggled down the grades.
Their numbers on Tipperary squads have risen in the recent past too. Last year Willie Connors, Alan Flynn, David Sweeney and Barry Hogan were all part of the All-Ireland winning squad. Billy Seymour and Sean Hayes picked up U20 medals. Dan O'Meara made the Tipperary senior football panel.
They're not finished yet either.
"It's just relentless hard work," says Egan, one of the many who has led the way forward.
"But we met last week with the juvenile committee and we will drive on again with the under-12s, 14s and 16's. We need to plan that we keep eating at the top table for a long time to come."