Scotstown 1-14 Ballybay 0-7
Scotstown are Monaghan SFC champions once more after an absence of just one year following what was, in the end, a comfortable victory over Ballybay in Clones today.
Scotstown were playing in their eighth county final in a row, having won five of the previous seven. Ballybay, for their part, last won the senior championship in 2012, which itself was a first title in 25 years.
This repeat of the 2018 final was played in sweltering conditions at St Tiernach's Park, but it was only a meaningful contest in an absorbing first-half.
While the the quality of the football was somewhat lacking, the closeness of the exchanges saw the sides level three times before Scotstown took a two points lead into half-time break.
On the resumption they could have had this game wrapped up by the end of the third quarter but they were uncustomarily wasteful in their finishing, both from frees and from play.
As they built in momentum in the second-half, so the Ballybay challenge faded.
Shane Carey lifts the cup for @ScotstownGAA pic.twitter.com/gGcX3JDwzz

— @monaghangaa (@monaghangaa) September 20, 2020
Ballybay opened much the smarter and had three points on the board inside seven minutes through Tiernan McSkeane after just thirty seconds, Christopher McGuinness and then Paul Finlay from a free, the latter going on to be his side's top scorer with four points, all from frees.
Scotstown opened their account through Matthew Maguire in the ninth minute but Finlay converted another free, to keep three between them at the first half water break. Paul Sherlock reduced the deficit to two and by the twentieth minute Scotstown were back on level terms with points by Conor McCarthy and Shane Carey, both from frees.
Scotstown went on to take the lead for the first time in the twenty-first minute with a point from a free by Conor McCarthy, but Ballybay were soon back on level terms thanks to a Thomas Kerr free. Paul Finlay restored Ballybay to the lead with a point from a free in the twenty sixth minute
But by half-time, Scotstown had taken a two points lead with three unanswered scores from Kieran Hughes with an excellent solo effort, Conor McCarthy from the resultant kick out and Rory Beggan from a forty-five in stoppage time.
Scotstown finished the first-half with fourteen players after Frank Caulfield was black carded in the first minute of stoppage time, bit it didn't deter them as they started the second period well.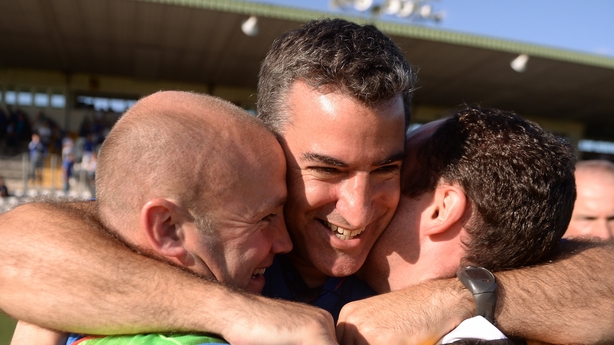 Ballybay were under pressure, but the eventual winners let them off the hook early on, kicking five wides in the opening ten minute. Ballybay, however, also failed to find the target despite a couple of opportunities.
By the second-half water break though Scotstown had opened a four points lead with points apiece by Conor McCarthy and Shane Carey, both from frees.
With eight minutes of normal time remaining Paul Finlay registered Ballybay's only score of the second-half when he pointed a free with Scotstown then using all their experience to control the play and frustrate Ballybay's best efforts.
They were also able to keep the scoreboard ticking over, as Conor McCarthy, Rory Beggan with two from long-range frees, and Shane Carey, registered scores to put Scotstown seven points in front.
Try as they might Ballybay could generate no response and Conor McCarthy put the icing on the cake with a brilliant solo goal two minutes into stoppage time when he broke clear of the Ballybay cover, wrong-footed Ballybay keeper Adam Counihan and slid the ball home with his right foot to leave Scotstown comfortable winners with ten points to spare at the finish.
Scotstown: Rory Beggan 0-3 (2f, '45), Jack McDevitt, Damien McArdle, Donal Morgan, Michael Meehan, Ryan O'Toole, Frank Caulfield, Darren Hughes, Kieran Hughes 0-1, Conor McCarthy 1-5 (0-3 frees), Shane Carey 0-3 (2f), Paul Sherlock 0-1, Matthew Maguire 0-1, Orin Heaphey, Francis Maguire.
Subs: Brendan Boylan for F Caulfield, Seanie Mohan for O Heaphey, Ross McKenna for F Maguire, Emmet Caulfield for M Maguire, James Hamill for J McDevitt.
Ballybay: Adam Counihan, Michael Hannon, Drew Wylie, Eoin McCarney, Brent Wylie, Colum Lennon, Ryan Wylie, Ciaran Galligan, Desmond Ward, Tiarnan McSkeane 0-1, Shane McGuinness, Thomas Kerr 0-1 (f), Patrick O'Neill, Christopher McGuinness 0-1, Paul Finlay 0-4 (4f).
Subs: Darragh Drury for D Wylie, Tommy O'Neill for P O'Neill, Darragh McCann for S McGuinness, Shane McQuillan for B Wylie, Aaron toner for C Galligan.  
Referee: Pat McEnaney (Corduff).