Maghery 4-09 Crossmaglen 0-17
Maghery are the Armagh football champions after overcoming holders Crossmaglen in a rip-roaring final played in the Athletic Grounds this afternoon.
They say goals win games and Maghery picked out four beauties to get their hands on the Gerry Fegan Cup.
Aidan Forker was awarded the Man of Match and it was his goal on 39 minutes that put the game in their frame and his delivery in for Oisin Lappin, who scored the fourth goal, put the game beyond Crossmaglen's reach.
Crossmaglen were without their star goalkeeper Tiarnan McConville, with Paul McEntee standing in to make his first championship start of the season, while Aidan Rushe also came in for the injured midfielder Stephen Morris.
The sides were level at the first water-break, and it was a welcome rest from a game that was played at full-throttle with Maghery getting the early upper hand.
It was played a breakneck speed with Maghery wing-back Brendan Haveron blasting in the opening goal on five minutes after his team-mates cut through the Cross defence.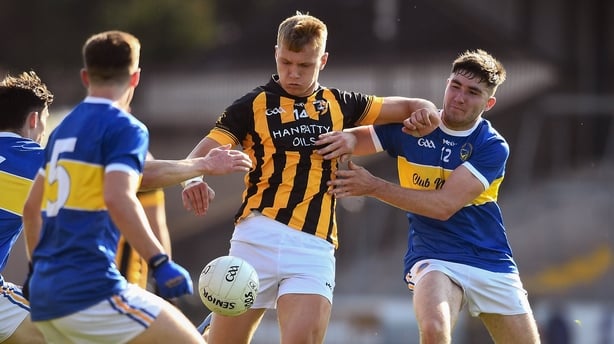 That gave the Loughshore men a 1-01 to 0-01 lead as county team-mates Rian O'Neill and Aidan Forker had exchanged points. It was the O'Neill brothers who lined out in midfield and they came to fore when their side looked in trouble with Oisin and Rian weighing in with the next five Crossmaglen points.
Maghery's Stephen Cusack impressed throughout and he chipped over two first half-points, but young Dara O'Callaghan hit back with two fine points and Tony Kernan kicked over a beauty to give the defending champions a 0-09 to 1-03 lead.
Oisin O'Neill stretched took Crossmaglen's tally to double digits but most eyes were fixed on the scuffle that was taking place at the other end of the ground, which resulted in Crossmaglen's Aaron Kernan and Rian O'Neill and Maghery's Aidan Forker and Brian Fox picking up yellow cards.
And just as Cross looked to pull away Brian Fox kept is cool to turn Carlow native Chris Crowley and strike a stunning goal to give Maghery a huge lift going in at half-time (Crossmaglen 0-11 Maghery 2-03).
That was a sign of what was to come but it was the introduction of midfielder Ben Creally that turned the game. The simplicity of his ability to catch and find a forward gave Maghery the stronghold they needed.
The second half goals came in the 39th and 45th minute and in between Crossmaglen were playing catch up and with Aaron Kernan, Oisin and Rian O'Neill and captain James Morgan driving their team on they didn't give up. But Maghery managed the game beautifully and finished worthy winners.
Crossmaglen: P McEntee; C Crowley, P Hughes; J Morgan, A Kernan, C Cumiskey (0-1), A Rushe; R O'Neill (0-3, 0-2 frees), T O'Callaghan; T Kernan (0-2, 0-1 free), O O'Neill (0-6, 0-1 mark), C McConville (0-2, frees); M Boyce, D O'Callaghan (0-2), K Carragher (0-1). Subs: G Carragher for Rushe (19), P Finnegan for Carragher (46), S McConville for Boyce (46), P Stuttard for Crowley (60), O Kieran for T O'Callaghan (60)
Yellow cards: A Kernan (30), R O'Neill (30)
Maghery: C Hendron; E Scullion, G Campbell (0-1), O Lappin; S Cusack (0-3), C Higgins, B Haveron (1-0); J Lavery, J Mackle; S Forker (0-3, 0-1 free), D Lavery, O Cushanan; B Fox (1-0), A Forker (1-3, 0-1 free), R Lappin. Subs: B Creally for Mackle (HT), K Robinson for Cushanan (39), P Forker for B Fox (55), S Fox for R Lappin (62)
Yellow cards: A Forker (30), B Fox (30)
Red cards: S Fox (63), A Forker (65)
Referee: K Faloon (Forkhill)