A final decision on whether the 2020 All-Ireland championships are to be held will be taken when the GAA clarifies that Government funding will be forthcoming.
It is hoped that decision will be made imminently, potentially before tomorrow's Central Council meeting.
In June, then Minister for Sport Shane Ross said that up to €40m total would be provided to the GAA, FAI and IRFU - if needed to ensure their "solvency and continued existence."
Those funds have yet to be allocated and the GAA has already estimated that the running of inter-county championships will cost in the region of €19.5m.
Approval for bank loans to help meet those costs will be sought at a Management Committee meeting tonight.
The GAA also met with county chairpersons and secretaries this evening to prepare for next week's potential return to inter-county preparations.
A comprehensive range of instructions were delivered to county board chiefs ahead of counties preparing to resume training.
The Association is still planning to resume inter-county activity in mid-October with the completion of the final two rounds of the Allianz Football League.
Before then, with all going to plan and funding confirmed, inter-county training officially returns on Monday next and the chairpersons and secretaries meeting discussed a 'return-to-play' document.
This document will be presented later tonight to the GAA's Management Committee.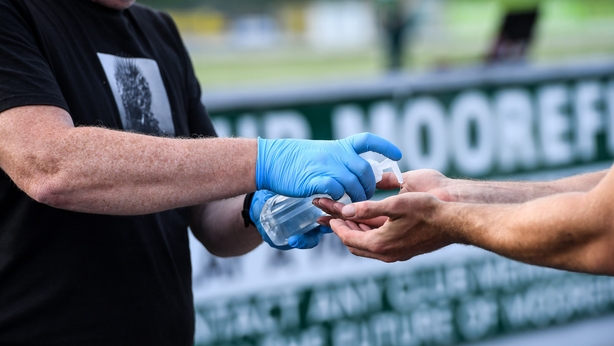 RTÉ Sport understands that Croke Park has advised that a number of directives should be followed as part of the resumption of the inter-county season.
Only three collective sessions can be held per week. This includes two training sessions plus one game.
No overnight camps will be allowed during the 2020 championship.
Only 32 players can train with each county panel with 26 being allowed into the match-day environment. Players should travel to training individually unless they are members of the same household.
Eleven backroom members will be permitted to link with the squad. In addition, the county chairperson and secretary will also be allowed to be in the match-day environment.
Squads can only meet three hours before games and players will be advised to travel alone if possible.
Dressing-rooms will be used for the autumn and winter months, but time inside should be kept to a minimum. Takeaway food cartons should be provided for players' nutrition after training and games.
The use of ice baths and swimming pools is not permitted in the lead up to or after games or sessions and, where feasible, players should shower at home.
Teams will not be allowed to stay overnight at venues unless it is 130 miles away from their native county. In such cases, single rooms should be provided.
Rapid testing procedures will be in place if a squad member tests positive and on match days there will be no team huddles or team photographs allowed.