Antrim GAA chairperson Ciaran McCavana says that the next two weeks will shed further light on the prospect of the proposed redevelopment of Casement Park getting the go ahead to proceed.
There was much positivity when Sinn Féin ministers this week met with Ulster GAA officials to affirm that the Northern Ireland Executive would follow through on the proposals to rebuild the GAA stadium.
But McCavana says he is remaining cautious until he has a document citing full planning permission in his hand.  
"Yes, the mood music is very positive, but this has been ongoing since 2009 so forgive me for being cynical," he told RTÉ Sport.
"Until I get the green light and hold a paper that shows we have planning, and until the first sod is turned three to six months after that, I'll remain cautious.
"When I finally see them digging up the current Casement Park then I will be 100% about it. The latest plans for this project have been three and a half years under consideration and it's disgraceful."
Over 11 years ago, Ulster GAA first unveiled its intentions to build a major new provincial stadium.
They later confirmed Casement Park in west Belfast as the preferred venue.
Planning approval for a 38,000-capacity stadium was given in 2013.
A year later that approval was quashed in a High Court legal challenge brought by some residents.
Further setbacks came in 2015 when a safety expert claimed the planned stadium could not be evacuated safely in certain emergencies and a report found "broken" relationships behind the scenes.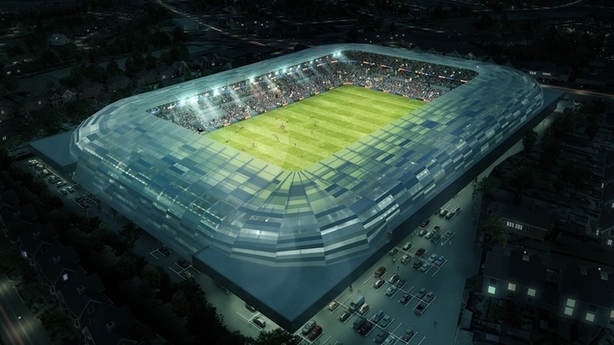 In 2017, Ulster GAA submitted new plans, including reducing the stadium capacity from 38,000 to 34,000. Those plans are still being assessed by planning officials in the Department for Infrastructure (DfI).
There have been huge financial ramifications.
Originally the budget for Casement's redevelopment was £77.5m. Stormont pledged £62.5m towards the project and the GAA confirmed it would provide the remainder.
But the current cost lies at around £110m – creating a budgetary shortfall of £32.5m. As of yet it has not been agreed by the various stakeholders how this deficit will be filled.
"It's not just Casement that has been held up," McCavana says.
"A proposed new maternity hospital (£17m over budget), a shared education campus (£45m over budget), a regional children's hospital (£130m overspend) and an upgraded A5 motorway (£300m overspend) have all been delayed by years.
"There have been legal cases presenting issues with planning in some of those developments and the cost over-run and delays have been huge.
"Even outside of Casement Park, such hold-ups need to be looked at in general as they are not good for the economy or society. In some cases, you have one or two legal objectors holding things up.
"That said there is much positivity that Casement will receive good news and it looks like (Infrastructure) Minister Mallon will make a call in the next two to three weeks and we hope it will be positive.
"It may not be. Last time around when Casement got the go-ahead, there was a legal challenge made in 2014 and the whole planning process stopped.
At that juncture, Ulster GAA addressed the objections, adapted their proposals, and in 2016 new plans were re-submitted.
"We felt that, once all technicalities were addressed, that it would sail through," McCavana added.
"Sadly, we are three and half years on and still waiting."
Casement's proposed redevelopment was part of a Stormont programme which also saw major upgrades to Belfast sports grounds for soccer and rugby.
Kingspan Stadium received £14.7m while Windsor Park received £28.75m for smaller upgrades which brought their capacities to around 18,000.
"The rhetoric is that it's over budget. We haven't cut a sod on it yet. Look at all the other projects that have been delayed and have run over budget"
Casement, a much more ambitious, costly and complex project, remains the last of the three left to be redeveloped.
£10.5m has already been spent so far on preparatory work, mostly in consultants, design and legal fees, and the large deficit led one UUP Assembly member to claim recently that five primary schools could be built for the same amount.
But McCavana makes the point that the existing Casement site has considerable land value itself, in the region of £4-5m, and says building the new stadium would bring huge positivity to the area, would help promote inclusivity, and should not be about excluding one section of society above another.
"The rhetoric is that it's over budget. We haven't cut a sod on it yet. Look at all the other projects that have been delayed and have run over budget.
"No one wants to be over the original cost. On paper these delays are costing the various projects an extra £300,000 for every month they are delayed with costs of construction.
"In my book it should not be about one or the other in any case.
"Sport is great and brilliant for people's mental health. Why should people say – you can either have sports or a hospital.
"I believe we can have both.
"The way we handle Covid is a prime example – when it came to it every government supported its entire community when they had to. When it comes to these projects, why does it have to be one or other?
We need your consent to load this rte-player contentWe use rte-player to manage extra content that can set cookies on your device and collect data about your activity. Please review their details and accept them to load the content.Manage Preferences

"There is still an element here that is anti-GAA. They are in the minority and we are working hard to break down barriers.
"Look at the work done in East Belfast where a new GAA team is formed. It's open for all people in the community but we don't feel the need to shout about it.
"You get people making comments about the project and at first glance, yes, 32m is a very considerable sum, but I've named other projects that are in the same situation.
"We have to look at the positive side. Casement would be a stadium for the whole of Ulster, all nine counties. Belfast is the second largest city in Ireland, and it's unreal that we don't have a GAA stadium.
"The benefits it would yield in tourism and breaking down barriers would be massive.
"It would be open to lots of community groups and, for me, it would be significant in breaking ground in the future. I think that, with the proper channels being navigated, it could be very likely you might see rugby or other events there. 
"At some stage the stadium could be used for that which would be a real shot in the arm for the community."