"We reckon you're the first player born in Pakistan to win an All-Ireland medal."
RTÉ's Darragh Maloney was on safe ground when he put this claim to Mayo's Shairoze Akram after the 2016 All-Ireland U-21 final.
There was no sign of any wizened old historian piping up on social media with "well actually…"
Akram, born in Haroonabad, started at wing-back on the side which won Mayo's fifth U-21 crown with a victory over Cork in Ennis.
"I couldn't confirm that for you, but I'll take it!" Akram responded to the sound of yahoos from the obligatory cluster of well-wishers gathered in shot.
To non-Mayo ears at least, he sounded indistinguishable from any of his team-mates.
Darker skinned but Irish accented, Akram is of a new cohort of foreign-born players who are now coming of age in county teams.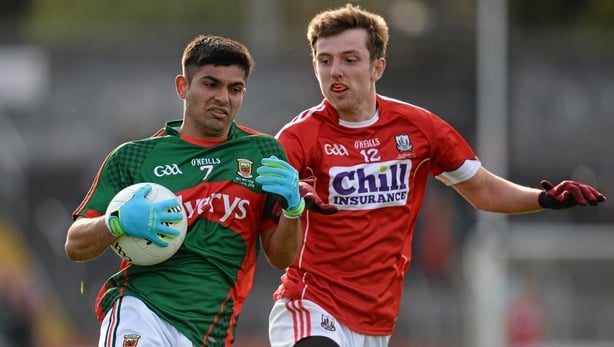 For well over a century after its founding, the composition of the GAA naturally reflected the mono-cultural nature of the Irish state.
As late as the early 1990s, 'diversity' in the GAA usually meant there might be the odd Church of Ireland player on the team.
Peter Whitnell, Down's star full-forward from the 1991 All-Ireland winning team (and a League of Ireland winning soccer player) was on the receiving end of sectarian abuse during his playing days, though, as he told the Irish News a few years back, he was of mixed parentage and the family weren't particularly preoccupied with religion.
In recent decades, the GAA has had no shortage of stars with different ethnic roots. Jason Sherlock, the son of a Hong Kong-born father, was the breakout sensation in the blisteringly hot summer of 1995. The Ó hAilpín's family background is well known, not least thanks to Mícheál Ó Muircheartaigh's turn of phrase.
'I always had to push myself and try a little bit harder' Watch New Gaels on @RTEOne @RTEplayer from 10.15pm on Thursday 10 September #NewGaels @boidusayeh @westmeath_gaa #rtegaa pic.twitter.com/N2NB47ZeHv

— RTÉ GAA (@RTEgaa) September 9, 2020
Lee Chin, of Malaysian Chinese extraction, on his father's side, barely needs an introduction these days. Alongside Matthew O'Hanlon, he lifted the Bob O'Keeffe Cup last year, as Wexford claimed a first Leinster title in 15 years.
These names are now so household, their background is rarely even referred to anymore. Sherlock and Chin were both born in Ireland, while the Ó hAilpín brothers were born in Fiji and Australia.
In its Strategic Review of 2009, the GAA signalled its intention to widen its appeal among ethnic minorities.
By 2016, the association wanted to have "an outstanding reputation for attracting and retaining members from all sections of the community."
They were, they said, keen to welcome players and members of "all nationalities, religions and ages."
Recent years have seen this ambition go a long way to being realised, as documented in 'New Gaels' on RTÉ One.
There's Zak Moradi, already the most famous Leitrim hurler of this any or other generation, who spent the first 12 years of life in a refugee camp in Ramadi in Iraq, the location where his family had been living for two decades, having been displaced by the Iran-Iraq war of the 1980s.
Moradi - "of Kurdish blood but an Irish heart" - hit the headlines with his starring cameo from the bench as Leitrim won the 2019 Lory Meagher Cup.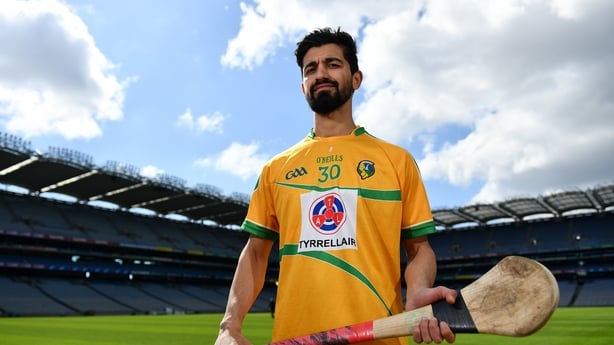 There's Jeannine O'Brien, born in Kinshasa and now a stalwart of the Monaleen club in Limerick, where she mentors ladies teams.
And there's Akram, born in Pakistan, and now living in the disputed territory of Ballaghaderreen, where he credits the influence of his elder team-mate Andy Moran in inspiring him to pursue Gaelic football.
Most prominent in the senior ranks is Westmeath's Boidu Sayeh. His journey to the ranks of the inter-county scene is among the most dramatic and remarkable.
Sayeh, now a well-established player on the Westmeath starting XV, was born in war-hit Liberia in the mid-1990s.
After his mother died when he was five years old, Boidu, the youngest of nine children, was moved around between his father and his siblings' homes, never remaining in one place too long as they sought shelter from the conflict.
Boidu's uncle, Ben, was by now living in the Irish midlands. He had married an Irishwoman named Therese Kinahan, who'd gone to work as a nurse in Liberia, the couple escaping during the first civil war in the 90s.
Ben contacted Boidu's father with the proposal that he raise his son.
He arrived in Ireland in February 2004 – the greatest year in the history of Westmeath football, as it happened.
His earliest experiences of Gaelic football were bewildering. (He must have felt as bemused as the other schoolkids did in that imaginary scene when William Webb Ellis rudely picked up the ball during a game of soccer – which itself hadn't been invented at the time, but anyhow…)
"From the age of nine, starting off, I was terrible at Gaelic," Boidu recalls. "I used to love playing soccer. Soccer was my sport...
"I had to learn the skills from scratch. I hadn't a clue. I found it crazy that people were picking up the ball with their hands."
Nurtured by Therese's father Tony – the man he now calls his grandfather – Boidu soon mastered the skills of the game.
We need your consent to load this YouTube contentWe use YouTube to manage extra content that can set cookies on your device and collect data about your activity. Please review their details and accept them to load the content.Manage Preferences
"He was a big GAA man so he used to have me and my cousin Dylan practising with our right foot, left foot, hand-passing. He was so passionate about the sport and he was one of the reasons I decided to pick Gaelic."
It wasn't long before he saw the inside of Croke Park either. Tony brought him there "when I was just in the country" in 2004 – the year when Páidi Ó Sé landed in town and guided the team to a historic and improbable provincial title victory.
Nine years later, he appeared on the Croke Park turf himself. By then, he was corner back on the Westmeath side that reached the Leinster minor final against Kildare. It was this moment, he says, when he realised he wasn't "too bad" at the sport.
"It was a big deal for the county and especially for my grandfather and my family. I remember him bringing me to Croke Park when I was very young, when I was just in the country, and I always dreamt of playing in Croke Park. It was the biggest thing I wanted to do."
These days, Moradi, Akram, O'Brien and Sayeh consider themselves mainly Irish, while acknowledging their roots elsewhere.
While Sayeh says he now feels more Irish, he hints at a desire to return and "help out" in the country of his birth at some stage.
"I got my Irish citizenship five or six years ago. Michael D was actually there that day and I got to meet loads of different African people, all of us becoming Irish all at once, which was amazing.
"I'd say I'm more Irish than I am Liberian but I still have my Liberian roots, my family are all there, so I'd say I'm both."
Watch New Gaels on the RTÉ Player here.