In 1986, the late Marian Finucane spoke to a group of women Gaelic footballers and outlined the contents of a letter that highlighted the dangers of playing the sport.
We were told of serious injury to the breast if the ball was caught chest high rather than over the head. The constant trauma of a heavy football might have a serious effect on breast tissue and that this could cause cancer. In conclusion, the writer expressed a great reluctance in letting his daughter play the game.
"Catch the ball when it's coming down in the air and you'll have no fears," was the first response from the group.
"There is no real danger though. That's just an excuse. If you want a handy excuse, that's a good one to give alright," followed on.
The said exchange forms part of a documentary that coincides with the launch of 'The Future for Women in Sport: Choose What's Next' - the fifth and final chapter of the 20x20 campaign, in association with KPMG..
A journey through archive footage to examine where women's sport has come from and where it is today is crystallised in the 11-minute documentary.
Dublin women's footballer Sinéad Aherne is one of the 'Choose What's Next' ambassadors. She has captained her county to glory on September Sundays and in 2019 a record crowd of 56,114 were present at Croke Park to watch the LGFA deciders.
Three weeks earlier, a crowd of 10,000 were present at GAA HQ to watch the senior semi-finals. And while that figure would be regarded as small, it's part of the trickle-back effect that the LGFA are hoping will drive the game forward in years to come.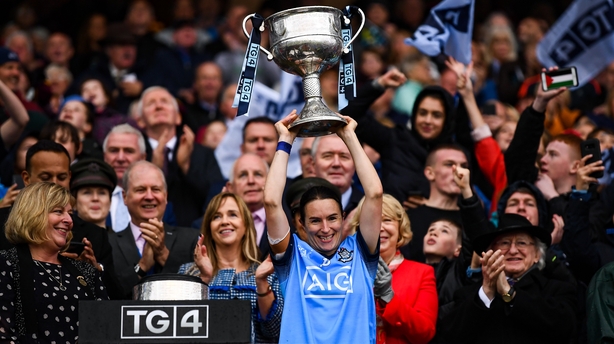 A case of much done, but a whole lot more to do. A view wholeheartedly shared by Aherne when she spoke to RTÉ Sport.
"I think we are making bigger jumps in shorter amounts of time in terms of getting access to facilities and the grounds we are now playing in but we need to keep that pace of change accelerating.
"We don't own any of our own facilities. We are always having to rely on the GAA to let us in. Look at the Tyrone side. They have to pay to use county facilities that are designed for a men's team. How then can you be best in class? That's the wrong messaging for what we want to do in the promotion of women's sport.
"We are still not in a position to get expenses. There are plenty of players travelling a few thousand kilometres a month and are not recompensed.
"I know the WGPA (Women's Gaelic Players Association) have been doing a bit of work on that.
"Thankfully, we have got to a stage where we are getting a meal after training, and that's vital for nutrition and recovery. "
In recent years there has been talk that the LGFA, the Camogie Association and the GAA should come under the one umbrella. And while Aherne welcomes a greater coming together, she doesn't see any any merger in the short term.
"If the inputs are the same, one will be able to judge the output more equally. We won't accept minimum standards and a lack of best practices any more"
"A memorandum of understanding has been signed by the associations to ensure that issues like playing facilities are put up there in lights, but I can't see integration in the short term," she added.
"There are aspects of the Camogie Association and the LGFA that both would like to keep. Having a defined remit to promote both codes within the safeguard of moving closer to the GAA is key. Now is the time to really push on and develop our product."
In the last few weeks, we have seen the Brazil Football Confederation announce that it will pay women and men the same amount for representing the Brazilian national teams. In tennis, Novak Djokovic, prior to his US Open disqualification, revealed he launch of a breakaway men's player association, something that has caused a bit of disunion in the sport.
A case of one positive step forward and a somewhat awkward step back it would seem.
Such contrasting approaches will, according to Aherne, impact on the output. And that, says the four-time All-Ireland winner has to change.
"We should be in a position to promote men's and women's sport in the same way - get them on the same platform, get them using the same branding and same imagery to push this forward.
"If the inputs are the same, one will be able to judge the output more equally. We won't accept minimum standards and a lack of best practices any more.
"My sport is vastly under funded, even though we are grateful for the support of Lidl and AIG who sponsor the Dublin teams. In increasing the numbers at All-Ireland finals, it showed what can we can be done what we went after something. Having the right financial backing can help to drive that and more.
"The final chapter, if this is the final chapter, is to ask more questions as to where women sport can truly go."