Though on the rise again, the past decade has been a taxing one for Antrim hurling.
While they won every Ulster Championship that they contested during the past 10 years, they have been in and out of the top 12.
In that period only one Antrim captain has lifted national honours – Simon McCrory.
The St John's man skippered the side to a win over Carlow in the 2017 Division 2A final, their first national title since the 2006 Christy Ring Cup.
What most people don't know is that he played that game in a blur, his mind a million miles away.
"I remember being in the dressing room, listening to our manager, Woody, (Dominic McKinley) talking but I was only there in body," he said. "In my mind I had thoughts of not wanting to live anymore. I went back out to hurl in the second half with those thoughts in my head. That was the reality."
Last August, following years of depression and anxiety, McCrory hit a real low point.
"I would call it rock bottom," he says.
"I just didn't know what was wrong with me," he added. "That was half the problem."
A year on, he reflects on his journey as he sips coffee in The Croke Park Hotel. He looks fit and focused.
"I would have suffered from my early 20s," he says quietly. "I didn't tell anyone, but it started with bouts of depression.
"I lived in fear of a lot of things and part of that was telling anyone what I was going through. I had built a persona of a strong, fit, healthy, happy inter-county player.
"I had a fear of not being seen as a real Irish man, an inter-county player or a leader if I spoke up.
"I spent every day trying to escape my head and to escape my reality because all I ever had was doubts about myself, the imposter syndrome.
"I told myself that I was not good enough as a man, never mind a player.
"On the actual field there was some respite from playing hurling, being captain of Antrim, having relationships and going to work. They were all good escapes but afterwards my head was always there, always waiting for me."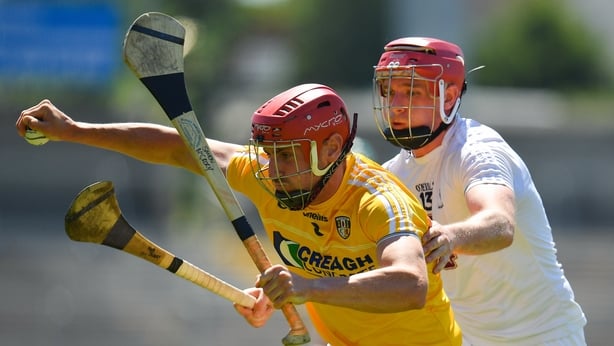 Not good enough. Not achieving enough. Not able to cope with the demands of life.
That was the internal narrative. A script that never changed from day to day.
McCrory held an innate fear of telling the truth or telling people of his feelings because, quite simply, he felt that people looked up to him.He had responsibilities as a key figure in his family, community, club and county.
"I felt that if I got help, I would be seen as weak. I felt I was an imposter anyway.
"Anxiety, depression, low self-esteem? Sure, an inter-county player should not be going through this!
"That's what I felt on a daily basis – that if I spoke out it would affect my self-worth."
What McCrory realised, as time progressed and his condition worsened, was that it was an impossible quandary to escape without speaking out.
Looking back now he sees that life intensified greatly in college and without knowing it he was serving several masters and struggling to keep apace.
He was playing for St John's, going to university, in a relationship, and playing for Antrim.  But with his mind telling him he wasn't good enough in any of those disciplines, the weight of such baggage began to take its toll.
As inter-county commitments heightened and training ramped up, he laboured to stick with it. Antrim were a Liam MacCarthy Cup team at that point, and between everything his life became unmanageable.
"I seemed to have commitments everywhere," he said. "I looked at other lads, high-profile players and wondered how they were keeping going but they made it look so effortless.
"My dream had always been to play for Antrim but as time went on, I was nearly not wanting to be there with them at all.
"When I did go with them, I felt inferior, neither good enough as person or player to be at that level.
"Externally I was a great actor, I put on a show and no-one had a clue what was happening in my mind. But I started going to very dark places."
Last August everything came to a head.
"The feelings grew more and more real. I stopped playing altogether in 2019, I didn't want to hurl; anymore. My head had robbed me of all the things I loved to do.
"Go back to that day against Carlow in 2017. I was captain and in the changing room trying to get past thoughts that my life was not worth living. I wanted to kill myself and yet I was still there performing in a big game for my team."
From April 2019, he increasingly used alcohol as an escape. Binge-drinking, avoiding family and friends, people in general anything to switch his mind off.
He reckons he was 'chronically over-thinking' everything.
"You'd have all these high expectations, then you would not achieve, and you'd feel unworthy. An ongoing cycle."
In April of last year, he was sat in a Belfast bar on his own when he suddenly started crying. He went to doctor but didn't tell his whole story and more or less only went to please his family.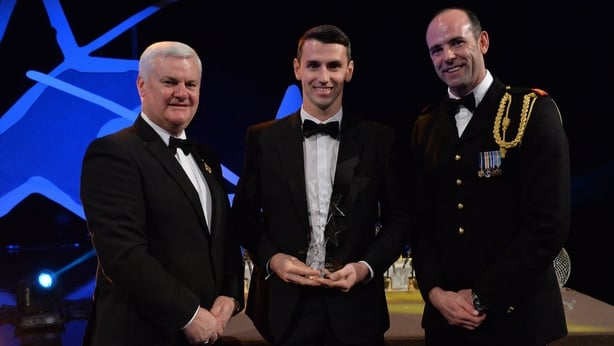 After this, McCrory contemplated suicide on a number of occasions.
As his mind wandered, he thought of stories of other GAA players who had gone through similar experiences. He remembered reading or hearing of how they had come back from rock bottom. It struck a chord with him.
He broke down crying in the car, made his way back to the family home and fell into his parents and brother's arms.
"I cried for four hours straight," he said. "I still didn't know what was up, but I let out so much emotion.
"I started telling mam and dad how I felt, about all the pressure I felt."
That night he contacted the Gaelic Players Association. They replied immediately.
"Couldn't believe that," he said. "Straight away they got back to me.
"When they rang first, I avoided their calls as I didn't want to talk to anyone. Emailing and texting meant I could avoid talking but they persisted. They contacted my dad too and when they got me on the phone they said: 'Simon, you will be okay. We will get this sorted. We will take this all out of your hands. You are going through a tough time, but people have recovered. And you will too.'"
McCrory says he was hugely upset but for the first time felt relief that help was on its way.
The GPA organised for him to be treated at Cuan Mhuire addiction centre in Newry and there he stayed for 12 weeks.
It has been life changing.
"I can reach out to someone, have a chat and when negative thoughts come"
"Amazing," he says, "I have so much gratitude for the staff there and for the GPA support staff who helped me."
When he got out of the centre the GPA arranged a 16-week follow-up counselling service.
"They just took all the pressure off me," he says. "It was life changing knowing that there were people there to help me."
McCrory hasn't taken alcohol in over a year and says he is unrecognisable from the man he used to be.
"Early in the treatment there were times when I was tempted to go back to old ways, but I have learned to adjust to life on life's terms. There were some Friday evenings when you would be thinking about heading into Belfast and hitting the usual spots, but the difference now is that I have tools to deal with those situations.
"I can reach out to someone, have a chat and when negative thoughts come, I know where these originate from. 95% of time they are not the truth, I can rationalise them and I can openly talk about them.
"My train was coming off the tracks, I was very non communicative but after treatment and seeking help I can sit with feelings now, rationalise them and move them on.
"Life happens but a problem shared is a problem halved.
"I can walk and deal with these feelings, when I talk to people about my feelings I can actually feel freedom and the fear moving on. It was so tough on the family as well, but we are all getting there. The colour is back in mam and dad's faces again and they are able to stand more upright once more.
"Not only am I recovering but they are too. The family is back."
Current Antrim manager Darren Gleeson has been in touch with McCrory a few times and the former captain feels he is better equipped to look at inter-county hurling again now.
"I have the tools and I can now manage life on life's terms and deal with the pressures it brings. If the invite came, I do feel could manage playing at that level again but only because I got help.
"I'm proud say I got help. Before I would be ashamed to have gone looking for it. I was broken but I'm getting fixed now. I'm getting well again."
Today the GPA & WGPA launches a new Member Support Text Line.
GPA members can text GPA to 50808 (ROI) or 85258 (NI) while WGPA members can text WGPA to those same numbers if they are going through a tough time or facing any difficulties in their lives.
The new service will be available 24/7 and 365 days and will complement the counselling phone lines that both the GPA and WGPA already have in place.
If you have been affected by anything in this story you can find helplines and support services here.