Eyebrows were raised earlier this summer when Wexford announced plans to run off their hurling championship in just five weeks, followed by the football championships in the same time-frame.
An anonymous letter was published by the Club Players' Association, purportedly from a Wexford club player, which accused the county board of wanting to maximise the preparation time available to inter-county teams.
But with inter-county training forbidden until 14 September, under repeated threat of central sanction, Wexford insisted their model was all about maximising the time available for a county with more dual players than most.
Shelmaliers became the country's first 2020 county hurling champions at the weekend, with a team that features four Model footballers in Brian and Glen Malone, Eoghan Nolan and Ronan Devereux.
"When your back is to the wall, you think outside the box," Wexford chairman Kent told Damian Lawlor for RTÉ Radio 1's Morning Ireland.
"We looked at the challenge of hurling and football and the dual club, having to play hurling one week and football another week.
"We didn't know what the time-frame was, so when we balanced that we decided to go with blocks of hurling and blocks of football.
"It was a major success and a genuine dual club that won the hurling in both senior and intermediate (Crossabeg-Ballymurn).
"I think playing blocks of hurling (and then football) is the way forward for Wexford, for however long we don't know."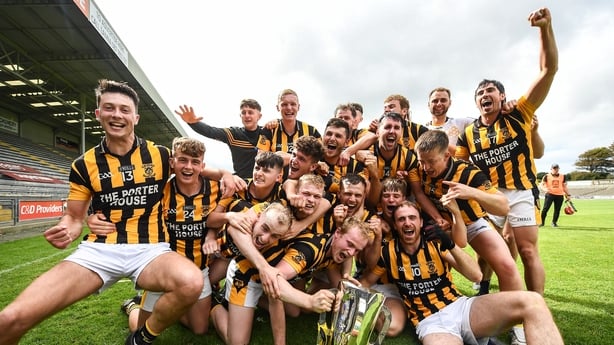 In a time when county boards have been deprived of crucial gate receipts due to Covid-19, Wexford have been successful in finding revenue elsewhere.
With attendances initially limited to 200 and fans now barred altogether, they have attracted over 10,000 subscribers to their streaming service Wexford TV, with season-ticket holders given free access and others paying €5 per match.
"The model worked quite well," said Kent. "The revenue is between €60,000 and €70,000 for the hurling championship, which is quite good, considering we had TG4 covering three of our games.
"We did give access to our season-ticket holders to the quarter-final stage onwards free of charge. It's a balancing act keeping everyone happy and I think we have succeeded.
Having seen how a split season has worked in the county, Kent is confident that it would work at inter-county level, and is optimistic this year's All-Ireland championships will go ahead.
"In Wexford, we can go a defined season for hurling and football and then broaden the spectrum and go a defined season with inter-county and club," he said.
"I believe that we could and should shortern our inter-county season, with less contact hours.
"It would be a major benefit to both the counties and Croke Park with finances.
"We know where we were going, playing our own club hurling season in the summer and football in September.
"We ran off our hurling championships successfully, we have started our football championship, I have no doubt we can do the same with inter-county.
"If we're careful and we're safe, we'll be okay."