These are uncertain times for sport everywhere in the country but none more so than in Kildare.
GAA matches have not been played in the county since they, along with Laois and Offaly, went into a second Covid-19 lockdown on Saturday 8 August.
Restrictions have now been lifted in their neighbouring counties but Kildare are facing another at least another two weeks without games, with 327 new coronavirus cases recorded in the county over the previous fortnight.
Just one round of the senior football championship has so far been completed and the hurling has yet to begin.
The county board admitted last weekend that their club finals would now have to be played after the Kildare hurling and football teams had finished in their respective championships, which will be November at the earliest.
The Kildare footballers resume their Allianz Football League campaign against Cavan on 17/18 October and then face Carlow or Offaly in a Leinster quarter-final on the weekend of 7/8 November, while the hurlers are away to Offaly in the Christy Ring Cup quarters on 24/25 October.
Chairman Mick Gorman told RTÉ Sport today that he expected club fixtures would proceed until the first two weekends of October, which were the revised dates for the county football and hurling finals until the lockdown was extended last weekend.
"Our CCC have had a very challenging time over the last  couple of weeks but will continue to plan as the situation allows," he said.
Former Kildare All-Star forward Johnny Doyle (42) is still lining out for intermediate side Allenwood.
"At the very least with the lockdown, we're going to be five weeks behind," he said.
"It's a tough time for administrators. They had to come up with an alternative plan and then go back to the calendar again. It's tough on everybody and there's very little wriggle room.
"It's just the not knowing. You're hoping (Covid) numbers will go down but it might take another two weeks on top of that and then…
"You're just taking it week by week. People are fed up trying to second guess what might happen.
"We're in lockdown for two weeks and hopefully we'll get going again. If that's the case we'll be ready and if it's not, what can we do?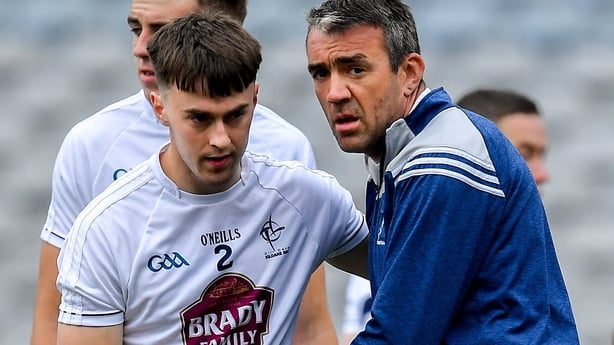 The clubs will now be waiting to hear what kind of access they will have to their players once county training resumes on 14 September.
Allenwood have two players on the senior football panel in Darragh Malone and Johnny Byrne.
"If it was a case that the lads were training with the county during the week and you have for them for championship matches, that might not be the worst scenario," said Doyle.
"But then, if they are going to be training hard with Kildare on a Tuesday and Thursday and we have them Saturday for a match, what state are they going to be in?
"You're feeling your way in the dark for a lot of it."
Doyle doesn't think it will come to Kildare not fielding county teams this year but admits the extra month without contact matches could have an effect on their chances.
"There will be a little bit of catch-up to do," he said.
"You can do all the non-contact stuff but football and hurling is about pressure on the ball and it will take them a while to adjust to that again.
"For Jack O'Connor and his management team it will be trying to hit the ground running.
"It's inevitable you're going to have players breaking down the longer they are away. It's going to be a challenge."