A Dublin GAA club forfeited a hurling championship match after their request for a postponement due to Covid-19 concerns was denied.
Ringsend-based Clanna Gael Fontenoy were due to take on Ballyboden St Enda's in a Dublin Junior A quarter-final on Sunday morning.
Ballyboden informed Clanna Gael on Friday that one of their Junior A team players had tested positive for Covid but that he was isolating and that the HSE had decided that the rest of the team were only casual contacts and therefore clear to play.
A Clanna Gael player told RTÉ Sport that despite the HSE criteria, he and his team-mates were wary of playing opponents who had trained with the Ballyboden player in question within the previous 10 days.
He said they had asked that the game be delayed until at least a fortnight had passed but were told by the Dublin County Board that they would have to play or give a walk-over.
Dublin secretary John Costello told RTÉ Sport that while he had sympathy with Clanna Gael's concerns, the guidance from the GAA's Covid-19 committee was that games should not be postponed due to casual contacts and that there was a "tight window" to complete the county championships.
There could yet be a reprieve for Clanna Gael, however, as Costello said the club had submitted correspondence that would be discussed by the Dublin CCC this week.
"The GAA guidance is that if they are casual contacts, games should not be postponed for that reason," Costello said.
"If there was anyone on the Ballyboden team identified as a close contact then they would have had to withdraw.
"But we understand the concern of the clubs and the Dublin competitions control committee are going to consider the correspondence from Clanna Gael during the week."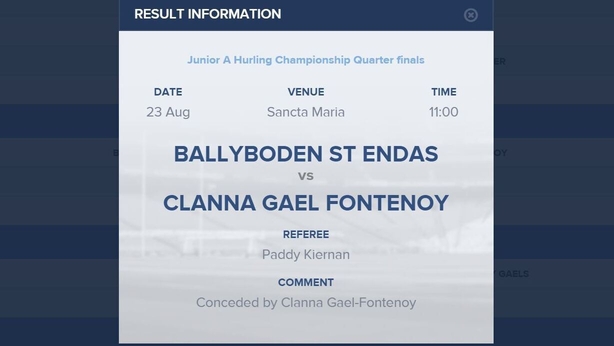 The Clanna Gael player said he couldn't understand the reluctance to delay Sunday's match by just a few days.
"We said we're not comfortable playing a team that has been in contact with someone that has Covid within two weeks," the player said. "As we know, it can remain dormant for up to two weeks.
"We were told that the HSE deems any GAA activity on the field to be casual contact, even if you're hugging your man, marking him, and that it was okay for the game to go ahead. If they call that casual contact, it's really not cutting it.
"So we weren't happy and asked if they could even postpone to the Thursday, which would make it two weeks since he had contact with anybody.
"They told us if we're not comfortable playing that we had to forfeit the match.
"We just find it bizarre that there was a confirmed case, he was in 'casual' contact with the team and we weren't even allowed to postpone it a few days.
"We feel it's a massive injustice. We're being responsible but we're the ones that have to pay the penalty.
"Why would they take the risk for a junior hurling match?"
A Dublin SFC clash between Raheny and St Oliver Plunketts/Eoghan Ruadh was postponed last week when it was announced the day before the game that a Raheny player had tested positive for Covid-19.