Seán Boylan is a man who means many things to many people.
Most notably of course, Seán is known for having managed the Meath football team for more than two decades and steering the Royals to four All-Ireland Senior Football Championship titles in the '80s and '90s.
The list of honours goes on, with Meath winning three National League crowns and eight Leinster titles during his reign.
However, there is much more to Seán than those credentials. Spending time with him over two years in the making of the documentary 'Seán', I discovered many layers to a complex and fascinating character.
To understand Seán, it is important to trace his story back to his roots.
He is the son of the late General Boylan, the leader of the East division of the IRB, a man who was heavily involved in the fight for Irish freedom. General Boylan was a respected leader in his community. Seán still speaks of him with the reverence of a young boy in awe of his dad. They had a close relationship. Seán notes: "My Dad had more faith in me than I had in myself."
Watch 'Seán' on Thursday at 10.10pm on @RTEOne and @RTEplayer. #rtegaa pic.twitter.com/18T4Jo9z6w

— RTÉ Sport (@RTEsport) August 2, 2020
This faith is something that Seán carried with him throughout his life and I believe it allowed him to achieve things that were outside his comfort zone, given his naturally shy disposition, which he sums up when he says "I would have been the lad sitting in the corner".
The struggle for Irish independence framed much of Seán's upbringing and in turn he grew up with a deep understanding of his identity and heritage. Both are crucially important to him and coloured his work as a football manager.
Seán's training regime on the Hill of Tara was infamous at the time and is etched in the minds of his players. Colm O'Rourke recalls: "The training we did on Tara was the toughest training you could do".
I soon came to realise that there was more to this training location than a steep incline. Seán once said to me: "Doing those laps of Tara, you find the soul within yourself."
Tara, the former seat of the High Kings of Ireland and the Boylan ancestral home, has a meaning to Seán that runs deep. There's a spirituality to the place, a feeling. It's part of Meath's history, its culture and its people. Seán created an environment for his players to connect and draw from this rich heritage to instil a confidence that transferred on to the pitch.
His connectedness to the land and his heritage continues with his work as a fifth-generation herbalist. He has a deep understanding of nature and its ability to heal the body, a tradition and knowledge passed down through history to Seán, and one he felt compelled to carry on.
His role as a herbalist wasn't his dream in life. Initially it started out of a sense of duty to his family and to his heritage. Seán, at a young age, had the secret goal of entering the religious life as either a monk or a priest. There is a side to Sean that is deep and spiritual, an ability to be introspective that leads to him being fully in touch with himself and his instincts.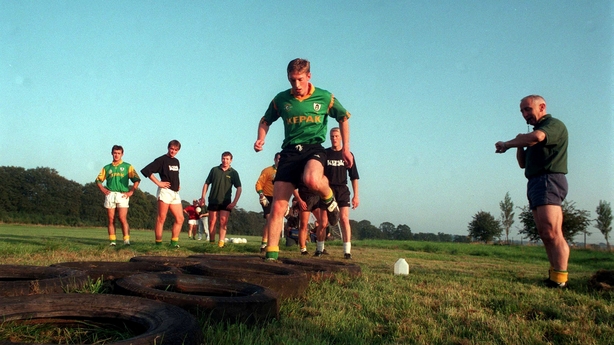 Seán says he would look into the face of a player and know that the training was done, they were ready to play - it was something intrinsic that couldn't be defined. Former players comment on how Seán would say just the right words to them quietly at the right moment, how he had the ability to manage all the different characters over the years in a way that worked specifically for them.
Spend five minutes with Seán and you will feel like you've known him all your life, like he has really seen and understands you. His ability to connect with people shapes and defines who he is.
Seán was much more than a manager to the players he worked with. Darren Fay credits him with changing the course of his life and instilling in him values he felt he were lacking. Brian Stafford explains that his coach gave him a self-belief that he didn't have as a young man. O'Rourke puts it beautifully when he says "he gave us the confidence to be something we thought we might never be".
Seán went from a shy young boy with "not a notion in the world", in the shadow of an impressive father, to become a leader of men himself, inspiring greatness and confidence in the same way his father did for him.
The sum of what I discovered in my time spent with Seán is a life spent in the service of others, a football manager, a healer, a father figure, an almost-monk.
His ability as a leader to inspire, to show wisdom, humility, generosity and empathy are the perfect antidote to our times.
Watch 'Seán' on Thursday, 6 August at 10.10pm on RTÉ One and RTÉ Player.