Dublin star Sinéad Goldrick is unsure whether she will be heading back to Australia despite being offered a second year with Melbourne in the AFLW.
The seven-time All-Star defender was in Oz, alongside Jackies team-mate Niamh McEvoy, when the Covid-19 pandemic took hold.
The club helped the pair to fly home shortly before the remainder of the Aussie Rules season was cancelled.
Goldrick and McEvoy now have until the end of August to decide whether they will be returning Down Under for 2021.
"At the moment there's a lot of uncertainty," Goldrick told 2FM's Game On.
"In Melbourne they're in complete lockdown, their second, for six to eight weeks.
"There's that to consider and also Dublin next year, with Covid you don't know how everything is going to happen.
"We've been offered one (a contract) but I have to take a moment and consider all the different aspects."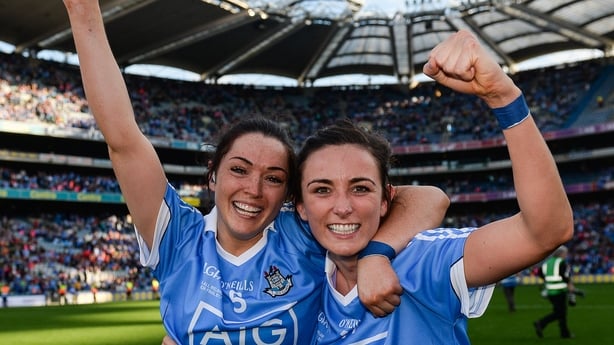 Goldrick, who was speaking at the start of the Kellogg's GAA Cúl Camps for children, was delighted to get back in action for Foxrock-Cabinteely in their League Cup win over Ballyboden St Enda's at the weekend.
"I think everyone around the country had a big uplift when the matches were on at the weekend," she said.
"You've been starved of any sport, and to have the opportunity to go out and play, I've never been more excited for a game I think.
"It was harder. The intensity was kind of tough. But we're happy just to be back playing."
The three-in-a-row All-Ireland winner said that the new water breaks were "very welcome" and that everyone was adjusting to the Covid-19 restrictions around sport.
"Everyone has to bring their hand sanitiser and their face-mask. It's just normality now, you're packing your boots and your sanitiser."