You got a small glimpse of the new reality even before arriving at Lorcan O'Toole Park for the first club championship match in the capital in 2020.
Players, already nearly kitted out, carrying a couple of hurls in tow, parking their cars close to the ground and striding in the main entrance. No mini-buses or lifts being offered these days. No camaraderie or joshing en route, everyone is isolated in their own motor.
When I arrived at the venue, I was confronted by two fairly relaxed, casually dressed blokes in masks who had to check I was okay to be here. I belatedly fumbled for my online pass but struggled to find the email. Your man was told I was with RTÉ. This initially seemed to harden his resolve against letting me in. He said if I was with TG4 he might consider it. I made a brief go of stammering a few words in pidgin Irish but this wouldn't convince anyone.
He relented. The first thing you were greeted with on entering, aside from the two boys, was a hand sanitiser. Anyone there in an official capacity was donning a mask - there was even an O'Neill's branded blue and navy mask among them. There were the usual yellow Covid-19 signs bearing public health advice plastered around the ground.
A large sign by the entrance - which appeared to have been subject to recent doctoring - announced the maximum capacity as 200.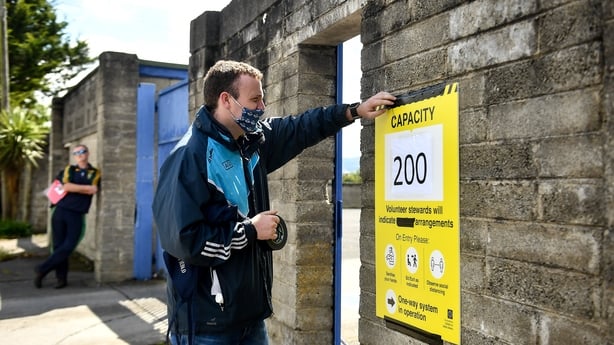 Lorcan O'Toole Park is a neat, compact little ground in Kimmage, surrounded by a big shiny Ben Dunne gym facility - not opening for a while according to the man himself - and a pitch and putt course.
That pitch and putt course really is very, very tight to the pitch. There's no more than five yards and a high fence separating the subs bench from the second tee box. No doubt there's many a Top Flite that's been blown off course by a wayward sliotar there. Perhaps it goes the other way too and an unsuspecting corner-back has been clonked on the dome by a criminally over-hit drive.
There was a healthy and enthusiastic crowd in attendance, albeit one which seemed to fall within the regulations.
Among the assembled was Tom Ryan, though you probably wouldn't have known unless you'd been told. The GAA Director General, who also serves as treasurer with Faughs, was almost unrecognisable under his sunglasses and light blue mask.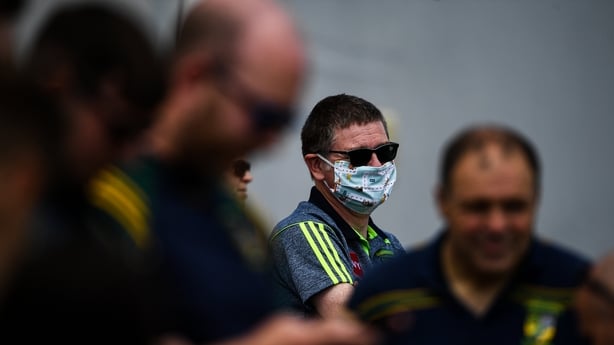 Social distancing was fairly doable on the main terracing area at O'Toole Park. The practice was even adhered to - eventually anyway - by the young lads and girls who scaled the wall behind one of the goals. By the second half, they were fairly well spaced out on the wall. They may have dodged the entrance fee but they weren't going to be undermining public health.
We were introduced to groundsman Noel Brady who's had four months to tend to his pitch without having to worry about studs trampling all over it. We naturally agreed that if the pitch cut up badly, I wouldn't mention him here. But it didn't so I did. The surface was in terrific shape.
The day itself was majestic, a great afternoon for a match, but the heat caused problems for your logistically challenged correspondent, who failed to bring a drink with him. There was an enticing clubhouse looming behind the main terrace, from which he might have gotten something in times past but not these days.
At a moment of acute thirst, I told a Dublin GAA employee that I'd pronounce the whole event an abomination from a public health point of view if he didn't go to the shop and buy me a Seven-Up but he refused to submit to this blackmail.
The GAA Covid Advisory Group have said that club facilities, including dressing rooms, should remain shut for the time being.
Both teams gathered on opposite sidelines both before the game and for their half-time team talks. Managers will not be butting heads [not literally anyway] in the new dispensation.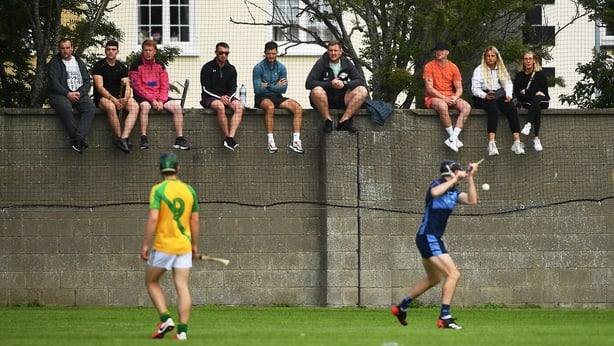 The game itself was a Templeogue derby between Dublin's oldest GAA club, Faughs, and the relative newbies, founded in the late 70s, St Jude's.
Faughs, who don't bother with football at all, are the traditional aristocrats of Dublin hurling, sitting way ahead in the roll of honour in the capital. However, they haven't won a Dublin title since 1999 and haven't contested a final in the interim.
Jude's have yet to win a senior title in either code but they've been more competitive in the past decade, reaching successive Dublin hurling deciders in 2014 and 2015. They also have Dublin's best forward - Danny Sutcliffe - in their team.
The 31-time Dublin champions started the game brilliantly, Carl O'Mahony one of the standouts as they rained over points from all angles.
Jude's stayed in touch, largely thanks to Sutcliffe's reliability on the frees and put on a scoring burst late in the half to leave the score at 0-11 to 0-10 to Faughs at the interval. Water-breaks were in place midway through each half.
The game became a bit messy in the third quarter but Faughs continued to hold a slight advantage until Diarmuid McLoughlin - nickname 'Dip' - fired home a goal from a tight-ish angle to push Jude's in front for the first time on 44 minutes.
The lead remained fixed at that point until wing back Ciaran 'Mango' Mangan raided forward to fire Jude's into a three-point lead.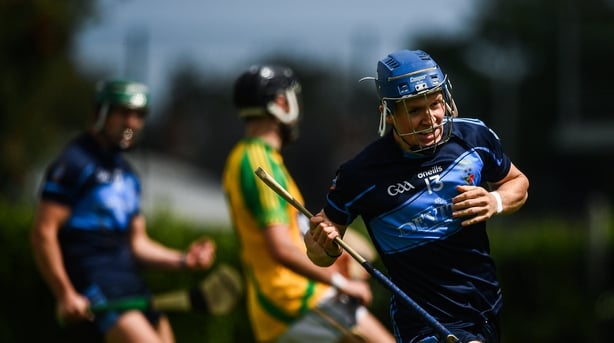 However, there was a sting. Trailing by two in injury-time, Faughs worked an excellent short-passing move under pressure, moving the ball from the left wing into the centre, where full-forward Chris Bennett, in space on the 21, lashed a fizzing low shot into the far corner, sending the more sizable Faughs contingent into a frenzy.
That mood was killed within seconds - if it was even that long - as straight from the puckout, the ball broke to Sutcliffe, who hoisted up a high shot.
The Faughs crowd groaned as soon as the ball left his hurl. Though it hung in the air a while, it was never anything but a point. One Faughs supporter sighed that "that'd be it now".
To be fair to the ref, he didn't blow up right on the puckout, at least allowing for a last derisory attack to fizzle out before calling a halt.
A draw and a competitive, good-natured affair, despite the local rivalry.
After the game, the players drifted back to their makeshift dressing room on opposing sidelines, and supporters chatted amiably.
A good portion of the public believes that while we may see the start of these county championships, we might not see the end of them. Whatever the road ahead, for today at least, it felt good to be back.