Leitrim chairman Enda Stenson says that a fundamental shift and mindset change within the GAA is edging closer.
Stenson, a well-known independent councillor for Carrick-on-Shannon, took office last December and is determined to make the most of his time at the head of the board.
But he says the landscape for counties like Leitrim is changing all the time and that, increasingly, there are more obstacles to overcome.
"There is a great tendency in the association to blame outside factors if things are challenging or if they are not working out," he says.
"But I firmly believe that it is up to every county to get its own house in order first - don't always be looking to others for help.
"If everything is correct on your side you mightn't need as much help as you think. That's my full belief."
At this juncture, however, with the season and parts of society decimated by the effects of Covid-19, Stenson feels that a stocktake of the organisation is required.
"It is needed more than ever now because I just don't believe some people see the bigger picture," he says.
"You look on and see more or less the same counties qualifying for semi-finals and finals, and I just wonder can many people appreciate where the likes of Leitrim are coming from at all?
"In different seasons, for example, we get handed a really tough championship draw and there have been some people in our county that have said, 'What is the point?'
"For years the turnover of players was very high. And I do think that particular question needs to be addressed now."
On 20 September the Leitrim Championship will finish.
There won't be much time to gather the troops for the county squad's opening provincial tussle against Mayo.
Stenson says that, in Terry Hyland, his county has one of the most honourable managers in the game and says they were never planning to break any rules by staging any form of inter-county training before the 14 September deadline.
"I hope other counties will adhere to that directive," Stenson states.
"It's easy to say we will stick to that in Leitrim because no one is really concerned with us, but will others do the same?"
"To be honest, we would rather the leagues were not restarted"
Before lockdown was imposed Leitrim sat in seventh place in Division 3. They were equal on points with Tipperary who were one spot above the relegation zone due to superior score difference.
With the league due to be completed by late October, the clash of Tipp and Leitrim in the final round will most likely decide who drops down to Division 4 for the 2021 season.
"To be honest, we would rather the leagues were not restarted," Stenson says.
"Like, our county championship semi-finals in Leitrim have been fixed for 12-13 September, the same weekend inter-county panels are permitted to resume collective training.
"The county final comes a week later, and you can be sure there will be up to eight players from the Leitrim panel involved in those county finals.
"This means that Terry will only have full squad training for three weeks before the league resumption and that's not easy," the chairman adds.
Looking further ahead, the outlook is even more challenging as Hyland's men face the might of Mayo in the Connacht SFC quarter-finals.
In that regard, Stenson had hoped the lockdown might have prompted a different outlook for the championship, an altered approach.
He would have been in favour of an open draw format - just to bring some excitement to affairs, see how the format worked, or at the very least to shake things up.
"I still believe a huge chance was missed in that respect," he says.
"To the outsider, and indeed to many people, our game with Mayo will be seen as almost irrelevant. An aul' once-off game which could be played over Halloween weekend.
"The day of all that is nearly at an end, I feel. I understand there were reasons not to, but maybe we could have looked at an open draw a little more and drew out a bit of excitement from facing teams from around the country. It would have been something different.
"When the world gets back to normal and the pandemic passes, I don't know how much longer the existing system will keep going. If Dublin continue to win Leinster Championships every year, for instance, really who will care?"
Stenson is a supporter of the Tailteann Cup, the GAA's new second-tier series which will be debuted in 2021.
But he feels it has to stand for something too.
"I don't disagree with it at all, provided it is marketed properly," he says.
"We won the Lory Meagher Cup with the hurlers last year and it was enjoyable - great for the hurlers that they actually won a cup in Croke Park. The chances of us winning Sam Maguire there are nil - but we could win the Tailteann Cup!
"It will have to be promoted, though. Otherwise it won't work."
"We need a whole mindset change in every aspect of our organisation"
Incoming GAA president Larry McCarthy raised concerns some weeks ago that GAA members were becoming obsessed with the 2%, the elite in other words, and forgetting about the other 98%.
Stenson would feel along the same lines.
"I can't disagree with that statement," he says.
"But I don't know how we change that either.
"That will take a root and branch look at how we approach our games at all levels. We need a whole mindset change in every aspect of our organisation.
"The role of the county manager, for instance, needs to be looked at for a start. Their role is way too big.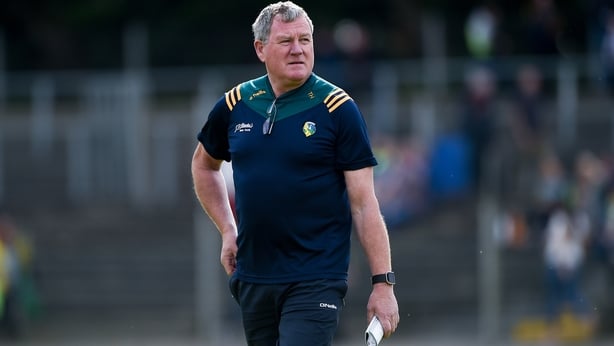 "We are blessed to have a man like Terry Hyland (above) with us. We had some bother even getting that man to take something to help with his travel and mileage expenses for looking after the team last year. He said he didn't want anything, that he just wanted to help Leitrim football. Not every county has that calibre of guy with them."
From a funding and financial perspective, Stenson also feels that the template needs to be revisited.
Leitrim are currently sponsored by the popular JP Clarke's Bar at McLean Avenue in Yonkers, outside New York City.
"The county does not have an industrial base and for years were sponsored by the family run Bush Hotel," Stenson adds.
"We struggle in that regard and we will always do.
"The truth is the likes of Leitrim are under pressure with that battle all the time."
With sponsorship coming from the US, Stenson was delighted to be able to return the favour and add some input into the Sláinte programme, a project that helps Irish immigrants struggling amid the coronavirus lockdown by offering grants, food and advice.
New York GAA has played a big part in raising $500,000 in a campaign to help the undocumented Irish in the Big Apple - but so too has Leitrim GAA with Hyland, the senior football team and officials, all getting invested in a fundraising drive.
"We know most of the people involved with the project over there," Stenson says. "And how many times over the years have the Irish-Americans stood up to help us back at home?
"I know lots of people personally over there and they are in dire straits after Covid. In my view, and obviously not referring to the sadness that bereaved families have had to endure, we have had it pretty OK with assistance like the pandemic payments and the leadership provided. In comparison to others, very few were left hungry and there were payments coming into households.
"It hasn't been like that in New York, so in Leitrim we all rowed in to help.
"The Americans were never found wanting in helping us and this was one time when we could step up to the plate over here and answer the call when it was needed most by Irish people over there.
"With the regime that is currently in place over there, parts of the US totally frown on people going through hard times with no legal status.
"Under that regime they give you nothing, so the Irish community is trying to keep everyone together.
"Here in Leitrim, Terry Hyland, our players, all of us, wanted to help. People still can. We have never forgotten the help they gave us over the years."