The 2020 inter-county championship, scheduled for the depth of winter, throws up infrastructural challenges for the association.
We don't as yet know what Covid-19 restrictions will be applied to crowds gathering but it seems certain a measure of social distancing will be in operation. This provides great challenges for a number of county grounds, especially those on the small side.
Then there is the narrower window of daylight to contend with, a problem in particular for the provincial councils in Leinster and Connacht, where floodlights are in short supply.
CONNACHT
Salthill is a beloved seaside resort on the western edge of Galway city. Pearse Stadium is a rather less than beloved GAA ground in Salthill.
The traffic on the way to the ground is the stuff of legend - by all accounts, Lawrence of Arabia's trek across the Ottoman Empire was a mere doddle, a simple errand, compared to the journey from Ballinasloe to Pearse Stadium on match-day.
Assessing how a team is doing at half-time in a game in Salthill is a notoriously tricky endeavor, as one has to estimate whether the side with the 14-point lead has really made the most of the hurricane at their backs in the first half. RTÉ should probably consider hiring anemology experts rather than ex-players to do the half-time punditry for games down there.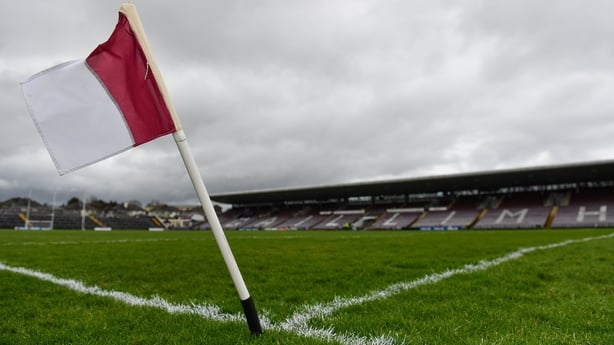 While restricted crowds in light of the Covid crisis might ease the traffic situation around the venue, Pearse Stadium suffers from one major handicap when it comes to hosting championship games in winter.
Galway GAA's county ground does not boast a set of floodlights.
The venue did host an International Rules game under floodlights - the first test of the infamous 2006 series ("If you wanna box, say you wanna box and we'll box") - but those were only temporary and subsequently removed.
Planning permission was granted for the erection of permanent floodlights in late 2014 but these have not yet been installed, with the strapped financial position of Galway GAA not helping matters.
Hyde Park is the venue which has probably hosted more Connacht finals than any other, at least in the colour TV era.
Not only is it Roscommon's home ground, it has traditionally been the go-to venue whenever neither of the province's big two were due home advantage in the decider.
Both Leitrim and Sligo ended their provincial famines at the Roscommon venue, neither side's county ground being deemed fit to host a game of that magnitude.
The ground has begun to show its age in recent years though the pitch was successfully replaced in 2017.
The Rossies had to put their foot down to ensure they were home advantage in the 2018 Connacht final. Quite why they did so is another matter, their record against Galway is considerably better in Galway but that's a tangent I suppose... The GAA caved early on that occasion, before a 'Newbridge or Nowhere' style saga got rolling.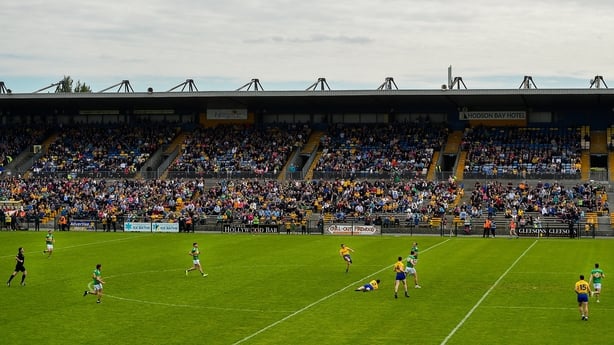 Hyde Park boasts a reasonably big stand and a sizable terrace opposite, albeit with minimal - very minimal - covering. The terraces on either side are a touch pokey, known colloquially as 'the scoreboard end' and 'the graveyard end' for reasons that don't require elaboration.
'The Hyde' will not be capable of hosting games that drift into late afternoon as there are no floodlights at the venue. As in Salthill, if it is to host games in 2020, we're looking at an early afternoon start.
Neither Páirc Sean MacDiarmada in Carrick-on-Shannon or Markiewicz Park in Sligo will likely be deemed suitable. The small size of the venues will surely not be able to facilitate social distancing.
And so we come to the only Connacht venue that comes armed with a set of floodlights.
Elvery's MacHale Park in Castlebar had its Main Stand redeveloped just over a decade ago and usually plays host to Saturday night fare in Division 1 of the Allianz League, typically with former Taoiseach Enda Kenny seated prominently in Castlebar's version of the royal box.
The Mayo venue boasts a solid hulk of a main stand - which is usually packed out by the famously devoted home support. The rest of the ground is a bit exposed and the long stony 'benches' that constitute the seating arrangements aren't the most comfortable, making the stand an excessively attractive option.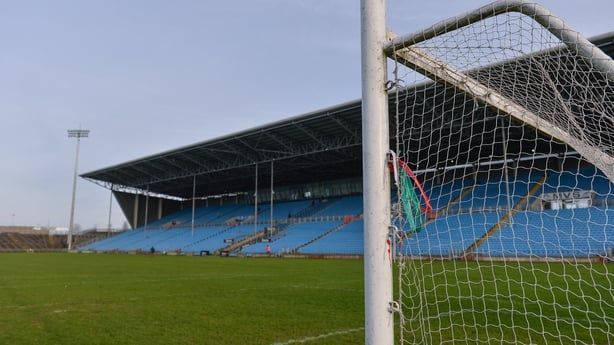 Needless to say, the ground is good for Mayo matches and any potential games. However, Mayo are due an away game against Galway should they meet in the championship and Padraic Joyce's team, one suspects, are unlikely to want to concede home advantage. 1pm Connacht final in Salthill potentially.
Grounds in order of most likely to be used:
1. MacHale Park
2. Pearse Stadium
3. Dr Hyde Park
4. Avantcard Páirc Sean MacDiarmada
5. Markievicz Park
MUNSTER
Fitzgerald Stadium in Killarney may be feted as the most scenic venue in the country - it is, as a Kerry acquaintance of mine has remarked, practically illegal to mention the stadium without reference to 'The majestic McGillycuddy Reeks' as its backdrop - but there's a reason why Austin Stack Park in Tralee is invariably used for the Saturday evening league games.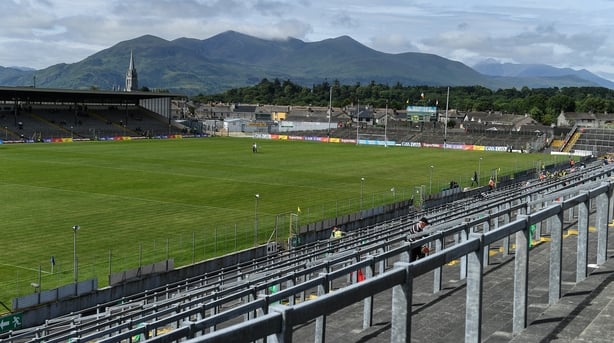 The Tralee venue may be smaller and less visually prepossessing, not to mention less popular among tourists and away supporters down for the trip, but it does have a set of floodlights.
Austin Stack Park has hosted particularly memorable league games, against Galway earlier this year and Dublin last year, though it hasn't held a critical championship match since Jack O'Connor's Kerry squeezed by Sligo en route to an improbable All-Ireland victory in 2009.
Then there's Páirc Ui Chaoimh, which appears to have put the rather embarrassing pitch woes of early last year firmly behind it.
The Irish Times' Brian O'Connor, in a glowing 'love letter' to the old Páirc Ui Chaoimh ahead of the last Munster Hurling Final there in 2014, wrote that it was "as charmless a slab of concrete as has been poured and perhaps the most awkward bit of Cork City to access."
The concrete has a more charming feel these days. The old Soviet bowl of the 70s has been replaced by two shiny, modern stands and two pristine terraces at either end. It's kitted out with floodlights and big enough to host a socially distanced crowd.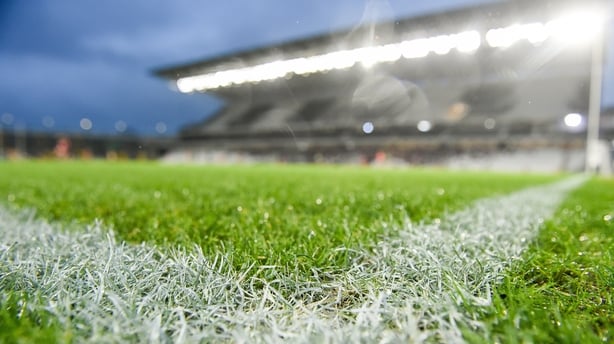 However, the location is still the location.
While Pairc UI Chaoimh has more of a modern sheen, Semple Stadium remains the most popular of GAA venues outside of Croke Park, spoken of by hurling fans in the same tones that devout Catholics use when talking about Medjugorje, Lourdes or the Vatican.
The ground is perfectly set up for a winter championship played through the Covid crisis. Its size offers a chance to enforce distancing, the number of pub offerings in the vicinity mean none need become too packed. The transport links are also very convenient, the train station being just a short walk from the ground.
Neither Walsh Park in Waterford nor Cusack Park in Ennis are deemed acceptable for Munster finals, even in a normal year. The former wasn't even regarded as satisfactory for Munster round-robin games in 2018 until the Newbridge or Nowhere saga shifted the narrative dramatically and jolted the docile grassroots to life. Neither venue has floodlights so early afternoon games in front of paltry crowds are the order of the day if these grounds are used.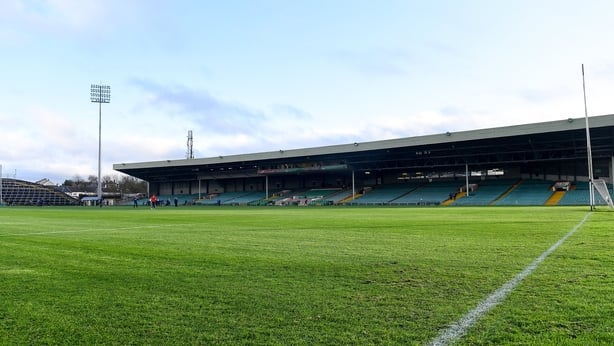 The LIT Gaelic Grounds, traditionally known as just the Gaelic Grounds, is a well-lit venue with a similar capacity to Pairc Ui Chaoimh (45,000). Unlike Thurles, it's a fair distance from the public transport hubs but the stadium has enough going for it that it will be deemed suitable for use in championship 2020.
Most likely to be used:
1. Semple Stadium
2. Páirc Ui Chaoimh
3. LIT Gaelic Grounds
4. Fitzgerald Stadium
5. Austin Stack Park
6. Cusack Park
7. Walsh Park
LEINSTER
Leinster is home to the jewel in the GAA's infrastructural crown.
It is also home to a large number of small county grounds, many of which are deemed unsuitable to host even modest, early summer championship encounters, especially when Dublin fans are making their way down the country.
Joule Park in Aughrim - better known as Aughrim - is a scenic little venue on a sunny day in May or June but its small size may hobble it in 2020. Attending a match in Drogheda Park, meanwhile, serves to remind you that Louth is primarily a soccer county.
One is loath to say anything negative about St Conleth's Park in Newbridge so we'll acknowledge that the location is superb and the atmosphere delightful. It looked great on that sunny evening in late June 2018 after Mayo came to town and was also bathed in sunlight when Kildare lost narrowly to Galway in the Super 8s later that summer.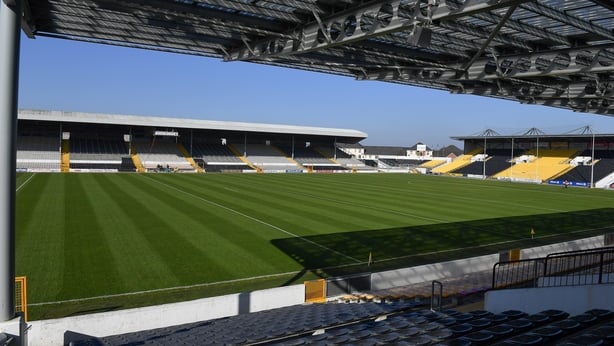 Netwatch Cullen Park has a fine old stand there, decorated in multi-coloured Carlow seats, but it would hardly be fit for purpose in a winter knockout championship, given its relatively small size. Floodlights were erected in late 2016.
Páirc Tailteann in Navan, with its retro grass banks and fairly dowdy looking main stand, was set for a much needed redevelopment in 2020 but this has been put on hold during the coronavirus crisis.
Generally speaking, the area known as 'Rest of Leinster' is a wasteland when it comes to those futuristic items called floodlights.
The Navan venue did once contain a set of floodlights but were taken down some years ago due to "structural safety concerns" and were sold in 2017.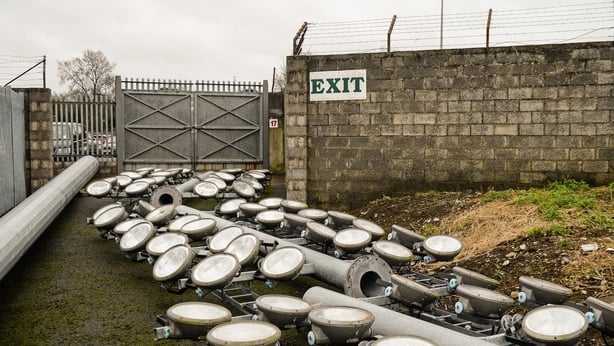 Cusack Park in Mullingar, hemmed into a tighter urban area behind an apartment complex and a Dunnes Stores, has much the same problems as Carlow's county ground. It is a short walk from the main public transport links, however, and fairly close to the centre of town.
Glennon Brothers Pearse Park in Longford - once re-titled by a rival website as 'Pearse Brothers Glennon Park' (deceased revolutionaries Padriag and Willie Pearse very kindly agreed to sponsor a ground named after a local wood supplier) - has overcome some of its recent difficulties.
The west and south stands, only redeveloped in the noughties, were out of action during the 2015, 2016 and 2017 championship, due to subsidence. When Longford played Cork in the last-12 match in 2016, the entire crowd were grouped on the terrace opposite the main stand.
This issue has been fixed since and Pearse Park, which has held All-Ireland U21 deciders in the past, could be deemed okay for early afternoon games. Alas, it is a touch small and there are no floodlights either. The area is a fair bit outside the pub-hub in the town.
Two of the finest grounds in Leinster also don't contain a set of floodlights either.
Nowlan Park boasts every other advantage, including four covered stands, which means, in the event of rain, that everyone needn't converge on the one location. The stadium is in close proximity to the train station and the city itself where there is, as any stag veteran will tell you, no shortage of pubs.
It's an attractive prospect for an early afternoon game, even in the depth of of winter.
The pristine O'Connor Park in Tullamore was re-developed at great expense in the noughties, a period which, rather awkwardly, coincided with the collapse in fortunes of Offaly's two county teams but we won't get bogged down in that again.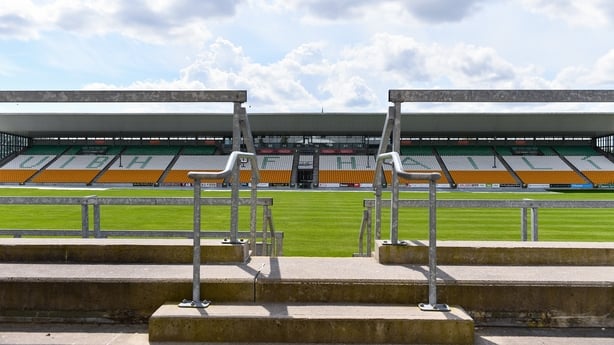 The ground has been a go-to neutral venue for a long time, playing host to the majority of Galway's Leinster championship games during the years where the westerners' new provincial rivals refused to cross the Shannon.
The main stand is rarely full and can accommodate a large crowd, stretching, as it does, the entire length of the pitch. The stadium is a short walk from the centre of town and there's plenty on offer there. As with Nowlan Park, the lack of floodlights is the only drawback.
Wexford Park is a reasonably sizable venue, catering for an attendance in and around the 25,000 range. It also offers pleasant views of the coast from one side of the ground.
However, the stand is a touch rustic looking and the rest of the ground is uncovered. It is also, given its location, unlikely to be used for neutral games.
O'Moore Park is frequently derided by sports reporters as an inferior version of O'Connor Park. But they're primarily talking about the press facilities - it's hard to get them to stop talking about this - which the general punter doesn't care about.
The Portlaoise venue does, however, feature floodlights, making it a likely choice of a neutral venue for a few double headers this winter. The public and private transport links are good and the town has an array of pubs.
The ground has been deemed suitable for travelling Dubs in recent years too, albeit not, bizarrely, when Dublin were drawn to play Laois.
Most likely to be used
1. O'Moore Park
2. Nowlan Park
3. O'Connor Park
4. Wexford Park
5. Netwatch Cullen Park
6. Cusack Park
7. Glennon Brother's Pearse Park
8. Pairc Tailteann
9. St Conleth's Park
10. Joule Park (Aughrim)
11. Drogheda Park
ULSTER
If Leinster suffers from a grievous floodlight shortage, then there are no such worries in Ulster.
All the (still standing) county grounds in Ulster boast floodlights, with the exception, ironically, of the premier venue in the province, St Tiernach's Park in Clones.
This provides a problem for the traditionalists. The Clones venue has held every Ulster final since 2007 - following the Croke Park years - and has held every Ulster final that was actually in Ulster since the early 1970s.
An early-ish throw-in may need to be arranged to keep the run going for 2020.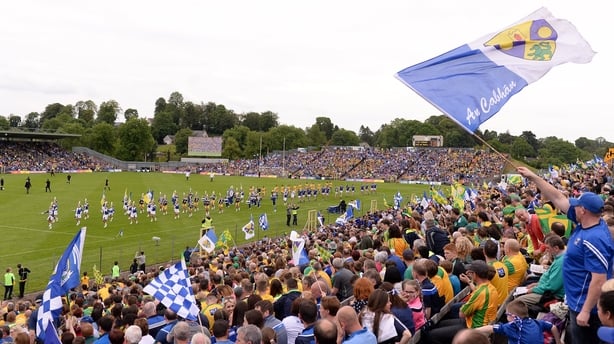 Of the remainder of the stadiums, Kingspan Breffni Park is one of the biggest, registering a capacity in and around the 30,000 mark.
Casement Grounds in Belfast is a sorry rundown husk at the moment until someone swoops in to rescue the project. In the mean-time, Antrim have been making use of Corrigan Park for league encounters, a venue which is wholly inappropriate for championship fare.
The remaining grounds within the six counties - Healy Park (Omagh), Pairc Esler (Newry), Athletic Grounds (Armagh), Brewster Park (Enniskillen) and Celtic Park (Derry) - all have decent facilities, including floodlights and nice and tidy main stands.
But they are all in the small-to-medium size range. The grounds in Armagh, Tyrone and Derry should be deemed fine for championship games at least.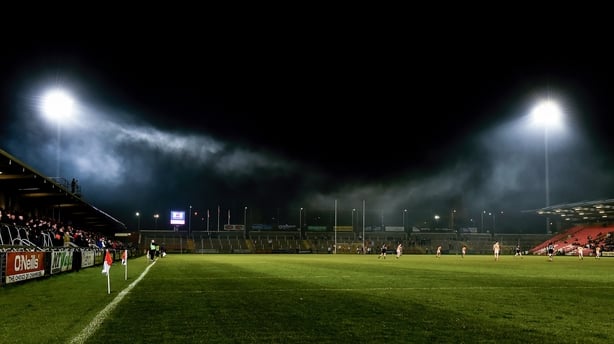 McCumhaill Park, typically just called Ballybofey, is hardly the most aesthetic of county grounds. It looks gloomy enough even at the height of summer, never mind winter. Again, the capacity drifts under 20,000 but it should be satisfactory for early summer encounters.
Most likely
1. St Tiernach's Park
2. Kingspan Breffni Park
3. Athletic Grounds
4. Healy Park
5. Celtic Park
6. MacCumhaill Park
7. Páirc Esler
8. Brewster Park