Mayo football star Sarah Rowe admits she will have to think long and hard about her sporting future over the next month, with a return to Australia for another campaign with Collingwood likely to end any prospect of her lining out for the Green and Red in 2021.
Rowe has shone in the AFLW for the last two seasons, coming back to Ireland at the end of Aussie Rules campaign just in time to feature for her county in the Championship.
In April, she was named AFLW Irish Player of the Year. Sixteen athletes from the these shores lined out in the league this season, with Rowe's stats better than any of them.  
Under normal circumstances she'd have come home in spring to start prepping for a tough few months with Mayo but the Covid-19 pandemic has forced the Ladies Gaelic Football Association to push back the the start of the action, meaning Mayo could still be playing in the winter months, just when Collingwood are due to begin pre-season for the 2021 campaign.
On top of that, Mayo manager Peter Leahy has warned that he will no longer pick players who combine their inter-county Gaelic football careers with a move to Aussie Rules, telling Midwest Radio: "We've made a decision that anyone who wants to go to Australia or whatever, we'd have to omit from the panel and carry on regardless because [it's] what's best for Mayo.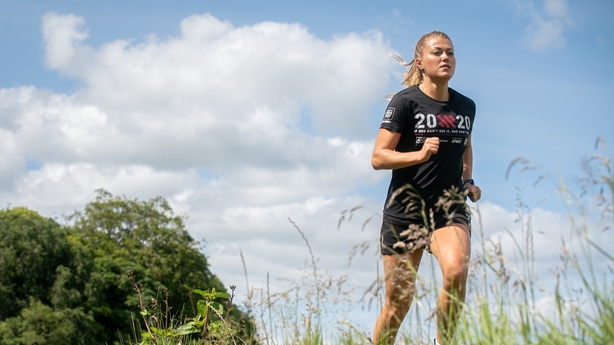 "There's no other sport that I know of that you can play both in the same season. The demands of inter-county football is so high." 
That stance directly impacts Rowe, who turned down a two-year deal with Collingwood in 2019 because of her desire to play for Mayo in the summer months.
"It will be definitely something I have to think about," she told RTÉ Sport. 
"The signing date for AFL is between 1 and 17 August so I have a bit of time yet. I don't even know if they're allowed to have conversations yet with people because everything is so unforeseen.
"It's very up in the air as to what the future holds. For me at the moment, I'm just focusing on my club... then I'll focus on Mayo, and then I'll turn my sights to whatever the future holds for me but at the moment it's all very uncertain.
"Peter has to do what he thinks is best for Mayo and what's best for Mayo is best for me. It just means it is now more of a decision going forward.
"If you can't play both you have to weigh up the pros and cons of what's best for you. I was studying while I was over there as well. I finished my degree. I did hypnosis, neuro-linguistic programming and life coaching when I was there.
"I've started working in that area since I came home. There were one or two other areas I kind of wanted to further study in but I didn't get to finish the part that I wanted to because of Covid.
"Whether that will be in any way an influencing factor for me I don't know, but I've started working in that [area] and I've created my own website and stuff. That's been great, to have another focus as well and not just be focused on sport."
For now, Rowe is loving life back with her club Kilmoremoy.
After three months of 5km runs and solo sessions, being among a group again is something the 24-year-old is really appreciating.
"You really miss that side of things," she said. 
"You can train as much as you want on your own but it's never the same as the way you train when you're with a group of people. You're pushed that bit harder as well.
"As much and all as you'll have trained really hard over the break, it's not the same as training in a group. You see far greater benefits training with a group of people.
"To be back with your club is a lovely thing to do as well.
"It's very refreshing because normally you're coming in off the back of an inter-county season, you haven't really been there as such but now you're with them group of players, starting with them from the start of the season, you can build that good team culture.
"You're going to start with your club and you're going to finish with your club. We're nothing without our clubs, so I think to be able to get that time back and have that sense of community around the place is lovely.
"Everybody is just very hungry for football. It looks different this year but with that comes a different opportunity. A lot of teams are starting at the same level, there's not really an advantage to one team over another.
"We all have to start at the same date. Whatever team deals the best with the setback as such will be the team that comes out on top."
Sarah Rowe was speaking in support of Lidl Ireland's new exercise programme 'Lidl Moves' which has been launched as part of the 20x20 campaign
Listen to the RTÉ GAA Podcast at Apple Podcasts, Soundcloud, Spotify, or wherever you get your podcasts.
RTĖ Sport · RTÉ GAA Podcast: Oisín McConville and Donal Óg Cusack on club v county strife, plus New York vision