Three names have emerged as contenders to replace Turlough O'Brien as Carlow football manager.
Stevie Poacher, Pat Critchley and Éire Óg boss Joe Murphy have all come into the frame as potential successors.
O'Brien stepped down as manager of the Carlow footballers after six years in charge.
The Éire Óg man was due to take charge for the rest of the 2020 season but due to the coronavirus delay he departed to "facilitate a smooth transition for the new season", a statement from the Carlow county board said.
Taking over in 2014, he won promotion from Division 4 in 2018, taking Carlow out of the bottom tier for the first time in 33 years. That same year he guided the team to a famous Leinster quarter-final win over Kildare in Tullamore.
Carlow and Eire Og powerhouse Sean Gannon says he will find it strange to go back into a dressing-room without O'Brien.
"Since I first started playing football it feels like he has been involved with every team I have played on," Gannon laughs.
"Certainly, as I went up through the ranks Turlough was always there for the last 10 or 12 years.
"It will be strange without him, but he did some job. When he took over, we didn't have much to look forward to. We would win two or three games in Division 4 and then we might fall off the pace again.
"We were down at the bottom of the pile, kind of mentioned as only an afterthought, but now the fact that he came in and raised a lot of standards means that hopefully there will be good interest in the job."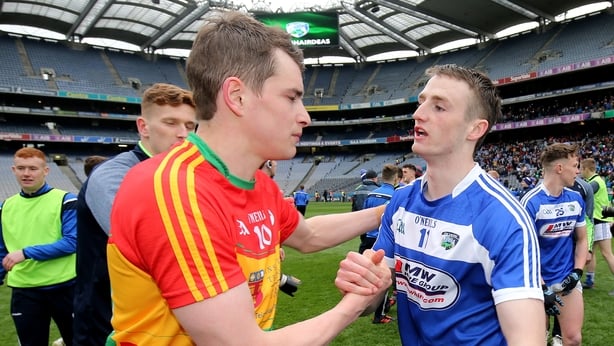 It appears there is.
In 2013, before O'Brien took charge, Carlow were at the foot of the fourth division, with only London below them, and only managing to score 12 points per game.
In 2014, they conceded 12-120, a staggering 22 points per game, to finish rock bottom of the lowest tier.
Four seasons later, however, O'Brien guided the county to promotion for the first time in over three decades and while they are back in the fourth division once more, the players are still hopeful of a rise back up the table.
Through 2017 and 2018, Carlow won 15 of their 24 league and championship games in that era, drawing another, and securing that promotion in 2018 along with the win over Kildare in that summer's Leinster Championship.
And now Poacher, the coach from that era, has signalled an interest in speaking to Carlow officials about the vacant job.
Poacher stepped away from his role as team coach last year due to mental fatigue but with the post now vacant and after having a long break because of the Covid pandemic, the Down man is re-energised and would not rule out the possibility of stepping into intercounty management. He is currently part of the Down minor management team and also coaches senior club side Bryansford in his native county.
Another name on people's lips in Carlow is Éire Óg manager Murphy. During a brilliant playing career for Éire Óg, Murphy sampled provincial glory on five occasions, and is currently doing a fine job as the club's manager – as well as helping other clubs in recent years. He also won two county titles as Old Leighlin manager in 2010 and 2011.
It remains to be seen if Murphy is interested in the job or will be keen to remain with his club.
Critchley's name has also been put forward. He was Laois's first All-Star having been selected on the 1985 hurling team. An outstanding coach and scholar of the game, the former Laois star is currently coach of IT Carlow and led them to this year's Sigerson Cup final. Hugely respected by all, Critchley has a wealth of experience and is hugely regarded by all who have played for him across a variety of sports.
"There hasn't much talk about the job in public," Gannon says.
"I see bits and pieces in the local paper, the Carlow Nationalist, but we will have to wait and see. There is a three-man panel set up to find the new manager, so we'll see."
It's been a busy week for Gannon who this week helped launch the next phase of the TURAS programme for Leinster GAA – the province's official coach developer programme which is based around one simple philosophy that better coaches make better players.