At the beginning of March, just before the current pause kicked in, Killarney side Spa took to the field for a league game against the 'C' team of their illustrious neighbours, Dr Crokes.
A fairly routine and humdrum encounter was anticipated until the Spa players trooped out on the pitch and saw a certain ex-Kerry player lacing up his boots opposite them.
Colm Cooper's glorious return was reserved for inauspicious surroundings.
There was no big advance notice, no Michael Buffer treatment on his way in the gates. As he says, he just landed in. 
"I think a few of them got a shock the first day I played," Cooper told RTÉ Sport. 
"They didn't know. I just landed in with the boots. As you can imagine, 'C' football in Kerry isn't massively professional. We went out, we played, we'd fun. But I think the guys got a bit of a kick off it as well."
Presumably the Spa rearguard fell into an immediate blanket defence? Or else the man slated to mind Cooper's corner of the pitch began frantically recommending a positional switch?
"No, no, we played hard, we played fair, there was no real dirty belt but we enjoyed it!"
This being the Crokes C side, there was a great mix of youth and experience, by which we mean great youth and great experience. 

There were no actual father-and-son combos this time though there were a few who were long past the legal drinking age when at least some of their teammates were born. The world, of course, contains no shortage of Junior C jokes so we'll try not to add to them too much here.
We need your consent to load this SoundCloud contentWe use SoundCloud to manage extra content that can set cookies on your device and collect data about your activity. Please review their details and accept them to load the content.Manage Preferences
"There's a mix, we have anywhere from 39-year-olds to 17-year-olds. I was just sad that Covid kicked in when it did because we were starting our league because football was becoming fun again. I was playing with lads I hadn't played with since I was 17 and I was also playing with new 17 or 18-year-olds who I didn't even really know.
"Maybe there was a perception with me that I was a very serious individual and character and it was all about winning. And maybe because I was guarded when I was playing, I didn't let too many people into my inner circle because I was so fixated on winning.
"But now I've a sense where it's okay to go out and play and make mistakes and try again and win matches and lose matches. Maybe a lot of those guys, particularly the younger guys, had never seen that side to me. 
While Cooper embraces the philosophical and corinthian attitude common to elite ex-county men who are liberated from the pressure of winning, he nonetheless confirmed, after being pressed by this reporter, that Crokes did indeed win the game - by three points. 
The club player, that most abused of entities, whose plight amazingly hasn't yet attracted the attention of the United Nations, gets his day in the sun in 2020. 
The GAA, who've been reeling from attack from the club lobby for the past few years, have secured a public relations win by giving them the run of the pitch for the next four months.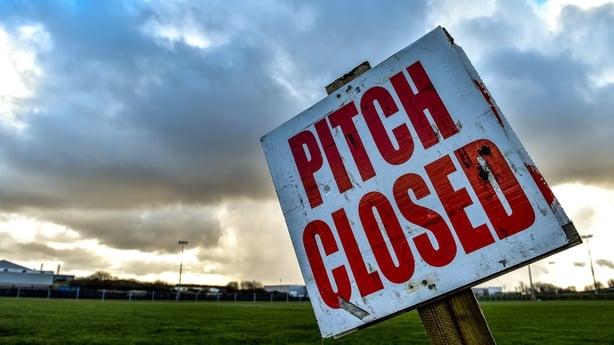 Croke Park shouldn't get too comfortable. Whenever they solve one problem, they merely seem to open up another avenue of complaint. 
Organised training on actual club pitches returns this week. Albeit Cooper points out that the Kerry county league, the competition in which he, at the age of 37, is now playing his football, may not actually be coming back. The club championship and the county championship - they are two different things in Kerry - are being given priority. 
There has been a fair amount of romanticising of the club scene in recent years. Perhaps too much in places. So in vogue has been the cause of the club player that one half expects to hear a call for the inter-county game to be banned soon enough.
But for Cooper, who retired from the inter-county game in spring 2017, stepping down to become a straightforward club player again has, in many ways, reaffirmed his love of the sport.
"It kind of reminds you why you started the game. It refreshes your love for the game. Invariably, that's where you started and it's where you finish. 
"And okay, the days of 80,000 in Croke Park and the bright lights and the star billing that you have, that can be gone. But that doesn't mean it's any less enjoyable. And for me it became even more enjoyable. It refreshed my mindset and reaffirmed why I played GAA. 
"Quite often, it's the days where there are only 20 or 30 people at a match that you get the most satisfaction out of winning or playing a match." 
The eight-time All-Star lived out the vast majority of his Gaelic football life in a very different environment. The highly pressured career of a star Kerry senior footballer, where, as any Kerry player or manager won't be shy of reminding you, the supporters are rather demanding.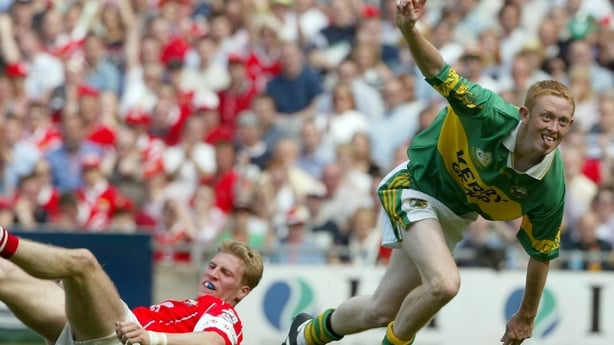 During Cooper's heyday in the noughties, when Kerry had once again established themselves as the Kings of Gaelic football after an intolerably long dry spell throughout the Charlton Years, the county won five All-Ireland titles (a haul which equalled their previous best decades of the 30s and the 80s). And yet, it was the All-Ireland final losses that the public seemed to fixate on.
(Outside Kerry too. In 2012, when the Irish Independent ranked the previous 25 All-Ireland football finals in order of best to worst, four of the top five were Kerry losses and three of the bottom four were Kerry victories. This is the cross they must bear for winning as much as they do).
This is often the case with serial winners. Achieving total victory is simply the default, anything short of that worthy of inquest and mountains of commentary. 
"I enjoyed that adjustment when finishing the Kerry thing. I had been with Kerry for 15 years and lived every minute of every day preparing for matches and training.
"You know, I played most of my career in big pressure matches, and was putting myself under pressure to win matches and win championships, be it club or county."
Notwithstanding the long-standing irritants around the mis-shapen and ad hoc calendar - the chief bugbear of the era - Cooper said that he personally has found a far more relaxed life-GAA balance since quitting the county.
"The inter-county game is much more regimental in terms of the training, the gym, the rest," he says. "Basically, your whole lifestyle is built on inter-county training and inter-county matches.
"I found when I went back to the club - and even though Crokes is probably one of the more professional clubs around, we were competing for Kerry county titles and All-Ireland club titles - but I still found the club scene a lot more relaxed. 
"You still have the social life, you still have that little bit of a mix, which I found very beneficial. Now while you're competing for those titles, it's still very serious, but there is a bit more of a fun and relaxed atmosphere around the place.
"I read a lot about players who found it difficult when they retired from the inter-county set-up that they find it difficult to fill the time and space.
"I certainly wasn't that. I enjoyed going training with Crokes on Tuesdays, Thursdays and weekends and enjoyed the down-time in between. Whether it's going for a game of golf, which you wouldn't normally have been able to do, or having somewhat of a semi-social life, I certainly enjoyed that.
"I didn't feel that I had any void when I left the county set-up."