Ulster provincial secretary and CEO Brian McAvoy expects news this week from the Northern Ireland Executive regarding return to play instructions for GAA members in the six counties.
There is an anticipation that the NI Executive will increase numbers allowed to train together in designated areas and therefore align with policies implemented by the Republic of Ireland Government.
Conversations have already taken place between GAA representatives and NI Assembly members and feedback is due in the coming days.
With the Government in the Republic accelerating from lockdown last Friday, the GAA reacted by recommending new protocols for returning to play.
Adapted directives were unveiled following strategic work undertaken by its Covid-19 Advisory Committee and the new plans were also endorsed by the GAA, LGFA and Camogie Association. 
One recommendation was that counties in the Republic of Ireland would be limited to a maximum of 15 players in a designated area of a GAA field, while the six counties are currently limited to 10 players per designated area.
With the southern rule-makers accelerating from the lockdown at a faster pace than their northern counterparts there are fears that GAA members in the six counties could be left in a quandary – especially as the 17 July return to competitive club action date looms.
But top Ulster GAA official McAvoy told RTÉ Sport that the NI Executive tends to work in three-week cycles and that he anticipates an announcement this week in relation to increasing the numbers allowed to train together.
McAvoy said that he didn't think that the green light to return to playing games would be given at this particular juncture for those within those counties.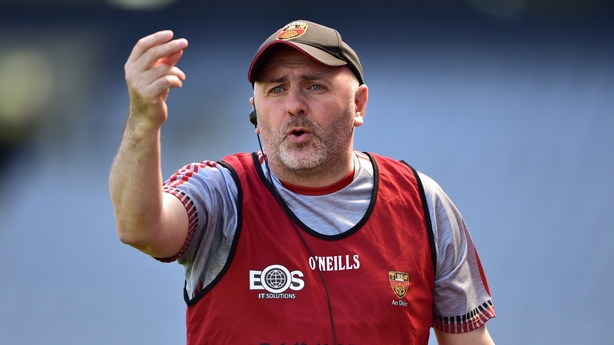 Down hurling manager Ronan Sheehan feels that confirmation is quickly needed.
Sheehan lives in the border town of Newry and says the contrast can be seen just a few hundred yards from his house.
"Half a mile down the road from Newry you cross the border into the likes of Omeath," he said.
"That in itself makes things interesting because we are told at times that we can't do things by the Executive (NI) and yet half a mile away people are able to do those things in places like Omeath.
"The border is virtually invisible now with the watchtowers down but Covid doesn't recognise borders anyway and that's why an all-Ireland approach is so important."
Deep down Sheehan says thoughts that those in the six counties could be left behind pop into his head from time to time, but he quickly adds that he cannot see that happening.
"We are under the jurisdiction of the Executive here whether we like it or not," he said.
"And one big concern, no point saying otherwise, is that if things speed up in the south and the emergence remains faster than it is up here, will we be left behind? Could the numbers game come into play? If the 26 counties were all good to go and we were not, what would happen? Would they go on without us?
"Luckily, I think those are fleeting fears. Regardless of who is Taoiseach the nationalist community up here has always spiritually looked to the Taoiseach for guidance. That's who we take our lead from and that's where we make our connection.
"In regard to the pandemic we would tend to take our lead from Dublin and by extension then Croke Park when it comes to the GAA's response on this matter.
"And I think Croke Park is very aware of our situation and are very mindful to what situation we are in.
"Thankfully, the GAA has always been excellent in ensuring a 32-county approach and it has always been let known that we are an all-island organisation.
"I have full faith that they will ensure we won't be left behind."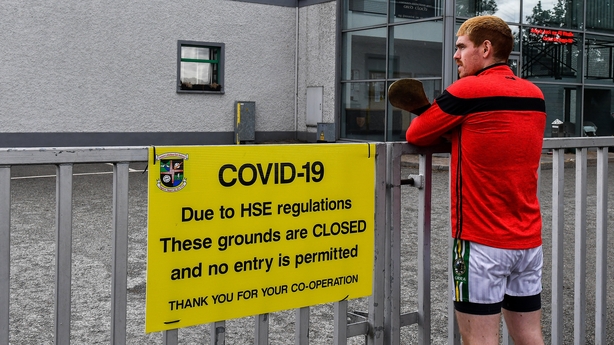 While the GAA awaits an official response from the Northern Ireland Executive on any potential changes that could help streamline the situation, Sheehan says that he will use any spare time to monitor how the return to play template is rolled out around the country.
"We will wait and see how clubs get through this learning process," he says.
"The only other thing that bothers me is will other inter-county managers respect the 14 September landmark for returning to train? I know we will.
"But will everyone else be doing the same? Or will people try to get one up on others and that is always a problem with the inter-county game; a kind of 'keeping up with the Joneses'" approach.
"Keeping up with the Joneses has become a theme of inter-county GAA in recent years but in the context of Covid-19, keeping up with the Joneses would be dangerous for everyone. We all have to do right thing here."
Listen to the RTÉ GAA Podcast at Apple Podcasts, Soundcloud, Spotify, or wherever you get your podcasts.
We need your consent to load this YouTube contentWe use YouTube to manage extra content that can set cookies on your device and collect data about your activity. Please review their details and accept them to load the content.Manage Preferences