For over 100 years, GAA matches have taken place at O'Moore Park.
Its central location and modern facilities make it popular for the staging of not just big senior championship games, but also a host of underage and colleges fixtures.
Events that bring thousands of people into the town are now rare; the Whit Weekend Jazz Festival for so long a mainstay of the summer is now gone.
There was an attempt in the mid-90s to bring the Féile music festival to O'Moore Park, but local objections prevailed and it was eventually staged at Páirc Uí Chaoimh in Cork.
For the first time anyone here can remember, Portlaoise is facing a summer with no inter-county matches and the impact is being felt across the town.
The stadium's state-of-the-art kitchen and dining facilities are normally bustling with actively, from midweek training sessions to weekend matchdays. Bosco Ramsbottom's company, Bosco's Catering, is responsible for feeding the masses.
Bosco is a familiar presence around the ground on big days. If you don't see him in person, you'll certainly spot his van outside. But now, it's a worrying time for him.
''Our contract is with Laois GAA to feed all the inter-county teams after training and after games," he explains.
"That's all sat down at the moment and we had to leave off some of our employees until such time as the GAA season kicks off again.''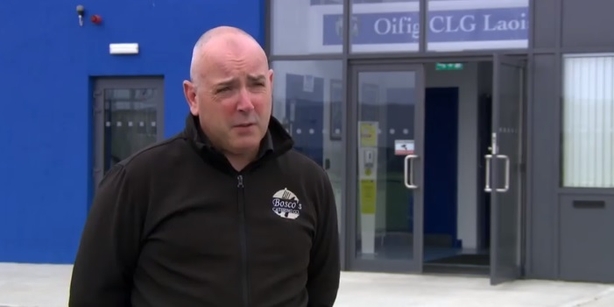 For Kelly Ging, who runs a cafe near O'Moore Park, it's a similar story of reduced staffing and income. The Ging name has been synonymous with business in Portlaoise for many decades.
With her father Paul and grandfather Joe both well-established businessmen, Kelly is blazing a trail as a cake designer and cafe owner. The loss of the GAA games on her doorstep is another blow as she fights to rebuild and redesign her business in the wake of the lengthy Covid shutdown.
''Usually we have matches a couple of times during the week. Every weekend during the summer we have a huge footfall; people coming in for coffees and teas, and we do a lot of lunch options as well," she says.
"All of that trade is gone. For matchdays we would have about eight staff here. The way it is at the moment, we're operating with two staff."
Jack Nolan has been in business in the town for 38 years. A commentator, a cobbler, a locksmith and a former head of the town's traders association, his shop on Railway Street is a popular stop for GAA chat and the purchase of flags and bunting.
''With Laois back in the top flight of the hurling, they had both Galway and Wexford coming to town," he says.
"They were big draws and would have brought huge crowds. It's a real Mardi Gras on the Main Street when you get thousands of people in here. Publicans, restaurants, shops, everybody gets a spin-off from it. We sell all sorts of GAA paraphernalia and flags.
"Particularly when games are at 6 o'clock on a Saturday, people come into town from lunchtime and spill out onto the streets and buy all that sort of stuff.''
While most of Jack's time in O'Moore Park is spent commentating for local radio, he has often been required to double job.
''When you bring 20,000 people into town, people lose keys. When they're having the sambos and the tea out of the boot, they lock the keys in the boot. As the local licensed locksmith, we're called on numerous times in any one day," he adds.
The impact is not limited to small business. The local GAA has also been severely hit.
Normally at this time of year, the county grounds would be in high demand for a variety of fixtures. Seven championship games were staged here last year, as well as the All-Ireland Under 20 football final. Two years ago, it was the venue for the All-Ireland club hurling final replay.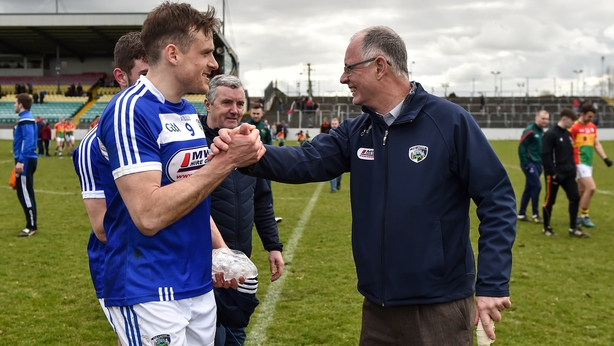 County Board Chairman, Peter O'Neill, maintains his usual sunny disposition as he surveys an eerily quiet stadium, but his message is bleak.
''We're financially struggling," he admits.
"All GAA counties and clubs would be struggling because we can't do any fundraising and there's absolutely no income coming into the organisation at the present time.''
He is aware of the serious impact the lack of a summer championship is having across the town.
''Catering, printing works, clothing, bus services, local hotels, B&Bs and the bars would lose a fortune. All that business is gone at the moment."
For now O'Moore Park is being used as a Covid-19 test centre, although it is hoped the continuing decline of the virus will lead to the facility being wound down in the coming weeks.
With no games since March, the pitch has benefited from the break and is looking better than ever. With an unusually quiet summer in prospect, this town is hoping the games and the fans will return in 2021.
Listen to the RTÉ GAA Podcast at Apple Podcasts, Soundcloud, Spotify, or wherever you get your podcasts.
We need your consent to load this YouTube contentWe use YouTube to manage extra content that can set cookies on your device and collect data about your activity. Please review their details and accept them to load the content.Manage Preferences