Former GAA President Liam O'Neill has aired his strong belief that there is a real danger in getting back to playing Gaelic games too quickly.
On Friday the Government announced that Phase 4 of the country's emergence from lockdown would be brought forward to Phase 3.
The GAA's initial date for the return to contact training was 20 July and Croke Park but the early enactment of Phase 4 means that contact training can now begin when the pitches reopen, which was due to be on 29 June.
On Saturday afternoon it was announced that GAA pitches will now open this Wednesday - five days earlier than anticipated - following a meeting of the Association's Covid-19 Advisory Group.
O'Neill, who was speaking to RTÉ Radio 1's Saturday Sport before the latest announcement was made on Saturday afternoon, said "we're not in control of this pandemic" and that he feared "we're taking a foot off the caution pedal".
"We're in a pandemic," he told Damian Lawlor.
"The narrative from the media sometimes is that somehow we're in control of it. We're not. This is happening to us; it's happening to the GAA, it's happening to Irish society, to Ireland, to the world. We're not in control of this pandemic. 
"This is a danger that's out there lurking. It's like looking out into the dark as a child, when you couldn't see what was out there. You were naturally conservative and careful. I think at the moment we don't know where this virus is.
"We have been magnificently led through this problem by our medics and our politicians. I'm just worried that we're taking a foot off the caution pedal at the moment."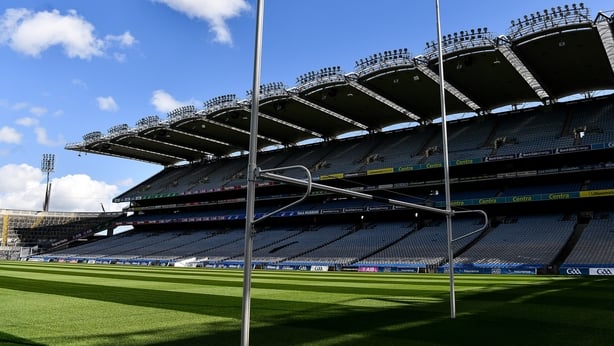 O'Neill served as GAA President from 2012 to 2015. He said the current incumbent John Horan and the director general Tom Ryan are under "huge pressure" to get every decision right in trying circumstances.
"I've huge sympathy for both John Horan and Tom Ryan and the people who are making the decisions at the moment - they are leading the decisions and are ultimately the two faces people see," he added.
"There's huge pressure.
"Business people will tell you that if you make 51% of your decisions and they turn out to be good decisions, and they're right, you'll be a success in business. Unfortunately in the GAA, we have that many people who are interested in what we do and who comment on what we do, we have to get 100% of our decisions correct or we are under awful scrutiny.
We need your consent to load this SoundCloud contentWe use SoundCloud to manage extra content that can set cookies on your device and collect data about your activity. Please review their details and accept them to load the content.Manage Preferences
"That's just the world they're living in. They're trying to do the best for our members, trying to do their best for the wider public, and it's a pressure situation.
"Whatever we do has to be guided by safety first, that's the prime concern.
"Maybe we're okay at the moment, but I know historically, in all pandemics there's been a second wave. I just hope we're ready for it and I hope we don't do anything now that will make that worse."
O'Neill accepted that Irish society has to return to normality as best it can and as soon as possible but he said that the GAA has a responsibility to put the health and safety of its members above everything else. 
"If you get a virus into your family by being careless, you only lose a grandparent once."
"As far as I'm concerned there's no contest when it comes to economics and safety - absolutely no contest whatsoever. And there's no contest when it comes to the GAA losing money at the gate ahead of a person being cautious.
"We really have a huge responsibility. I said from day one... our responsibility, as an organisation and as a country, is to get as many people over the line before this pandemic peters out, and it will peter out at some stage. We have to make sure we don't lose people. 
"If you get a virus into your family by being careless, you only lose a grandparent once. There's no amount of money that can make up for that. Take an eight-year-old child that has a grandparent who could possibly live for ten years longer in the normal course of life.
"The enrichment of having grandparents is absolutely invaluable, just invaluable to have contact with an older person, to have the love that's exchanged between grandparents and grandchildren.
"We can't sustain what's happening at the moment financially in the country. I know we have to get back, but we have to do it with caution. I think that sport is being pushed into opening up.
"I watched part of a game last night between Southampton and Norwich - it was like watching like FIFA virtual soccer that my son played 20 years ago on a games console.
"It didn't add up to sport to me. If we're going to do this around the country and not have people at the games, maybe we should ask ourselves if it's really necessary."