"There are so many stories in the GAA that it behoves someone to try and collect them".
The words of journalist and author PJ Cunningham as he, in conjunction with GAA Communications Director, Alan Milton, sets about the task of gathering the most comprehensive treasure trove of GAA-related stories ever compiled in the 136-year history of the association.
After completing similar projects dealing with rural electrification and the showband era in Ireland, Cunningham is clearly excited as to where this latest project can lead.
Speaking further to RTÉ Sport, he said: "No one has ever tried to collect stories from clubs and counties that deal with roguery, frolics, feuds, friendships, passion and drama. Such stories, I believe are gold bullion when it comes to the painting a picture of GAA life, not only here in Ireland but right across the globe. People have already contacted me from England and the USA. I would like the stories to be lighthearted and funny."
Partial recollections of past events, or accounts handed down, only fuel Cunningham's passion for the project.
He continued: "There used to be vigilante groups going around when you weren't allowed to go to a rugby or soccer match. These self-appointed vigilantes like the Ku Klux Klan, pointing fingers at those who would end up getting a six or 12-month ban.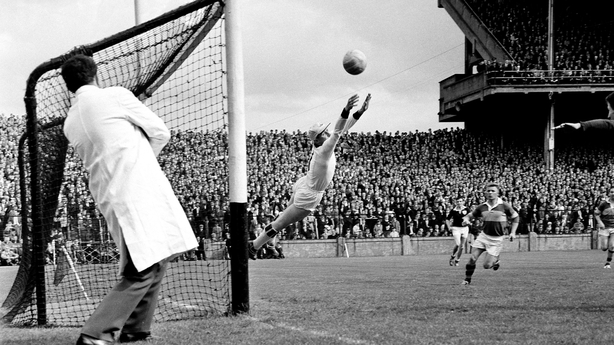 "As a result, you had people disguising themselves. Johnny Geraghty, the great Galway goalkeeper who won three All-Irelands in the 60s with Galway and never lot a goal in, was a case in point.
"He was at a soccer match in Dalymount with big heavy-rimmed glasses trying to hide himself.
"There was a player who was down to play for both the Tipperary and Offaly hurlers on the same day"
"Other tales relate to Frank Dineen, whom the Dinnen Hill 16 is named after, and his efforts in smuggling arms in for the 1916 Rising.
"Then you had the Blacklion club in Co Cavan, known as the 'club of many accents' as a result of the many 'foreigners' who played for it.
"There was a player who was down to play for both the Tipperary and Offaly hurlers on the same day.
"And there was the club in Lifford in Donegal who hadn't won a match for four years. They ended the run when a 'locally appointed' referee blew time ten minutes into the second with them ahead. In order to restore peace, the said referee bought drink for both teams and their officials afterwards in the local pub. He was happy to do that with the unwanted run of defeats now at an end."
Tellingly, Cunningham feels now is a good time to embark on such a project.
"Due to the coronavirus, this generation may never be in pubs having late night drinks to tell such tales, whether from the past or present," he added.
The story gathering will include oral accounts so that all kind of stories can be written down for the first time in book form and also feature in the GAA's archives at Croke Park.
Potential contributors who feel they have a story but may not feel up to writing it can get in touch with Ballpoint Press and relate their account. It will then be written and sent back for approval before being submitted for final publishing.
The president of the GAA, John Horan, said he welcomed the exploration through the GAA grassroots to find the diversity of stories that undoubtedly exist there.
"The grassroots are the lifeblood of our organisation and it is timely that that such an undertaking is finally going ahead. I'm delighted because it means that there will be a permanent home for these stories in both book form as well in our own GAA archive section."
For further information contact pj@gaastories.ie or communications@gaa.
Letters can be sent to GAA Grassroots Stories, Ballpoint Press, 4 Wyndham Park, Bray, Co Wicklow.