We're living in strange times, and everybody is facing challenges like never before. We are all having to develop a lot more resilience in this time of crisis. And when it comes to resilience, who better to talk to, than former Armagh footballer Oisin McConville, our guest on the My Hero segment on Sunday Sport.
McConville's struggles with gambling addiction are well documented, but I have always been curious about his life in Crossmaglen in South Armagh, and what it was like growing up in a war zone, where bombing, shooting and killing were commonplace. In truth it was a nightmare, but for him the real impact of "The Troubles" went unseen for many years, but they would have a life changing consequences later in his life. 
"The trauma caused untold problems," he reveals. 
"A lot of unseen stuff, that's where the real effects were for people. When you are suppressing and burying those feelings, and that was what we were doing as young people, you didn't want people to see the fear that was going on, so we locked that away, and when you lock it away, it comes out in other ways."
Gaelic football has always been an escape for Oisin McConville.
During The Troubles football gave him solace, a sense of direction, and gave life meaning. Sport was also there when his gambling addiction took hold, and without wanting to sound dramatic, he admits it kept him alive.
"My life was carnage, it was in a mess, there were a lot of things that didn't make any sense to me. I was struggling to hold down jobs, relationships, falling out with family members, the emotions were gone, the feeling was gone.
"I started to have suicidal thoughts, I thought people would be better off without me, I didn't feel any self worth, self esteem was on the floor, I just didn't feel like I had that much purpose. I felt that purpose when I went to play football, as it was something from a very early age that came natural to me, and it was my saving grace".
Back then, the instinct was to put the head down and get on with it. But the most important life lesson the Armagh man learned was to look for a positive and he feels it's a lesson we can all benefit from during the challenges of Covid-19.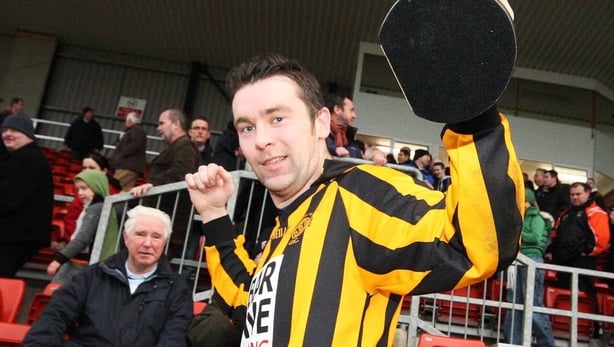 "Look at the situation we find ourselves in at the minute. It's just a matter of changing how you think. If you want to look for negatives at the moment, you will have no problem finding them, the positives are little bit harder to see, a little bit harder to reach, a little bit harder to think about, but they are there.
"They are the things you need to accentuate. If we do, it changes the thinking, not only for you, but for everyone around you as well".
Resilience comes easier for some, but the 2002 All-Ireland winner with Armagh feels it is in us all. He has seen it in his three kids during the lockdown, they've had their lives and routine turned upside down, and he has watched that resilience kick in. His theory is that maybe we lose it along the way, or maybe we don't put much value on it until it's too late.
"The resilience thing comes from life, it comes from making mistakes, from picking yourself up, from moving on, from realising that regardless of what you have been through, that you can overcome those challenges, and once you can prove to yourself that you can overcome those challenges, that is the realisation for a lot of people, and it certainly was for me, that you have the confidence to face these challenges head on, and you can move on".
McConville's hero is his mother Margaret, a positive influence on him and the wider Crossmaglen community, she's a woman in her 80's but was still making tea for the players after matches pre-lockdown.
"Not being able to visit her was challenging,passing the milk and paper through the window was in his own words, "horrible" when all he wanted to do was give her a hug. But in all the chaos and restrictions there was a big positive for his own family.
"The virus has brought us closer together, it's been a whirlwind experience as I'm sure it has for a lot of people. There has been something very nice about it because I spend a lot of time on the road, a lot of time away from home, and one thing is I have a lot more empathy for what my wife Darina does.
"Kids can be challenging at times, especially to keep them entertained, trying to educate now as well. And that is the challenge, but there is something nice about being around as we just have each other and we're just getting on with it."
More time at home has also meant extra chores around the house, but with the grass cut, the driveway power hosed, and the fences painted, he admits he may have peaked a little early on that front.
He more than most will welcome the return of football soon.