What comes to mind when you think of the typical GAA umpire?
A committed clubmate of the referee perhaps, with hair (if any) tending towards the same shade as the jacket supplied.
Monaghan forward David Garland, 21, is something of a curiosity then, in umpiring at inter-county level while still making his way in the game.
"I do it the odd time whenever I can," he tells RTÉ Sport. "I do it for Martin McNally, who is a Monaghan referee.
"There was a MacRory (Ulster schools) game on in Inniskeen which is only about 10 minutes over the road, Martin was refereeing. I was just finished school and bumped into him. He asked 'What are you at tonight, would you do umpire?' I said I would, it was a school football game so it's nice to go out and see other schools.
"So I went out and did it and enjoyed doing it. It just took off from there. I did many a game after it.
"I've done it for him right up through the years whenever I was a bit younger, 16, 17, 18 whenever you had more free time on your hands. I got to travel the length and breadth of the country with him to see some great grounds and great games along the way."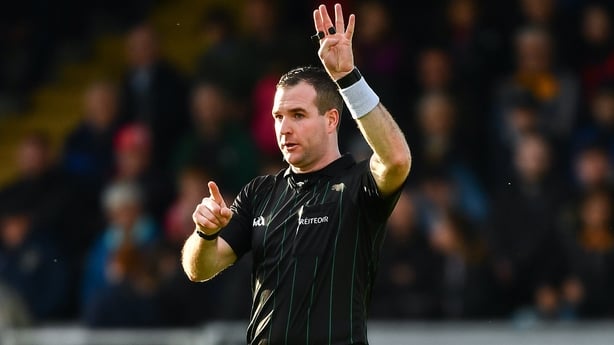 Corduff Gaels man McNally is a rising star on the inter-county refereeing scene and when he took charge of the 2016 All-Ireland minor semi-final between Kerry and Kildare, Garland got to see the most celebrated player of his young peers up close.
"David Clifford was playing that day and he scored nearly nine or ten points," he marvels.
"You were watching him, he was kicking them from everywhere. His movement inside - you were standing so close it was hard not to notice him. Even watching other great forwards playing from different counties, you'd pick up bits here and there. It's really good to watch them."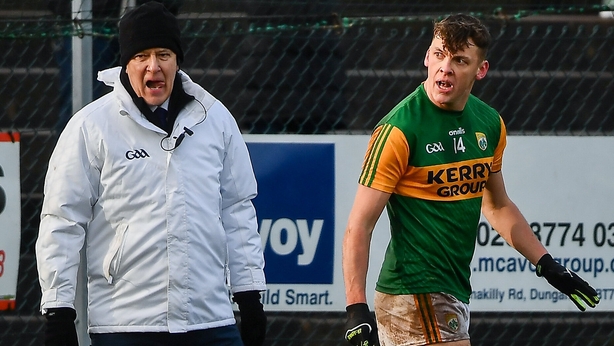 Being occasionally involved in controversial decisions and on the receiving end of abuse has given him a greater sense of empathy for those who volunteer to raise the flags and wave their hands.
"I've sent off a few boys alright before, but they were all justified," he laughs.
"There's a fair few players that would dog you a couple of times on the posts. They wouldn't hold back and you're just saying to yourself, 'Jesus Christ, do I act like that in games?'
"You'd be thinking to yourself, at the end of the day it's really worth saying nothing to the umpires. Because as every one of them says back to the players, 'I'm not the one that has the whistle' and it's as simple as that.
"It can be a challenging but I enjoy doing it, it gets you out of the house for a few hours and it's all experience as well.
"Maybe down the line I could see myself being in the middle. I'm not ready now to be a referee but maybe down the line. If the wages were good!"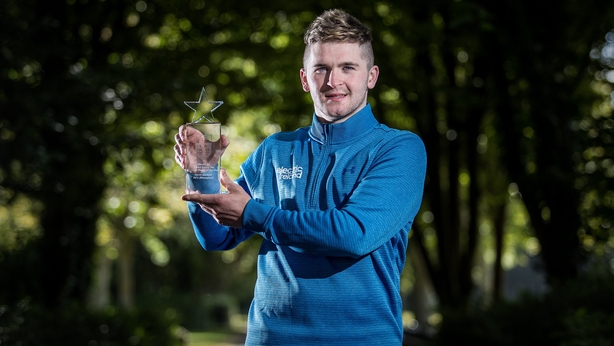 The coronavirus pandemic struck at a particularly inopportune time for Garland who was named Electric Ireland GAA Higher Education Rising Star Footballer of the Year for his starring role in DCU's march to the Sigerson Cup crown earlier this year.
The PE and Biology teaching student was hoping to transfer that form and finally nail down a place as a regular starter for Monaghan.
"In terms of experience you are playing against inter-county players at Sigerson level. You're being recognised, you are playing with and against top quality players. You're hoping to bring it on further with you in your career, to be ready to make the breakthrough to the county scene in the next year or two.
"You were in there in 2018, didn't get much football," he reflects. "In 2019 as well, played two league matches. You were missing your club football in the summer, becoming a wee bit rusty, you weren't as sharp.
"Last year I was going to go to America, the club (Donaghmoyne) said to hang around, we were going to give the intermediates a good rattle. We got to the intermediate final against Magheracloone, who got to the All-Ireland final.
"We won the intermediate league and got promoted and then the next thing on the agenda was Sigerson football so just wanted to give that a good rattle and then back into county."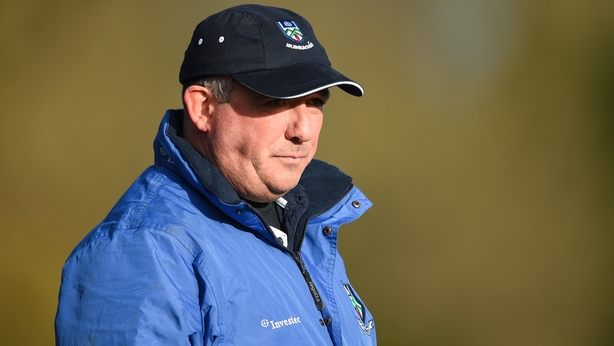 Seamus 'Banty' McEnaney is back in the Farney hotseat after Malachy O'Rourke ended his seven-year reign last summer.
Garland had only just returned to county training after his exploits with DCU when football was put on pause but he was familiar with McEnaney anyway - the bainisteoir is also his employer.
"I work for him in a pub in Merrion Row," he says. I'd know him fairly well as a businessman, he's a shrewd operator in business terms. He's a good man to work for.
"We slag off each other the odd time and there's a bit of rivalry between us. But it's only slagging.
"On the football pitch, I would have only worked with him for a week or two. But he seems to be very good.
"There's a serious management team there at the minute. Monaghan could be a serious threat in the years to come.
"Malachy obviously did  serious good work with Monaghan, winning the two Ulsters, taking them on leaps and bounds from I think Division 3 or 4 and right up to Division 1.
"We're now a solid team in there. We face challenges every year that we're going to be relegated but we always come up trumps and stay up.
"Obviously, it's changed for those boys with Banty but change can be a good thing and hopefully it pushes us on that extra inch or two we need to be right up there at the top."
"It's going to be a completely different inter-county championship"
As for the prospect of an abbreviated winter championship, Garland thinks it can be a levelling force and takes heart from Monaghan's ability in recent years to grind out big wins in the Allianz Football League.
"It's going to be a completely different inter-county championship," he muses. "Pitches are going to be heavier, it's going to be raining, cold and you'll probably play the majority of games under lights.
"This championship could be very different and any team could beat anyone on a given day because as anyone knows, winter and summer football are completely different ball-games.
"We could always dig out results in the league, we could always start off the league very well. Even the McKenna Cup, we'd always get close to semi-finals or quarter-finals.
"So we'd see the winter football as a challenge alright, and we'll rise to it. Hopefully on our day, we can produce the performances and hopefully get a few shock results in there."