When he first took charge of Carlow six years ago, Turlough O'Brien recalls being unable to secure a challenge match with Kildare because they weren't strong enough.
"We weren't even good enough to get a challenge game against them," he says. "We could only get one with their junior side."
What's more, O'Brien was told by the county board at the time of his appointment that if his tenure didn't work out there would have to be serious consideration given to putting Carlow in the All-Ireland junior championship.
That's where they were at.
Fast forward to the summer of 2020 and O'Brien departs the job with Carlow still in Division 4, but only after one hell of a ride that saw promotion to Division 3 in 2018 for the first time in 33 years and also saw them go toe to toe with the big boys across a three-year spell.
In 2017, they pushed Dublin hard in the Leinster championship at Portlaoise, before a fine tussle with Monaghan in the qualifiers.
In 2018, they registered a first championship win over Kildare since 1953 to reach the last four of the Leinster championship before losing to Laois in a four-point semi-final defeat at Croke Park. There was another intriguing qualifier ahead with Tyrone and those games put Carlow right there in the mix.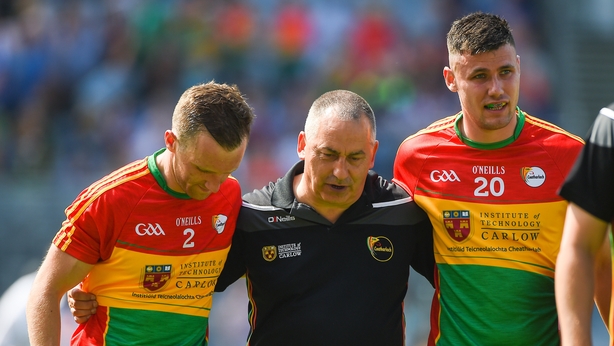 O'Brien now moves aside to smooth the way for his replacement. An October start for the Championship made his mind up.
"I was going to step down last year along with our coach, Stevie Poacher, but Stevie persuaded me to stay," he said.
"I just decided now the time was right with a winter championship ahead and also to give the new manager the chance to prepare for the League too.
"It was a privilege to be asked to manage your county and not everyone gets the opportunity. I like to think we gave it our best shot and I'd like to think we did make a difference.
"I know we are still in Division 4 but in five of our games this year we lost leads in injury time and the table doesn't reflect what we were doing.
"We were at a low base, the very bottom of Division 4, when we came in and we had been there for a while. There was no hope in Carlow and please God there is hope now."
If he were interested, highly successful Éire Óg manager Joe Murphy would be an obvious choice to continue on the fine work that O'Brien started.
During a brilliant playing career for Éire Óg, Murphy sampled provincial glory on five occasions, and is currently doing a fine job as the club's manager – as well as helping other clubs in recent years. He also won two county titles as Old Leighlin manager in 2010 and 2011.
Whoever does take charge, O'Brien still has no desire to see them lead a Carlow team into the Tailteann Cup series, the GAA's newly formed second-tier championship.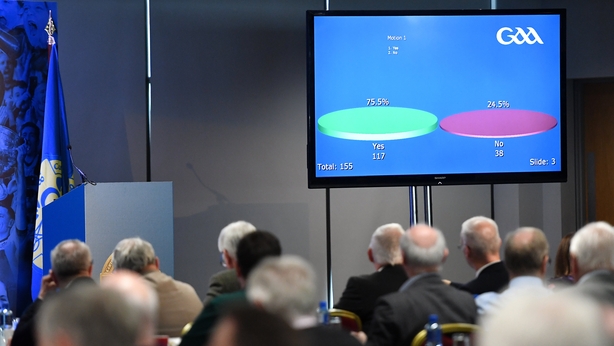 GAA president John Horan was among the major supporters of the Tailteann Cup, a competition for Division 3 and 4 teams who do not reach their respective provincial finals and are not permitted entry into the qualifiers.
The president acted on the calls of several counties to have a championship that was inclusive and not exclusive and, after an extended period of consultation with counties, over 75 per cent of delegates at the 2019 Special Congress backed the creation of a tier two competition.
The move disappointed O'Brien and he remains unhappy that the concept hasn't been re-visited and explored in greater detail during the lockdown.
He feels, despite the GAA's efforts to engage, that the consultation period wasn't wide enough.
"I'm disappointed a review of the two-tier format didn't happen over the past few months," he says.
"It was a real opportunity for time to think about this, when no-one was caught up in games. I would have a big problem that there was a lack of consultation with players, coaches and managers.
"I read ridiculous statements from journalists and GAA officials that managers have vested opinions. Of course they do!
That's what makes the world go around – opinion. I just felt they should have consulted wider and I just feel that those days we had, against the likes of Monaghan, Tyrone and Dublin, they will be gone for the Carlows of this world in the future.
"And where's the promotion in that? There are huge questions to be asked about the establishment of this competition and I think we have lost sight of the vision of what this association is all about."
O'Brien also wants to see more equity when it comes to the distribution of funding within the GAA.
"Our games are strong enough to develop internally within a system that suits everyone and offers a fair chance of competing. With the distribution of resources, I accept that we are a small county but even in professional sport such imbalances are addressed. In the NFL, weaker counties get the first draft of players. In Premier League football, there is an element of equalisation in funding.
"I'm looking forward to being a spectator on the bank again now. Giving out like everyone else"
"In the GAA, we are dealing with a gigantic force in Dublin and it's not just them – there are probably three teams with the capability to raise huge amounts of money and I feel we have to have more fairness and be more equitable going forward.
"Yes, we want to develop the game and let's do it, but let's not play lip service."
As he exits the inter-county stage, the memories will remain for some time.
"Our performance in the win over Kildare was incredible - forget about the result. We dominated the game and gave a defensive masterclass.
"Those were mighty days. Beating Louth with a physically powerful performance, beating Wexford at Dr Cullen Park. Getting promotion, giving Dublin an almighty rattle.
"Our players craved those games against the top teams to see how they would match up against them.
"I'm looking forward to being a spectator on the bank again now. Giving out like everyone else," he laughed.