GAA president John Horan has defended the Association's decision to keep training grounds closed until 29 June and said it would be an "error of judgement" to return without putting a proper plan in place.
While the Government have cleared the way for training, with restrictions, to return on Monday, 8 June, the GAA has decided to wait until Phase 3 of the national plan, which will allow the Association to put structured sessions in place in time for a return at the end of the month.
Club officers and mentors will undergo a three-week period of training and planning to ensure a structured and responsible return in implemented on 29 June.
Speaking on RTE 1's Drivetime on Friday afternoon, Horan explained the philosophy behind the GAA's 'Safe Return to Gaelic Games' document, which was released earlier in the day.
"What we have done is laid out a roadmap," said Horan. "The roadmap for the next three weeks is to prepare our clubs and our mentors to get ready for the resumption of training within our facilities.
"If we open our venues, people will come back in large numbers to actually use and exercise in the venues.
"You have got to appreciate the large membership we have in our organisation and if we opened the pitches without training the officers and mentors on how to deal with the situation that we are dealing with, we would be making an error of judgement.
"There is a training programme in place online to allow the officers and mentors at the clubs to get a planning structure in place
"And even though people are going to be allowed back, they will have to arrive togged out, there will be no dressing rooms used, they will have to shower at home, so while it is positive there are still considerable restrictions in place."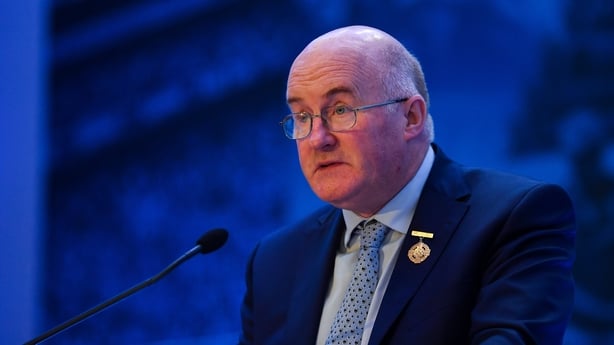 Horan explained the thinking behind the initial return, which will put the immediate focus on club activity, leading up to the return of inter-county championship action in the middle of October.
However, the president also conceded that the championship may also spill over into the New Year in order to get the competition completed.
The Na Fianna club man said that the roadmap will start on Monday with the opening of walkways inside club grounds, while officers will be trained ahead of the 29 June return with the "intention to allow training to happen".
Horan added that the Association would remain "flexible" regarding ever-changing Government guidelines ahead of contact training, which should return on 20 July.
The return to competition on 31 July will allow 10 or 11 weeks for club competition ahead of the resumption of the inter-county games in middle of October.
"We will have a championship this year," Horan added. "It may spill over into early 2021 but we will have it."
Horan also revealed that Croke Park has been the focus of a study to ascertain how many spectators will be allowed into the stadium, while maintaining social distancing, and added that certain GAA grounds may miss out on championship action as a result of the Government guidelines.
"I have never been one for closed door concept and we have done a very thorough study of Croke Park as a venue for having people attend matches, and it will be dependent on what social distancing is.
"Two metres will result in 25 per cent attendance at Croke Park, and if it is reduced to one metre, we can increase that.
"And it may mean we will be restricted in the number of venues that we will be able to use for inter-county competition because of the nature of our venues and controlling the crowd situation."